College Football Championship Weekend: Prop Bets and Predictions
December 1, 2011
Ronald Martinez/Getty Images
With the conclusion of the college football season coming this weekend, now is really the final chance to win back all of the money I undoubtedly lost you all season long (Mississippi State…who knew?).
In any case, because you probably lost more than you expected, I've gone ahead and paired actual predictions with various prop bets that I'm told will also appear on very specific Vegas boards. You might have to look hard, but they're there and worth every pretend penny.
Thursday
West Virginia @ South Florida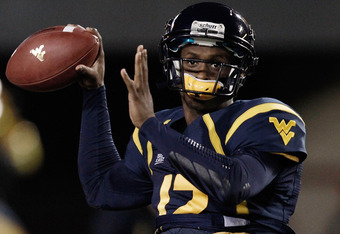 Jared Wickerham/Getty Images
As a general rule, it's never wise to take a team (South Florida) that has lost six of seven going into a game and has its name turned into something relatively vulgar to reflect on-field performance (USF'd up). Also, West Virginia is due for a game in which they approach their own potential. Mountaineers by 13.
O/U 4.5—Number of shades of red Dana Holgorsen will turn after failed third-down conversions. I haven't heard if this is for a full game or just the first half.
Friday
UCLA @ Oregon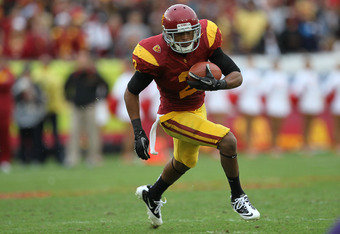 Stephen Dunn/Getty Images
On a certain level, you have to feel a little bit bad for UCLA—they didn't choose (nor did they really earn the right) to represent the awful Pac-12 South in the championship game, but here they are, absorbing the arrows that we're all gleefully slinging at them and lame-duck (pun intended!) coach Rick Neuheisel.
Despite the very long odds of the Bruins controlling the clock with a more-than-adequate run game, I expect the Ducks to win comfortably, but perhaps go to the bench early enough for Neuheisel to (fittingly) cover the 32 points Oregon's giving. Oregon by 28.
743:1—Odds UCLA not only beats No. 9 Oregon in Eugene, but also that Rick Neuheisel sprints out to midfield postgame and punctuates his Bruin career with an array of Pete Weber crotch chops for good measure.
Saturday
Southern Miss @ Houston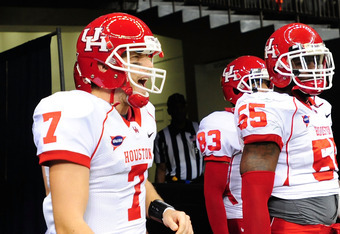 Stacy Revere/Getty Images
When looking at Southern Miss's chances at taking down Houston in the Conference USA championship game, it's probably wise to look at how well the Eagles successfully defend the pass (good, but probably not good enough).
It's also equally important to look at any and all injury reports to search for Case Keenum. It appears it's not there. Cougars by 17.
O/U 39.5—Number of fanbases that will collectively watch Houston's offense and dismiss it as a gimmick system while secretly hoping that someday their school could employ a system as successfully.
Texas @ Baylor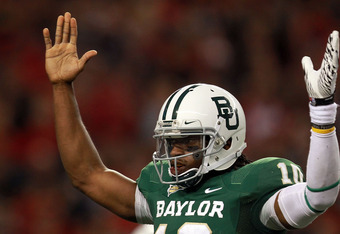 Ronald Martinez/Getty Images
At this point, Texas's scoring plan is like an open-mic version of LSU's pro ways of putting up points in any number of ways (except LSU also scores on offense).
Baylor will have a suitable amount of trouble scoring on a very good Longhorn D, but should play well enough at home to keep Texas from walking away from rarely dangerous Waco with a win. Baylor by 10.
5:2—Odds the word "trickeration" will be used to describe Longhorn offensive coordinator Bryan Harsin's tendencies. During the first Texas drive.
Georgia @ LSU (in Atlanta)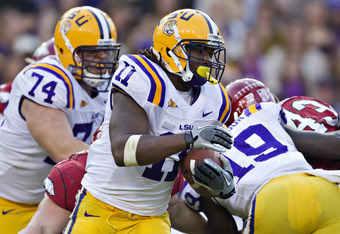 Wesley Hitt/Getty Images
Against similar SEC competition statistically, Georgia has performed alongside or outperformed the Bayou Bengals, which is why statistics shouldn't be a sole indicator of quality.
Georgia's run D should be active and deep enough to keep the game close for a half or so, but I expect LSU to eventually dictate some pseudo-desperate Bulldog play-calling.
Without a fully healthy Isaiah Crowell in the backfield, the LSU culture of harm will just be too much for another good SEC team. LSU by 17.
O/U 9.5—Number of times LSU defensive coordinator John Chavis's name will be used with the phrase "dialed up."
Virginia Tech @ Clemson (in Charlotte, N.C.)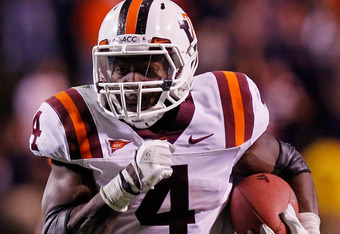 Geoff Burke/Getty Images
Remember October? No matter what, I'll still remember it as a simpler time when we all wanted to believe Clemson wasn't going to ever be the Clemson they eventually become each fall.
During one of those games where we started hoping for the best, the Tigers held Virginia Tech to three points and, with the help of DE Andre Branch on the defensive line, thoroughly dominated the line of scrimmage on both sides of the field.
Due to injuries and carefully masked depth issues that have since been exposed, Clemson's a very different team this week. Tech RB David Wilson won't help. Virginia Tech by 10. 
7:5—Odds you'll think Frank Beamer, with his double-eared headphones, will at any point lead a plane into its jetway on the field in Charlotte.
Wisconsin @ Michigan State (in Indianapolis)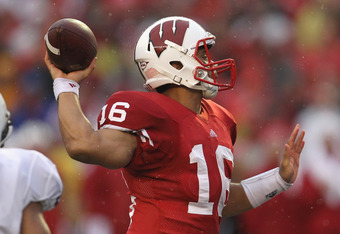 Jonathan Daniel/Getty Images
Until a story came out (denied by the B1G) about a casting call for paid seat-fillers at the Big Ten Championship Game surfaced, this game seemed to have the most competitive and meaningful intrigue (with LSU's spot in the national championship possibly locked up in a win or a loss).
Weird story aside, the prospect of having one of the games of the year replayed in a conference championship game to determine a spot in the Rose Bowl should be one of the more fun games of the weekend.
Wisconsin has the momentum, but Michigan State has the defensive front, highlighted by DE William Gholston and DT Jerel Worthy, that doesn't mind dining on cheddary momentum. Wisconsin by 6.
O/U 5,000—Number of seat-fillers wearing generic red and green shirts, inflatable people, mannequins and real dolls sitting in the upper levels of Lucas Oil Stadium tomorrow night.
Dan Rubenstein co-hosts The Solid Verbal college football podcast and can be followed on Twitter here.