NFL Week 13 Predictions: New York Jets and 4 Teams That Are Locks to Win
December 2, 2011
Jeff Zelevansky/Getty Images
Thirteen weeks into a fascinating 2011-12 NFL season, we have witnessed last year's champions win every game to date, championship contenders struggle to remain in the playoff race and underrated teams rise to the occasion. 
This year has been very difficult to predict games, especially if you're a gambler, because of teams like the New York Jets and Philadelphia Eagles, who have had up-and-down seasons so far.  
This week there are a few traps on the schedule to stay away from, such as games like Atlanta-Houston and San Francisco-St.Louis, as well as some key locks you need to pay attention to.  
New York Jets @ Washington Redskins (27-13)
Coming off a career-high performance against the Buffalo Bills, scoring four touchdowns, Mark Sanchez is beginning to shine when it's most important.  At a crucial time in the season, fighting for a playoff spot, Sanchez needs to really take charge and continue to put points on the board.  The defense will get big stops and force turnovers often, as it has consistently proved to do.  If Sanchez can be smart with the football and not commit any turnovers, the Jets can absolutely win out with a favorable schedule.
Against the Washington Redskins in Week 13 you can expect a blowout, which will be a well-needed confidence boost for Sanchez with an important stretch of games ahead.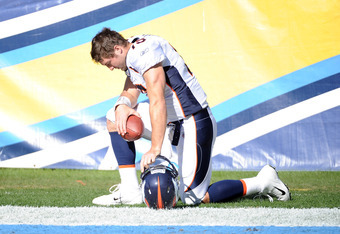 Harry How/Getty Images
Denver Broncos @ Minnesota Vikings (20-16)
The Minnesota Vikings have had a rough season so far, and their schedule indicates it's going to get any better.  On the other side, the Denver Broncos have been outstanding since Tim Tebow took the reins at quarterback, now only one game behind the AFC West-leading Oakland Raiders.
With game-winning drives in his past three games, Tebow will lead the Broncos to a big victory over the struggling Minnesota Vikings.  Since the Vikings are ranked 29th overall in passing defense, allowing 258.2 yards per game, Tebow may get more opportunities to air the ball out.
Indianapolis Colts @ New England Patriots (17-33)
The Colts have failed to earn a win so far this season, and Week 13 will be no different.  New England has been on a hot streak, winning its last three games, and will not be denied the victory.  Going up against one of the worst defenses in football, Tom Brady should put up some impressive numbers.  
Also, Dan Orlovsky will be making his first NFL start since 2008, which means Bill Belichick will be sure to devise a smart defensive game plan to put Orlovsky in many uncomfortable situations throughout the contest. 
Baltimore Ravens @ Cleveland Browns (24-13)
The Baltimore Ravens currently have the fifth-most effective passing defense, along with the third overall rushing defense, which makes it extremely difficult for opposing quarterbacks to have a productive game.  With the young Colt McCoy at QB for Cleveland, the Ravens will take full advantage, asserting constant pressure that should lead to many sacks.  
The way Joe Flacco has been playing of late, there is no doubt he will lead the Ravens to a victory this Sunday.  Winning four of the last five games, Flacco and the Ravens offense are really beginning to click.