WWE TLC 2011: Expect Another Fatal-Four Way TLC Match
December 1, 2011
The next PPV, WWE Tables, Ladders and Chairs is just over two weeks away. Do you find that hard to believe? I sure do, especially since there has been minimal mention of it on television lately.
So far, the only fact we can obtain about the PPV is the announcement of a third contest between Mark Henry and the Big Show. However, no stipulation has been made as of this time, making it even harder to get excited about a rematch from their snoozer at Survivor Series.
Over on Raw, CM Punk has just successfully completed his first title defense, albeit with a bit of illegality that will not go unnoticed by Mr. Laryngitis (Executive VP of Talent Relations and Interim GM, in case anyone was wondering). John Cena is being berated by legends, and the Miz is bringing a Skull Crushing Finale to the careers of now-former WWE superstars.
Cena and the Miz don't seem to have any real direction in the near future. So what is the short-term solution? Throw them in the WWE title picture, of course.
After Monday, it is clear that Alberto Del Rio isn't quite done with the WWE championship. His two reigns were not exactly impressive, but considering the way Punk won their most recent title match, the door is open for another confrontation.
The creative team, however, may not feel that Punk vs. Del Rio in a TLC match will suffice as the main event of the PPV, especially since we've seen them go at it on free TV very recently. Chances are they are right. Remember Triple H vs. Randy Orton at The Bash back in 2009? Their three stages of hell contest was a decent main event, but a last man standing bout on Raw six days earlier was better and took much of the luster out of that PPV battle.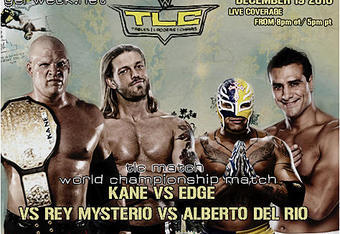 In an ideal world, CM Punk's next challenger would be the Miz. Fortunately, it has been rumored that we will receive that wish come Royal Rumble time. For now, this Fatal-Four Way contest will fill the time until that build begins. Having the Miz involved in the TLC match will get the two of them together in the ring without giving the one-on-one encounter that will most likely be featured in late January.
As for Cena, he basically has nothing else to do on that Sunday night, so why not throw him in the title match? The only other feasible option would be Cena vs. the Miz, but that feud should be buried six feet under by now. So you can count him in, but a victory is extremely unlikely.
This situation is reminiscent of Backlash in 2008. The night after WrestleMania was the big Ric Flair retirement send-off. The WWE lost a week of build for Backlash, and the creative team went into lazy mode. So a Fatal-Four way match was announced involving Triple H, Cena, and JBL instead of creating new story-lines. A fancy elimination stipulation was added, and bam, you've got a main event. In a sense, this may very well be the scenario that unfolds come Monday.
One thing, however, is for sure: CM Punk will not be losing his WWE title come TLC.