With Carlyle Out, Anaheim Ducks Fans Can Back Away from the Ledge, for Now
December 1, 2011
Jeff Gross/Getty Images
Late Wednesday night, Randy Carlyle and his staff were relieved of their duties with the Anaheim Ducks. Former Washington Capitals bench boss, Bruce Boudreau will take over the reigns in Orange County.
For the past few weeks there has been much speculation surrounding the Ducks, who stood at 6-13-4 going into Wednesday's game against Montreal. What is interesting about their abysmal start is that there has been arguably more media coverage this season than there was in 2010-11 during their incredible run toward the fourth seed in the Western Conference.
Things were coming to a head this past week and something had to give. When would the shoe drop? Who would be the first to go?
Then came the Bobby Ryan trade rumors. He was dropped from the powerhouse top line with Ryan Getzlaf and Corey Perry; and dropped to the third line. Gasp, boom, pow, and the rumor mill was alive and well: "A Ryan Reunion with Burke in Toronto?!" "Ryan To Philly?!" "Rangers Lead Ryan Sweepstakes?!" 
I, for one, never thought Ducks GM Bob Murray would ever pull the trigger to deal the 24-year-old winger–a key member of Anaheim's core. And now with the Boudreau era beginning at Honda Center, I think Ryan can sleep a little easier than he has been. As TSN's Bob McKenzie points out, the new hire should stop Ryan rumors. 
Ducks fans can be optimistic, as long as they do so cautiously. Randy Carlyle was not the only piece of bread rotting in the "Pond." Anaheim's struggles this season are deeper than a coaching staff.
The team lacks secondary scoring. Perry, Getzlaf, Ryan, and Teemu Selanne make up 53 percent of the entire roster's point production. That's a lot of pressure for four guys to carry, especially when one of them is 41 years old. And without that man who's over "the hill," there frankly is no second line.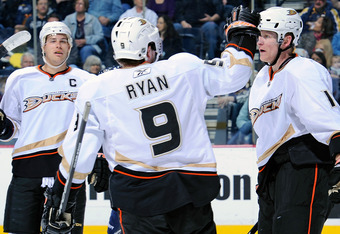 Frederick Breedon/Getty Images
Lubomir Visnovsky wasn't performing as he did last season, then he went down, leaving the blue-line thin. Cam Fowler is just four days away from his 20th birthday, and he is being looked upon to shoulder the production on the defensive end? Pretty tough spot to put a kid, no matter how talented he is.
Jonas Hiller says he's healthy just not playing with as much confidence. Seeing as how he's one of the top backstops when he's mentally and physically 100 percent, one has to think Hiller will turn it around. 
Perhaps Carlyle's message got stale, as they say. Which makes one wonder as to what kind of preservatives Barry Trotz and Lindy Ruff use in their recipes. And based on what we've seen out of the Ducks, maybe Carlyle lost the dressing room.
But Anaheim's struggles reach beyond the man who brought them a Stanley Cup.
Bruce Boudreau leaves the nation's capitol and arrives in the Disneyland of In-N-Out Burgers with the hopes of turning things around or the Ducks. Boudreau's in, Carlyle's out, Bobby Ryan is still here, and Selanne is still a legend. Ducks fans can back away from the ledge...for now.