5 Possible Trades for the Chicago Bulls
December 1, 2011
Christian Petersen/Getty Images
With the NBA season three weeks away, there is a surplus of free agents available. I have already highlighted five the Bulls could set their sights on at shooting guard, but there are also some possible trades the Bulls could pursue. 
Carlos Boozer for O.J. Mayo and Shane Battier
With Chicago fans being disappointed in Carlos Boozer's efforts last year, it's no surprise they would be happy to see the back of him.
If Memphis did some moving around and decided to put Zach Randolph in the middle, Boozer would slot in right next to him at the 4-spot. By doing this it would give Memphis more low-post scoring, and someone to take some of the scoring pressure off Randolph.
The Bulls will benefit from this trade by keeping their hands on their awesome young big man Omer Asik, and adding a big scoring guard in O.J. Mayo along with a lock-down defender in Shane Battier.
Financially this deal works and if the Bulls take a gamble by moving Deng to the 4-spot, it gives them a team that spreads the floor without losing any size.
Dwight Howard and J.J. Redick for Carlos Boozer, Joakim Noah and John Lucas
Dwight Howard to the Bulls has been discussed before, so I thought I'd look at ways that this could happen. In terms of money, this deal works, and in terms of talent for talent, I think it's a fairly even deal.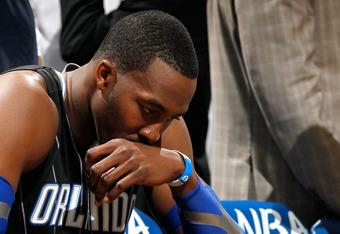 Kevin C. Cox/Getty Images
Since Magic owner Otis Smith would be uneasy about sending the second All-Star center he's had in 20 years to an Eastern Conference team, the combination of Boozer and Noah should be reason enough to pull the trigger on this trade.
Orlando is guard-heavy, so losing Redick won't be much of a problem.
Ronnie Brewer for Omri Casspi and Anthony Parker
A less momentous deal could be made as well. Cleveland has been in a hole since the departure of LeBron James, and they're going to be looking for a way up. By sending Anthony Parker and Omri Casspi to Chicago, they get younger and more explosive by taking on Ronnie Brewer.
While Brewer has a lot of upside given the right amount of minutes, realistically the Bulls are looking to sign a free-agent shooting guard anyway so Brewer's chance at more minutes is slim to none.
He's better off playing somewhere he gets more minutes, and the Bulls get some youthful skill in Casspi who can drill the deep ball.
This means Korver can step in and take some minutes at the guard spot if needed, and Casspi can rest Deng which makes the Bulls deeper and deadlier from outside.
Ronnie Brewer for DeMar Derozan
Time for some pie in the sky-type stuff, and while the numbers add up due to Toronto having loads of cap room, it's not entirely one-sided in the favor of the Bulls.
By sending Ronnie Brewer to the Raptors they gain something they don't have in a big, athletic guard that can flat-out score with minutes.
The Bulls gain the all-important scoring 2-guard but by completing this trade they take a risk, as DeMar DeRozan is young and only two seasons in to his career.
If it works out for the Bulls and DeRozan's star keeps rising, it would be a genius move, however, if he fades out with the pressure of needing to deliver each and every night in a big market like Chicago, it could be a disaster.
Kyle Korver, Ronnie Brewer and John Lucas for Caron Butler
Finally for those wanting to see a deal that on paper seems to benefit the other team involved more than the Bulls, this one is for you.
Even though I'm a die-hard Bulls fan, I like this trade a lot, despite losing Kyle "Hot Sauce" Korver in the process.
While Butler is listed as a small forward and he's 6'7", he's the perfect fit for the hole the Bulls have at the shooting guard spot.
He can flat out shoot the ball and he's athletic enough to take a defender off the dribble.
In return the Mavs get a little deeper and younger, which if you're looking to take a run at multiple championships you'll need to be.
Obviously it's too soon to know if any of these deals would happen, or if they're even a consideration right now.
The trade deadline hasn't opened at the time of me writing this, so it will be interesting to see if any of these moves actually come to fruition.
For more of my articles click my name at the top of this story, or follow me on Twitter @CommissionerOTP.