Week 13 Fantasy Rankings: Every QB Ranked with 5 Guys Ready to Go Ballistic
December 1, 2011
Matthew Stockman/Getty Images
Figuring out what the best quarterback plays are from week to week is a little easier than doing so for running backs or wide receivers but by no means is it simple. With some of the league's top players injured and a few inter-division rivalries to consider, Week 13 is certainly no walk in the park.
That's why those of us in the fantasy industry put together these lists for you—to give the reader a gauge of what to expect from their players on any given Sunday.
With that, here are the weekend's top 32 quarterbacks along with some detailed analysis on the five best plays for the week:
32. Colt McCoy (vs. Bal)
31. Blaine Gabbert (vs. SD – Monday Night)
30. T.J. Yates (vs. Atl)
29. Dan Orlovsky (@ NE)
28. Alex Smith (vs. StL)
27. Tarvaris Jackson (vs. Phi – Thursday Night)
26. Sam Bradford (@ SF)
25. Caleb Hanie (vs. KC)
24. Carson Palmer (@ Mia)
23. Kevin Kolb (vs. Dal)
22. Christian Ponder (vs. Den)
21. Rex Grossman (vs. NYJ)
20. Josh Freeman (vs. Car)
19. Kyle Orton (@ Chi) – ASSUMING HE STARTS
18. Joe Flacco (@ Cle)
17. Matt Hasselbeck (@ Buf)
16. Andy Dalton (@ Pit)
15. Mark Sanchez (@ Was)
14. Ryan Fitzpatrick (vs. Ten)
13. Matt Ryan (@ Hou)
12. Matt Moore (vs. Oak)
11. Vince Young (@ Sea – Thursday Night)
10. Philip Rivers (@ Jax – Monday Night)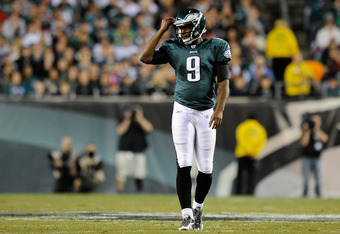 Patrick McDermott/Getty Images
9. Tim Tebow (@ Min)
8. Ben Roethlisberger (vs. Cin)
7. Cam Newton (@ TB)
6. Tony Romo (@ Ari)
THE TOP FIVE
5. Matthew Stafford (@ New Orleans – Sunday Night)
In his last four games, Matthew Stafford is averaging just under 302 passing yards along with 2.5 touchdowns a game. He's also averaged about 23.5 fantasy points, so he's probably giving his owners what they want as well.
However, the Detroit Lions team hasn't been playing all that well lately, losing to both the Bears and Packers while almost crumbling to the lowly Carolina Panthers in their last three games.
I mention this because I expect the red-hot Saints to go up on them early, which means Stafford will likely be passing the ball a ton with his team in catch-up mode.
If that happens, it wouldn't shock me to see Stafford have a game very much like what Eli Manning had last Monday night—which will undoubtedly make fantasy owners very happy in the process.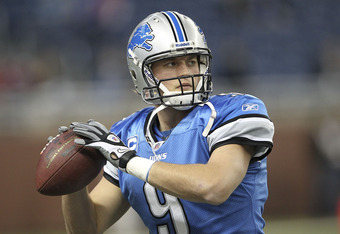 Leon Halip/Getty Images
4. Eli Manning (vs. Green Bay)
Eli tossed up his second 400-yard game of the season (and his career) last weekend but, as it turned out, it wasn't enough as the Giants took the loss against the New Orleans Saints on Monday night.
This weekend he'll face an even hotter team in the Packers—and yet an even worse pass D.
Manning squared off with Rodgers in Week 16 of last season and tossed up 301 yards with two touchdowns, so it seems he certainly knows how to throw against them.
The Giants may not get the victory here but, with the way the Giants receiving corps and especially Victor Cruz are playing, I have no doubt Eli will give his fantasy owners a chance at their own victory this weekend.
3. Drew Brees (vs. Detroit – Sunday Night)
If it weren't for Aaron Rodgers, Brees would be the best QB in the NFL this season.
In eleven games, Drew has thrown for three or more TDs five times, 300-plus yards eight times and 350-plus yards six times.
Detroit actually has a pretty good pass D this season, but with Cool Brees averaging 317.2 yards and 3.4 TD passes at home this year (not to mention going 5-0), I don't think they will pose too much of a problem for him.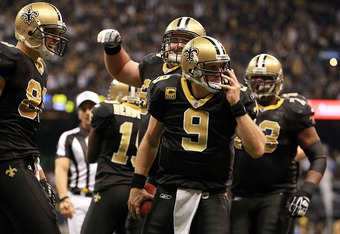 Ronald Martinez/Getty Images
2. Aaron Rodgers (@ New York Giants)
It's a bit strange seeing Aaron Rodgers here in the number two slot but, in his defense, it must be super-tough to stay on top for an entire year.
The Giants pass D had been doing pretty well for a couple of months until they ran into the Saints last Monday night but Brees has a tendency to have games like that every once in a while. In fact, New York hasn't allowed a single QB to throw more than two TDs or put up more than 20 fantasy points in a game when playing at home this season.
Of course, that will all change this Sunday when Rodgers and the Packers come to town as I fully expect Aaron's season-long streak of throwing two or more TDs in a game to continue.
1. Tom Brady (vs. Indianapolis)
Peyton Manning may not be playing in this game but that doesn't mean Tom Brady hates Indianapolis any less.
Normally with a defense that can be beat on the ground as badly as the Colts can be, I would mark the QB going against them down a notch—but not Brady.
The Patriots running game isn't all that great anyway but, with Tommy Bundchen on a bit of a roll right now going six straight games with two or more TDs, you have to believe coach Belichick will let him go wild for at least three-quarters of the game.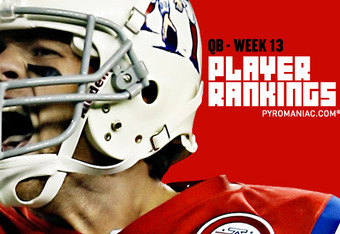 Three touchdowns and 300-plus yards is the minimum here.
Click here to see the Rankings For All Other Positions

Brought to you by pyromaniac.com
Listen and subscribe to our Pyro® Weekly Podcasts: http://pyromaniac.buzzsprout.com
Follow Pyro® on Twitter:  https://twitter.com/pyroman1ac
Follow Pyro® on Facebook:  http://www.facebook.com/pyromaniac