7 Most Unlikable Philadelphia Eagles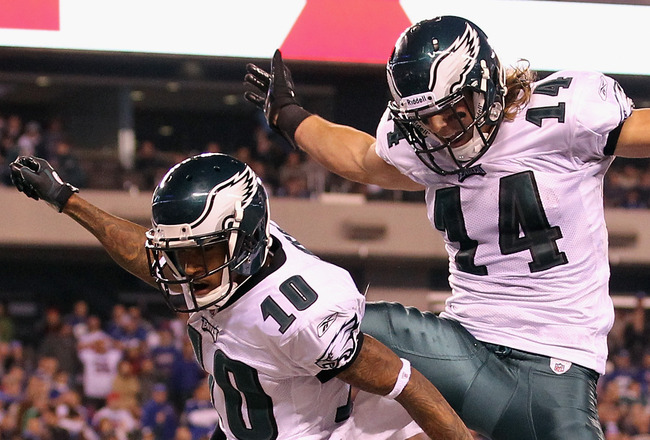 The High Flyin' 4-7 Eagles
Al Bello/Getty Images
The thing about the Andy Reid teams of previous years is that they were all easy to root for. They had guys with great character; players you could pull for. Yes, "Andy Reid Type" players as so many pundits would put it. Decent, hard working guys who kept their noses clean, put forth a solid effort, mainly stayed away from trash talk and diva-like antics...and yes, Freddie Mitchell was the exception that proved the rule.
Even Terrell Owens was a great team player in 2004. He went off the rails in 2005 and became a locker room/city splitting cancer, but he was off of the team and doing sit-ups in his driveway by the time he became a full force, grade A jerk.
Reid's teams used to have guys like Brian Westbrook, Brian Dawkins, Sheldon Brown, Donovan McNabb, Chad Lewis, Jeremiah Trotter, Troy Vincent, Ike Reese, David Akers, Duce Staley, Jon Runyan, Tra Thomas, Koy Detmer and on and on. Maybe it's no coincidence that these guys are all strong leaders as well as excellent football players. Maybe that's why those teams had as much success as they did.
The 2011 squad, regardless of their record, is a hard team to root for. They show boat and dance after gaining a first down despite being down in games and despite their awful record. They trash talk at 4-7. And there's not a lot of character guys in the locker room.
This may be why they are 4-7.
In honor of their seven losses (so far) and of their convicted-of-a-felony quarterback, here is a list of the seven most unlikable players on the 2011 Philadelphia Eagles roster.
7. Jason Avant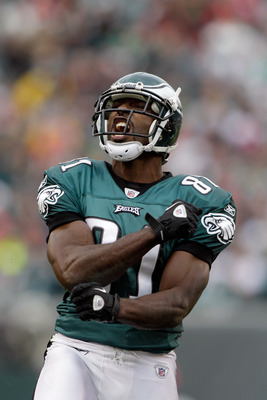 Jason Avant did the fans a favor by telling them to stay away.
Rob Carr/Getty Images
After the Eagles beat the Cowboys in the one game this season where it looked like everyone actually showed up—coincedentally after a bye week—Avant pumped his chest and told the Philadelphia fans that the Eagles didn't "want people jumping on [their] bandwagon now."

Good thing too.
Avant has pretty much vanished from view both on the field and off since.
The Eagles' season also ended with five games left to play.
The bandwagon didn't have enough time to get filled.
Thanks for the warning, Jason.
6. Casey Matthews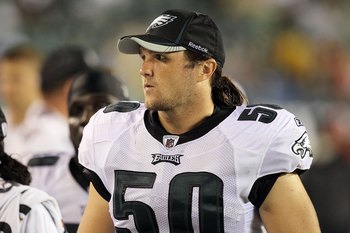 Casey Matthews doing his best Tony Little Impersonation
Jim McIsaac/Getty Images
The Eagles drafted Casey Matthews figuring that Clay Matthews' skill as well as his hairstyle choices would be passed onto his little brother. So, despite a lackluster pre-season, they plugged him in at middle linebacker to start the season. To say it was a train wreck would be a disservice to train wrecks.
To be fair, Matthews was pretty much thrown to the wolves by a defensive coordinator who has been serverely in over his head since day one of training camp. Matthews claims he started training camp without receiving a playbook, and by opening day the Eagles expected him to run the defense.
Still, Matthews has been pretty awful and he's spent most of the season on the bench. Matthews recently took an opportunity to vent his frustrations about Philadelphia fans. You know, those hard working people who pay an arm and a leg to go see their beloved football team lose eight out of their last nine home games.
5. Vince Young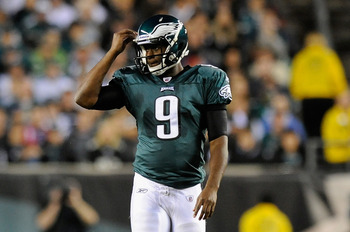 Vince Young points to the part of His body that gives him the most problems.
Patrick McDermott/Getty Images
Vince Young would be more unlikable if he mattered more. Considering he'll have started at least three games for the Eagles this season it's hard to say he doesn't matter, but somehow Vince pulls it off.
Vince Young of course was the dolt that sealed the karmic fate of the Eagles when he infamously proclaimed them the "dream team" after he signed with the team in August.
Having your backup quarterback label your team the "dream team" or label your team anything for that matter is tantamount to Žydrūnas Ilgauskas christening the Miami Heat "the dream team" on the day of his signing in 2010. Or, however you'd say "dream team" in Russian or Lithuanian or whatever it is they speak in Kaunas.
Hyperbolic chest pumping aside, Young has had a reputation for mental weakness. Also, considering he apparently can't throw against the wind as evidenced in the team's November 27th drubbing at the hands of New England, you'd have to question his arm strength as well as mental toughness.
It was after that New England game during which Young looked horrible (missing receivers, hanging receivers out to dry, making bad decisions with the ball, etc.) that Young actually said he was "okay" with his performance and actually felt good about how he played.
The guy just does not get it. He didn't get it with the Titans and he certainly doesn't get it with the Eagles.
4. DeSean Jackson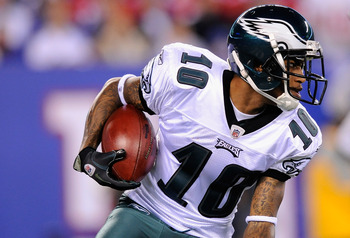 DeSean Jackson believes bad behavior is the way to management's wallet.
Patrick McDermott/Getty Images
Okay, admittedly, that anti-bullying campaign he has is sweet. His appearance on The View to surprise the 13 year old Eagles fan, Nadin Khoury (who was beaten by a group of teenagers and then hung on a fence as another piece of human garbage actually video taped it) was extremely gracious and heart warming. So, off the field and away from football, I can't bash DeSean. That one appearance and what he did for that kid is something I simply can't dismiss.
However, on the field, within the confines of the Eagles, Jackson is a mixture of the evil Terrell Owens Philadelphia experienced in 2005 and Ricky "For Who For What" Williams.

He's playing not to get hurt. He's short arming balls, he seems to not try when returning punts and he's being a diva down at the Nova Care Complex missing meetings and getting himself suspended from crucial games.
He puts himself before the team thinking that that kind of behavior will be rewarded with a reworking of his contract.
There are those who argue he is underpaid and that he's one injury away from missing out on his "big payday." Well, you know what? Tough. This is the career choice he made. Every NFL player and every player agent knows how contracts work; they know the Collective Bargaining Agreement. No one walks into this naive.
Aside from his antics and pouting over his contract, there's the other things. The showboating. The dropping the ball on the one yard line against Dallas. The petulant attitude. The running across the goal line during his fantastic walk off punt return against the Giants last year that technically should have negated the run back. (The Eagles were so elated that the players on the sideline emptied onto the field before Jackson entered the end zone. A gutsy, or even alert officiating crew, would've flagged the Eagles for too many men on the field and we wouldn't be talking about "The Miracle at the New Meadowlands.")
He's a diva and he's been a diva since his rookie year. And basically, he hasn't earned the right to act the way he does and certainly hasn't earned the right to the Larry Fitzgerald-like contract he and his super agent Drew Rosenhaus are seeking.
3. Jason Babin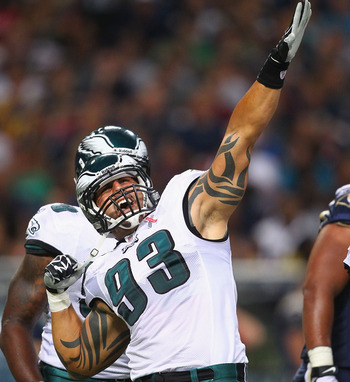 Jason Babin can sure strike a pose.
Dilip Vishwanat/Getty Images
Jason Babin was pretty much a journeyman defensive end, nothing special. He bounced around the league playing in Houston, then Seattle and finally Kansas City before finding his way to the Eagles in 2009.
His first stint in Philadelphia was certainly unremarkable.
He was pretty much a fill-in guy. He played just 12 games and recorded only two and a half sacks. He signed a one year deal as a free agent in Tennessee.
There, he hooked up with Jim Washburn and his crazy Wide Nine defense. Babin recorded 13 sacks in Washburn's system and became a highly touted free agent. The Eagles hired Washburn and then signed Babin during their wild free agent signing spree in July and August 2011.
Babin is still putting up great solo statistics in Washburn's system, recording 10 sacks so far in just 11 games. Too bad he can't stop the run or tackle guys running with the ball at him, or anything else aside from running at a quarterback full steam from the outside end.
The definition of a one trick pony, Babin said he had mixed emotions about a win over the Redskins because even though the team won, he didn't record a sack. Really, dude? Your team, the team that called itself "the dream team," the team that did not shy away from talks—mostly generated by the team—of a Super Bowl appearance and is now unexpectedly struggling, just beat a Redskins team on the road in a must win game and you say you have mixed emotions because you didn't get a sack?
He complained about how the Chicago Bears block and said the Eagles would file a complaint.
And now, with his team at 4-7, he takes to Twitter (never a phrase, by the way, that is ever followed by anything good) to bash Seattle, the Seahawks and their fans.
You're 4-7 going up against another four and seven team on a weeknight. Why are you bashing the other team? Why are you bashing a city and thumping your chest talking about how you are going to physically show your disdain for Seattle? Clam up, play the game and hopefully your team won't embarrass themselves like they have seven times already this season.
2. Asante Samuel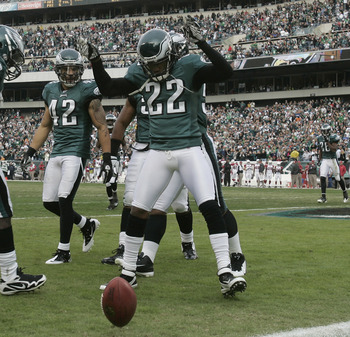 Asante Samuel looks at a football fearful he'll have to tackle it.
Rich Schultz/Getty Images
Asante Samuel is the big play, flashy cornerback who likes to dance a lot on the field whether his team is winning, losing or is 4-7.
He also can't tackle for anything.
He actually runs away from tackles.
His bellyaching when the Eagles obtained Nnamdi Asomugha and Dominique Rodgers-Cromartie was low rent.
He's twice asked to be traded and then also whined when the Eagles were shopping him at the deadline.
He's one of the main reasons the Eagles are labelled as "soft."
He makes Bobby Taylor look like Andre Waters.
1. Michael Vick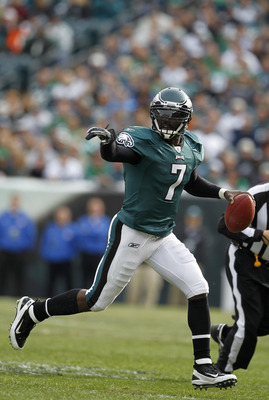 $100M bought the Eagles 14 turnovers and 3 wins from Vick so far.
Rich Schultz/Getty Images
He's been skating a lot lately. He's rarely brought up as a reason for "the dream team's" failures. He did well in the beginning of the season for the Eagles last year. He certainly did better than Kevin Kolb, but that's not saying much. However, since then it's been downhill. He's lost nine of his last twelve games. He's thrown 11 touchdowns and 11 interceptions this season.
Those blown fourth quarter leads? Guess what? Vick had a chance to lead the Eagles back to victory in every one of them and failed to do so.
His predecessor as the Eagles franchise quarterback would have been raked across the coals, tarred and feathered, and then (for good measure) crucified if he failed to bring the team back in four fourth quarters.
His fit about not being protected by the referees like other quarterbacks was excruciating to watch.
His taunting of the Atlanta fans was embarrassing, especially after Atlanta came back and beat them.
Plus, the guy has so much baggage. So much. Not just the dog fighting thing, but his attitude before his arrest was terrible. The ugliness of the Ron Mexico stuff, the taunting fans, the petulant awful attitude, the reputation as a coach killer, it goes on and on.
This interview (which didn't get as much heat as it should have) where Vick stated he wouldn't change anything about what he's done in the past except get a shorter sentence shows you exactly where his mind is.
The Eagles looked at his body of work over his career and weighed it against six games in the 2010 season when he excelled and rewarded him a six year 100 million dollar contract. Since then, Vick has reverted to his old ways of being a turnover machine who can't and won't read defenses, and is quick to pull the ball down and run with it.
He is also the personification of the franchise's shift in philosophy from building a consistent winner from within to gambling everything on flashy players with spotty reputations. Just ask Damon Moore how much the Eagles have changed.
Everyone deserves a second chance, especially once they've paid their debt to society, but you don't necessarily have to root for them.
Keep Reading

Philadelphia Eagles: Like this team?