Arsenal FC: 4 Reasons the Gunners Will End Their Trophy Drought This Year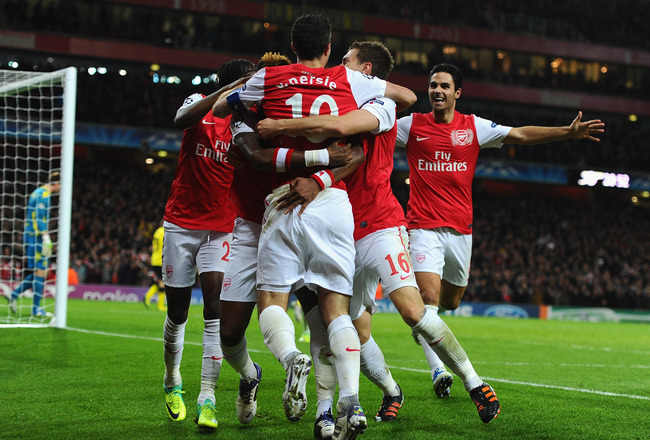 Mike Hewitt/Getty Images
"Seven years without a trophy!" "Wenger out!" "Arsenal is a sinking ship!"
These are just a few phrases you're likely to hear at the end of this campaign if Arsenal, once again, fail to win any major silverware. And though between 2005—the last trophy won being the FA Cup—and 2011 the Gunners have appeared in three major finals, as well as numerous semifinals and even some title challenges, they've continually disappointed in the "business end of the season."
And though the season, understandably so, did not start brightly for Arsenal, Arsene Wenger's men have managed to pick themselves up as of late. A string of some extremely impressive performances, one that has seen them go 10 games unbeaten, seems to finally be putting to bed some of the early season critics that suggested not only another trophyless season, but also a drop out of the "top four" of the league.
So the question remains: How is it possible that in the very season that Arsenal lose two of their best players in Cesc Fabregas and Samir Nasri they seem a team bound for some form of success?
This slideshow suggests four reasons why the Gunners will finally silence the critics, and end their long-standing trophy drought this year.
Enjoy!
Defensive Solidity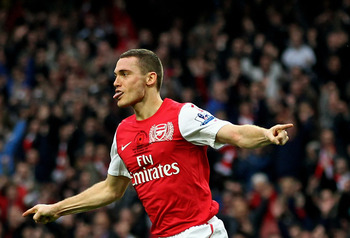 Julian Finney/Getty Images
One of the most common criticisms leveled at Arsenal over the past decade has been their inability to do the basics on defense. Simply put, they weren't a team with a sound defensive back line.
This year though, following the acquisition of Per Mertesacker from Werder Bremen, the return of Thomas Vermaelen from injury and the rise in form of Frenchman Laurent Koscielny, Arsenal's back line is looking uncharacteristically solid. It's also undoubtedly one of the key reasons the Gunners have fared so well over the past two months, as for the first time in a while, the attacking personnel of the team can go about their business with some newfound confidence in their back line.
It's also worth looking at the statistics in this regard. Arsenal's defense has conceded 23 goals, a much higher tally than that compared to some of the other "big clubs" of the league. However, it's worth considering that 16 of those goals came when the team didn't have Thomas Vermaelen, their marquee defender in their ranks. Of course, the fact that at that point Arsene was dealing with a squad in transition, following key departures, doesn't make the job any easier.
Since the loss to Tottenham Hotspur in early October, Arsenal have conceded just seven times in nearly two months of play. If Arsenal are to finally end their trophy drought, then a lot of the acclaim will inevitably fall on the defense of the squad.
The Pole in Goal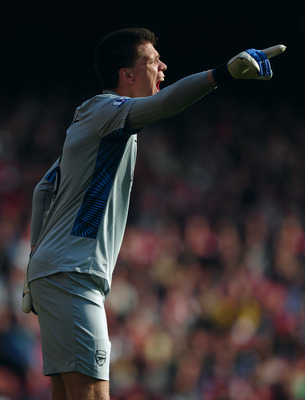 Jamie McDonald/Getty Images
Since the departure of Jens Lehman, Arsenal fans worldwide have been crying out for Arsene Wenger to finally sign an established shot-stopper. With a series of costly errors, the German's replacement, Manuel Almunia, left the club devoid of confidence between the posts.
Arsene Wenger, though, ignored those pleas. The reason: 21-year-old Wojciech Szczesny.
In Szczesny, Arsenal seem to have finally found a confident, imposing and immensely talented goalkeeper, as the Pole seems to have taken to English Premier League football like a fish in water. His performances have won over the Gunners faithful, who now feel (and hope) that Szczesny will remain the club's No. 1 keeper for years to come.
Having the Pole in goal is definitely a welcomed shift from seasons past, and arguably one of the key reasons to suggest Arsenal possibly win some silverware at the end of this one.
Captain Van Tastic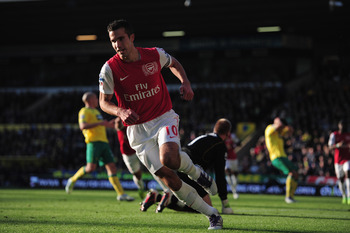 Jamie McDonald/Getty Images
Though Arsenal fans always knew of the immense talent that is Robin van Persie, other more passive fans from around the league were less than convinced of the Dutchman's ability, as a series of long-term injuries seemed to have blighted a promising career.
However, ever since returning to the fray during the middle of last season's campaign, Robin van Persie has looked like a striker possessed. His goal-scoring form of the 2011 calendar year, one that has seen him score 38 goals in all competitions, is something being marveled at by all corners of the footballing world.
"Marco van Basten 2.0" seems to finally be living up to the heights set by all those around him.
This season, he's already scored 20 goals in all competitions, including a hat trick at Stamford Bridge and a brace at home versus Borussia Dortmund. It's safe to say that if Arsenal have any reason to be optimistic at all for the long season ahead, one of them is Robin van Persie's form.
An Influx of Experienced Personnel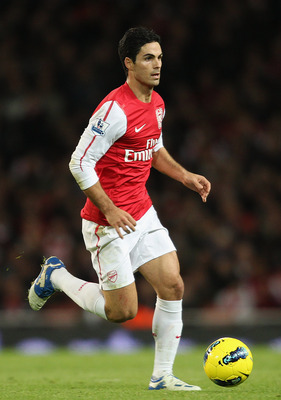 Scott Heavey/Getty Images
Besides bad defending, one of the other criticisms often leveled at Arsenal in the past was the team's lack of experienced personnel. It seemed that after losing the crop of "Invincibles," Arsene Wenger's reliance on youth extended to the first team, where a team with virtually no "winners" were expected to deliver the goods week in and week out.
This season though, it seems the French tactician's goals have taken a shift, as he seems more concerned about short-term goals than long-term ones. The result: the uncharacteristic arrival of experienced players over promising youngsters.
With the arrival of proven internationals like Per Mertesacker and Andre Santos, as well as seasoned league veterans in Mikel Arteta and Yossi Benayoun, Arsenal finally look a team "aged and experienced" as opposed to "young and naive." It's also worth taking note that the Gunners' form has drastically improved, and the team look far more assured now with the aforementioned on the pitch than they did at the beginning of the season without them.
And the equation makes sense; get experienced players who've been there "at the business end of the season," and you're likely to get the results when it matters.
Let's just hope, this time, the team actually comes good.
Agree or disagree? Post your thoughts in the comments section below, or simply tweet/follow me @saqibddb
Keep Reading

Arsenal: Like this team?