Toronto Maple Leafs: 5 Reasons to Be Loud and Proud in 2012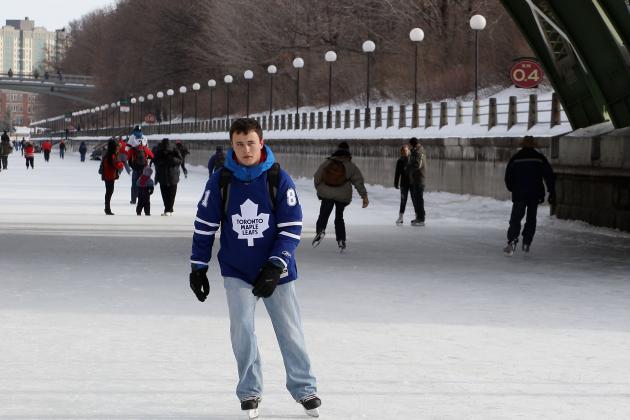 Christian Petersen/Getty Images

The Toronto Maple Leafs are arguably the most polarizing team in the NHL.
You love them. You hate them.
They're up. They're down.
They have boundless potential. They suck...
Perhaps the truth of the matter is that both positive and negative sentiments are correct at one time or another.
The reality is that it is much more of a complex relationship that fans and haters have with this team—which makes them that much more fun to talk about.
We have seen this Maple Leafs team grow and evolve over the last three years under Brian Burke's watchful eye.
For the first time in years, there are concrete reasons why this franchise has seen a revival and why being a loud and proud supporter of this team doesn't discredit you as a sports aficionado.
Let's look at five of those reasons now.
Begin Slideshow

»
Bruce Bennett/Getty Images

One of the most noticeable upgrades the Toronto Maple Leafs have seen over the last few years is their sheer speed.
It would seem that Brian Burke targeted lightning in a bottle since he started making various acquisitions as Leafs' GM—and it's paying dividends.
A huge reason why the Leafs have had success at all this year is that when they execute their fast transition game, they are a very difficult team to contain.
This speed generates chances in the offensive zone and draws penalties, which the Leafs' power play has been able to capitalize on 19.6 percent of the time—good enough for fifth in the NHL as of Jan. 28, 2012.
Phil Kessel, Clarke MacAurthur, Mikhail Grabovski, Matthew Lombardi, Mike Brown, Nazem Kadri, John-Michael Liles, Jake Gardiner—these are all players with serious wheels or the ability to transition the puck quickly and smoothly up the ice.
Perhaps their speediness is the product of their very youthful exuberance in its most raw form.
What is obvious is that when the Maple Leafs are on their game and using their speed to their advantage, they're a tough team to beat.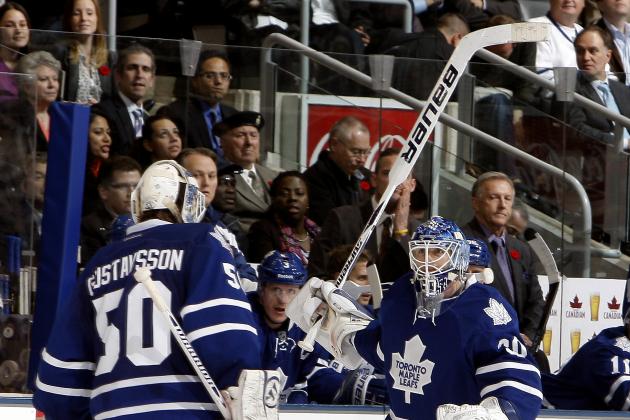 Abelimages/Getty Images

Just when Leaf fans had all but purchased a one-way ticket out of town for the Monster—on their own dime—Jonas Gustavsson steps up his game and strings together seven wins in his last 10 games played.
It wasn't so long ago that the goaltending controversy in Toronto centered around the Reimer's injury and Gustavsson's weak attempt to fill in.
The debate now seems to be something entirely different—who really is Toronto's No. 1?
Fortunately for the Maple Leafs, this is a fantastic reason for controversy insomuch that healthy competition and success will decide who deserves to play—and not seniority or ego.
Now that Reimer is back from injury and the Monster is on a roll, any added angst shouldered by Leafs Nation in the early goings has all but disappeared.
The Maple Leafs have come a long way since the days where Vesa Toskala or Andrew Raycroft were their most viable options in net.
Thankfully, Leafs Nation no longer has to endure a total collapse of conscience late the game on such a regular basis.
At the moment, Toronto has two very capable goaltenders whose potential is limited only by their confidence and ambition.
That is definitely something to smile about.
Bruce Bennett/Getty Images

Perhaps the most endearing quality about the Toronto Maple Leafs this season has been their resilience and depth in the face of injuries to key players.
Colby Armstrong, Mike Brown, Mike Komisarek and John-Michael Liles have all had significant amounts of time off due to injury. Thankfully, Toronto's young guns have been able to fill the void and gain incredible experience in the process.
From where has all this depth come?
General manager Brian Burke has shown there are other ways to rebuild a team besides the draft, and he has proven this by swinging multi-player deals with cap-conscious teams.
Joffrey Lupul, Jake Gardiner, Matthew Lombardi and Cody Franson are all players that have been wrangled away from their former clubs with great deliberation.
Scouting college player Tyler Bozak from the University of Denver in 2009 has also proven to pay off for Burke's Maple Leafs. Bozak has enjoyed comparable offensive stats to Tim Connolly, has a better faceoff percentage at 52.1 and comes with an extremely economical $1.5 million cap hit.
He has also exhibited complimentary chemistry on the top line with Phil Kessel and Joffrey Lupul.
Another interesting discovery with respect to the Leafs' depth has been revealed by Ron Wilson's line juggling—paring Lupul with Connolly and Nazem Kadri and Kessel with Bozak and Matthew Lombardi, in the game versus the Minnesota Wild on Jan. 19, 2012.
This line shakeup resulted in a three-point night for Lupul and Kessel's 25th goal on the season—a good sign that Toronto is not just a one-line/one-trick pony.
The Mikhail Grabovski/Nikolai Kulemin/Clarke MacArthur line also seems to be picking up some steam as of late.
Grabovski has five points in his last two games, while MacArthur is on pace for a career-best 25 goals.
Seeing other players such as Joey Crabb contributing offense on the fourth line is also an extremely encouraging sign.
The cherry on top for the Maple Leafs organization is that they have the likes of Joe Colborne, Matt Frattin, Korbinian Holzer, Jesse Blacker and Jerry D'Amigo contributing to a strong Toronto Marlies team—with Tyler Biggs, Stewart Percy and Greg McKegg still in the pipeline.
As a result of a few very nice trades, Burke has managed to assemble an array of options for Ron Wilson to play with.
Abelimages/Getty Images

Balance isn't necessarily a problem unless the right chemistry exists to make it all work.
Fortunately, the Leafs seem to have both and have thus displayed these strengths to their advantage throughout the 2011-12 NHL season.
Up front, Phil Kessel and Joffrey Lupul have discovered their chemistry in large part due to their complimentary style of play.
Kessel is an extremely fast sniper with arguably the quickest release in the NHL. He is also an underrated playmaker.
Lupul, on other hand, has also shown an elite scoring touch, but he has a more utilitarian approach to his game—grinding in behind the net and in front, using his body and drawing attention away from Kessel.
The effect this creates is more space in the offensive zone for the Leafs to work with and ultimately provides better scoring chances more often.
The Maple Leafs' defensive corps similarly is comprised of role players whose collective chemistry has provided the balance necessary to be effective.
While some defensemen fit the description of the prototypical stay-at-home/shutdown type—Schenn, Komisarek—other players such as Liles, Franson and Gardiner shine in their ability to move the puck with smooth and quick transitions, as well as add an extra element of offensive skill.
Dion Phaneuf just happens to be an incredible all-around defenseman, which truly makes him invaluable to the Maple Leafs as he anchors the team.
With a roster now apparently chock-full of character players—along with a list of attractive prospects patiently waiting in the wings—there is a lot to look forward to in the future.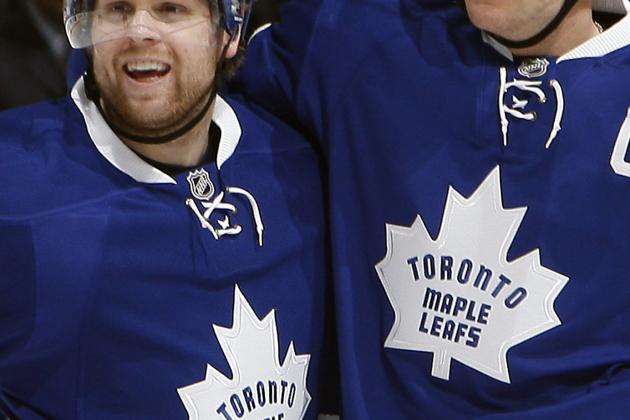 Abelimages/Getty Images

One of the most important reasons why being a loud and proud supporter of the Toronto Maple Leafs doesn't make you look ill-informed is that—like it or lump it—they are finally on the right track.
The Leafs' record since their breakout after the 2011 NHL All-Star Game is 43-28-11.
That's good for 97 points and would have guaranteed them playoff action in any year since the NHL lockout.
Another extremely encouraging sign was John-Michael Liles recently coming to terms with Brian Burke on a new four-year contract extension with the Leafs, well before he was set to become a UFA.
No only did Liles take a little less than what some would have considered market value, he professed his desire to remain a Maple Leaf—and that is absolutely priceless.
Liles sees the direction and potential of the organization and has truly adopted the city of Toronto as his home away from home.
What we've seen over the last few years is a remarkable—and sometimes painful—turnaround for a franchise in dire need of a reawakening.
Going forward, we should not be so naive to think there won't continue to be growing pains along the way.
We've seen an acceleration of success for this young Maple Leafs team, and this is something not to be taken for granted.
What now has become evident is that the Maple Leafs have found many of the right pieces to build on to be a successful hockey club for years to come.
For that, we should be very proud.