BCS Rankings 2011: Why LSU-Alabama Rematch Epitomizes System Failure
November 30, 2011
Streeter Lecka/Getty Images
There's a good chance that LSU and Alabama are the two best teams in the country. But regardless of whether this is true or not, a rematch in the BCS title game would be yet another clear indication of the failure that is the Bowl Championship Series and why it must be replaced with a playoff system of some sort. 
Alabama had its chance to beat LSU. It came up short. Now, another team should get a crack at beating the No. 1 team in the country (I'm assuming that LSU will beat Georgia in the SEC title game, but even if they don't, they will probably still make it to New Orleans). Failing to give another team a chance to play LSU would be unfair and is simply not good for college football.
Plus, what conclusion do we draw if Alabama beats LSU in New Orleans? Both teams would have the same record and have split contests on essentially the opponents' home fields (again, assuming LSU beats Georgia). This would only generate perpetual controversy and frustration, and it would prevent any satisfaction about the way we determined our national champion.
Perhaps the greatest hypocrisy of all is the fact that Alabama, if it indeed plays for the title, could win the national championship without even appearing in its own conference championship; instead, they get to rest idly waiting to head to New Orleans. Another possibility includes Georgia winning the SEC yet having to watch two other SEC teams play for the national championship. How can a team win the national championship yet fail to win their own conference title? That is hideously illogical and is another symptom of the ugliness of the BCS. 
Rankings in general are arbitrary; it would be very difficult to argue that each team in, say, the Top Five, Top 10 or even Top 20 has a level of talent that corresponds exactly to the way they are ranked in relation to other teams. In other words, most of the teams near the top of the rankings could potentially beat each other on any given day (with some exceptions).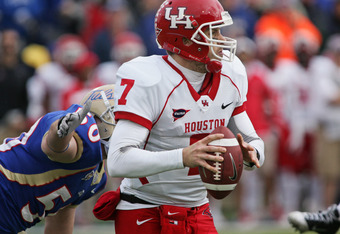 Brett Deering/Getty Images
The point is not whether Alabama is the second best team in the country; they very well may be. But the system currently in place to determine that is simply not acceptable in today's college football landscape.
Of course, the arguments for a playoff system have been stated plenty of times. But this season in college football calls especially loudly for one because of the number of quality teams and intriguing possible matchups.
Pitting, say, the Top 16 teams against each other in a playoff would be wildly entertaining. More importantly, it would allow us to determine most genuinely which is the best team in college football; whichever team wins would undoubtedly earn the title.
Granted, they have not faced a difficult schedule, but undefeated Houston, for example, deserves to have a chance at the national championship. They have earned it. And this obviously is not possible with the BCS.
Even with a playoff, we may still discover that LSU and Alabama are indeed the two best teams in college football. But we would know for sure in that case. Today, we are simply assuming that Alabama is the second-best team in the nation. Assuming is not fair given the quality and quantity of other good teams in college football (Oklahoma State, Virginia Tech, Houston, Boise State, Oregon, Oklahoma, South Carolina and Wisconsin, to name a handful).     
If LSU and Alabama play for the national championship, I will be disappointed, but I will be able to enjoy it, because the game should be competitive, and there's a good chance they are indeed the two best teams in the country. However, there will be those lingering traces of doubt and disappointment that other teams didn't get the chance they deserved.