Heisman Trophy: Only Trent Richardson, Robert Griffin III Should Be Considered
November 30, 2011
Kevin C. Cox/Getty Images
There should be two college football players in contention for the Heisman and neither of them is named Andrew Luck.
Luck will receive some first-place votes when the votes are tallied. However, it is only because he was so highly regarded coming into the season.
This situation is similar to the hypocrisy of preseason polls that allow schools to remain ranked higher than they should at the end of the season because they were ranked high before the season started.
Trent Richardson and Robert Griffin III are the only two players who should receive first-place votes.
I would be in favor of stripping anyone of their future voting rights if they vote differently. Anyone who makes an honest evaluation knows that these two players are the most deserving. If you can't see that, you shouldn't be voting.
Some would argue Case Keenum belongs in contention because of his numbers.
I actually think he should have won it in 2009, or at least been in the top three, because his team played a tough schedule which included road wins versus No. 5 Oklahoma State and Mississippi State. His numbers in those games were far better than Tim Tebow and Colt McCoy, who was a finalist.
This season Houston's schedule is filled with cream puffs. No way should Keenum be considered with the Cougars' schedule.
Luck had a good season and led the Stanford Cardinals to an 11-1 record. He completed 261 of 373 passes for 3,170 yards and 35 touchdowns to only nine interceptions.
Luck was good in every game this season but he was rarely great. On the other hand, Griffin III and Richardson were rarely good and almost always great.
Griffin III completed 252 of 347 passes for 3,678 yards and 34 touchdowns to only five interceptions. Baylor is 8-3, and for that football program it's like being undefeated. In the three games that the Bears lost, Griffin III was still great. He averaged over 400 yards passing and had nine touchdowns even in his three defeats.
His Heisman moment was against then-No. 5 Oklahoma where he passed for 479 yards and four touchdowns and zero interceptions.
Richardson has been amazing as well. He has over 1,900 yards of total offense and is likely to clip the 2,000-yard mark during his bowl game. He has 23 total touchdowns and had rushed for over 100 yards in nine of his 12 games for the 11-1 Crimson Tide.
The Tide's only loss was to No.1 LSU, but he had 169 yards against the nation's No. 2 ranked defense.
Many people say that he had his Heisman moment against Auburn last week when he rushed for 203 yards and had a receiving touchdown. However, I feel as if his signature game was against No. 8 Arkansas when he had 211 total yards and one touchdown.
Either of these players would deserve the Heisman Trophy if they won.
One thing that impressed me about both of them is the stats they put up with what they were working with. Griffin III was working with Baylor—enough said. Richardson, however, did not have a perfect situation either.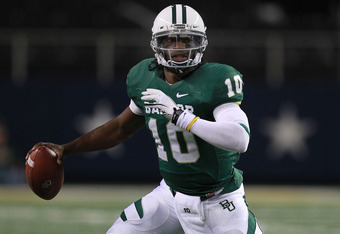 Ronald Martinez/Getty Images
Yes, Alabama has one of the best, if not the best, defense in the nation. But look what he is working with on offense. He has a solid offensive line but he is also working with a first-year quarterback and no dominant wide receiver.
The loss of Greg McElroy and Julio Jones this season allowed opposing defenses to stack the box because AJ McCarron and Marquis Maze are not going to scare anyone at this stage in their careers.
I don't have a vote in the Heisman race but if I did, I would select Richardson. He has played in the nation's toughest conference and division and has continued to play well. Griffin III had a very good sophomore campaign but seemingly came out of nowhere this season.
Richardson, on the other hand, has carried the pressure with him since January and still managed to exceed expectations.