Detroit Tigers: Winter Meetings Preview According to Total Player Rating
November 30, 2011
Harry How/Getty Images
Last year was a magical season for the Detroit Tigers until they ran into the buzzsaw that was the Texas Rangers.
Justin Verlander captured our imagination with a season for the ages. He turned that into a Cy Young Award and MVP. You could argue that he wasn't even the MVP of his team, but that just shows the quality.
So, when you look at what they need to do for the Winter Meetings, you see that the word "need" can be used judiciously. They have some irons in the fire, but most of these things are what we might call gilding the lily. All systems appear to be go for this team to be a consistent force on top of the AL Central.
Infield
The Tigers infield is strongest at the first two spots. Alex Avila went from being a solid backstop to being one of the best all-around catchers in baseball.
We will list Victor Martinez as a catcher as well, but he spends most of the time at designated hitter. His season was not one of his finest in terms of OPS numbers, but he drove in more than 100 runs in this dynamic offense.
With all deference to my comrade, Rob Kelley, Miguel Cabrera was the best player on this team. He quietly produces numbers that mirror those produced by Albert Pujols. Cabrera is not the defender that Pujols is, but he matches him everywhere else.
If there were a fourth member of this fab four, it would Jhonny Peralta at short. The Indians gave up on him because he didn't take to third and they thought he couldn't play. Ironically, he is a much better defender than Asdrubal Cabrera. He also seems to hit better at short than he does third, so we can ignore the Jose Reyes rumors.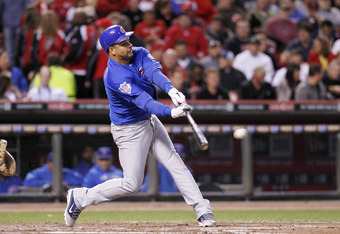 Joe Robbins/Getty Images
Ramon Santiago is a free agent, but the Tigers would be wise to bring him back. He seems best suited among the internal candidates to hold down second base.
Kelley reported earlier this past week that Aramis Ramirez could be headed to Detroit. Upgrading from Brandon Inge would be a dagger in the heart of the other contenders in the division.
Player to Watch: Alex Avila
Outfield
This could be an area of concern for the Tigers. They have names and faces, but some of those names and faces might be pyrite (fool's gold). Dave Dombrowski struck gold when he picked up Delmon Young from the Twins in August. He had a magical last two months that culminated in a great run in the ALDS and ALCS.
Unfortunately, he hasn't produced consistently yet, so he could as easily turn back into the maddening Young that the Rays and Twins gave up on.
In right field, Brennan Boesch should perform ably in place of aging Magglio Ordonez. Ordonez turned into an old man before our very eyes. Father time catches up with all of us. They are rid of his contract, so those funds might be going into Ramirez.
Boesch has been inconsistent as well, so the Tigers are completely sure what they are getting there.
Finally, there is Austin Jackson. The Tigers know they will get Gold Glove quality defense, but they aren't sure what he will give them with the bat. He had a very good 2010 season offensively, and he has shown flashes of brilliance since. Unfortunately, the flashes were few and far between in 2011.
Player to Watch: Delmon Young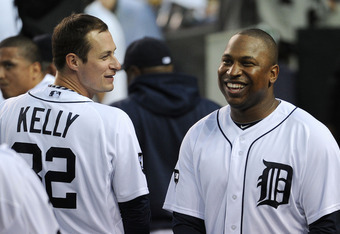 Harry How/Getty Images
Starting Rotation
Anyone hear of Justin Verlander? I hear he is good. Seriously, no one has a staff ace quite like the Tigers.
Dombrowski struck gold again when he picked up Doug Fister from the Mariners. Come to think of it, it makes we wonder why he didn't get more Executive of the Year consideration. Fister picked up his game big time once he came to Detroit.
After those two, Max Scherzer threatens to become a top-of-the-rotation arm. He has top of the rotation stuff, but sometimes struggles to harness it.
Like most teams, the Tigers would like to improve the bottom of their rotation. They used Brad Penny last season, but they are looking for an upgrade. I'd also love to trade up to Salma Hayek. My wife would probably like to trade up to James Bond. You get the idea.
Rick Porcello and Phil Coke round out the rotation. Coke can easily go between the rotation and the bullpen. So, if they let Penny go, they have what they need to move forward, but Coke could be placed back in the pen if they pick up another veteran.
Player to Watch: Doug Fister
Bullpen
Papa Grande (Jose Valverde) had one of those seasons closers dream of. He was perfect in save situations (including an emotional save to eliminate the Yankees in the ALDS). If history is correct, he will have a letdown season, but I don't want to be a Debbie Downer. Joaquin Benoit was brilliant in a setup role.
The rest of the bullpen was solid as well. Al Albureuerque and Daniel Schlereth were solid in middle relief. Dombrowski acquired David Pauley in the same deal that brought in Fister. He was brilliant in Seattle, but struggled in Detroit. The Tigers will take his overall numbers from 2011 and walk away happy. If they get that, then the Tigers will have one of the deepest bullpens in the league.
Player to Watch: Joaquin Benoit
Winter Meetings Win
Dave Dombrowski is playing on house money. He already has a playoff contending roster now, so anything good he does will be gravy. Aramis Ramirez is a possibility and he could also add another quality starting pitcher. The good news is that he doesn't have to do anything.