Kansas City Chiefs vs. Chicago Bears Preview: Key Matchups and Predictions
November 30, 2011
Jonathan Daniel/Getty Images
The Kansas City Chiefs will step outside of the AFC this weekend to take on the Chicago Bears at Soldier Field.
KC will be coming into this contest on a four-game losing streak after another tough defeat last week against the Steelers.
Chicago is 7-4 and also coming off of a tough loss last week, as the Raiders beat them 25-20 in Oakland.
Both teams are in very similar situations at the QB position, as each squad's starting signal-callers are currently injured.
Fourth-year man Caleb Hanie will be starting for Chicago for the second straight week, while the newly acquired Kyle Orton will likely be making his Chiefs debut in this one.
It will also be a big game for Orton, who used to start for the Bears until he was traded to Denver back in 2009.
Here is how I see both teams stacking up on offense and defense:
When Kansas City Has The Ball
Of course, much of the focus on the Chiefs' offense in this game will likely be on new starter Kyle Orton.
After all, he's an ex-Bear and will be playing his first game as a Kansas City Chief.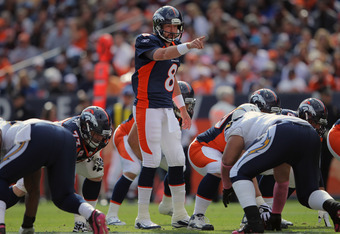 Doug Pensinger/Getty Images
Orton should test the Bears' secondary with a talented receiving corps that includes Pro Bowl wideout Dwayne Bowe and rookie Jonathan Baldwin.
In the ground game, Jackie Battle, Dexter McCluster and former Bear Thomas Jones need to play well to help set up the play-action for Orton and the KC passing offense.
When Chicago Has The Ball
As of right now, it's hard to make of what fill-in starting QB Caleb Hanie will become in his time as the Bears' quarterback.
One thing that is certain for the Bears' offense going forward is that they will be giving fourth-year RB Matt Forte plenty of carries to help open up the passing game for Hanie.
Johnny Knox is someone that the KC defense needs to watch out for, as he burned the Raiders' defense for 145 yards through the air last week and is up to 622 receiving yards for the season.
When Kansas City Is On Defense
Two names that the Bears' offense will likely be hearing early and often in this game will be Derrick Johnson and Tamba Hali.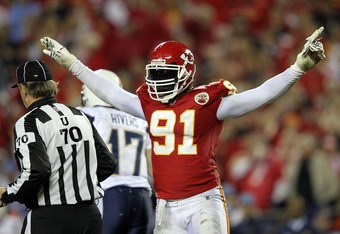 Jamie Squire/Getty Images
This play-making duo represents the heart of the Chiefs' D, and they always seem to find a way to make an impact for this defense.
Kansas City also possesses two of the more underrated cornerbacks in the league with Brandon Flowers and Brandon Carr, who combined to shut down one of the best receivers in the AFC in Mike Wallace last week.
I fully expect defensive coordinator Romeo Crennel to dial up some blitzes against the young Caleb Hanie to try to make him feel uncomfortable in the pocket this weekend.
When Chicago Is On Defense
The Bears have a veteran defense that has many proven players who know their roles very well.
Linebackers Lance Briggs and Brian Urlacher are very solid against the run, while defensive end Julius Peppers leads the team with eight sacks and helps anchor a stout Chicago defensive line.
The secondary has been an area where the Bears have struggled this season, as they are 30th against the pass this year.
I also expect defensive coordinator Rod Marinelli to put some pressure on Kyle Orton in this game by using an array of different blitz packages against the KC offense.
When Kansas City Is On Special Teams
The Chiefs have one of the best kicker/punter combos in all of the NFL in Ryan Succop and Dustin Colquitt.
However, their kick coverage and kick/punt return game has just been average this season overall.
When Chicago Is On Special Teams
The Bears also have a solid kicker in Robbie Gould and a dependable punter in Adam Podlesh.
And there's also this guy named Devin Hester that the Chiefs might need to look out for in the return game.
Key Matchup: The Chiefs' Offense vs. The Bears' Front Seven
KC comes into this game with the 11th best rushing attack in the league, while Chicago is rated eighth against the run.
Obviously, something will have to give on Sunday.
Prediction: Bears 21 Chiefs 17
I expect this game to be a close one throughout, but the Bears defense and the Soldier Field crowd will be too much for Kyle Orton and the Chiefs' offense in the end.