2008 NHL Recap & Review: Snapshots of a Puck-Scuffed Year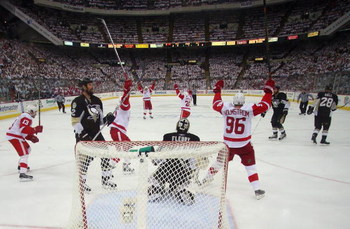 As the sun sets on 2008, Bleacher Report looks back at the biggest and best sports moments of the year, and the hockey world provided plenty memorable snapshots. Take a look at some of the year's defining hockey moments, and find out how much you remember about the last 365 days.
The NHL entered its 91st year with the start of the '08-'09 season, and has now played out most of what remained of the year 2008. The past twelve months have again been filled with hockey thrills and chills, far too many to count. Every fan has a personal mental highlight reel of their favourite moments...please feel free to share! Post your thoughts about 2008 below, and bask in a year's worth of hockey memories as we bring in 2009.
Keep your eyes peeled for 2008 hockey trivia questions with each photo, and test your knowledge of the past year in our game! Answers are revealed at the end of the show.
Photo: The Detroit Red Wings clinch their eleventh Stanley Cup with a win over the Pittsburgh Penguins, spring, 2008.
Short-Handed Leaders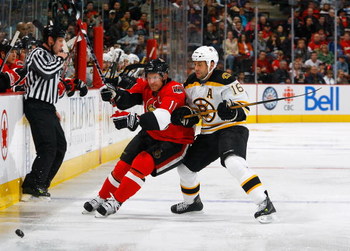 In 2007-08, Chicago Blackhawk Patrick Sharp and Daniel Alfredsson of the Ottawa Senators tied for most shorthanded goals with seven apiece. Nipping on those two talented tails on the SH list was a relative unknown, who tallied five shorties in just 62 games; since he only scored ten goals the whole year, the five SHers made up half his '07-'08 total.
Hint? This player is doing very well this season, but people still call him the wrong name....
~ Q.1: Who is it? Fill in the blank:
2007-08 Shorthanded Goal Leaders
Daniel Alfredsson: (GP-70; SHG-7)
Patrick Sharp: (GP-80; SHG-7)
_____________: (GP-62; SHG-5)
Mike Richards: (GP-73; SHG-5)
Photo: Ottawa captain Daniel Alfredsson battles with Boston's Marco Sturm early in October 2008; Alfredsson was tied for most shorthanded goals in 2008. Alfredsson and the Senators are struggling in the first months of 2008-09.
Iginla Records Career Year
Out in the oft-forgotten West, Calgary Flames captain Jarome Iginla was a force to be reckoned with yet again in 2007-08. He passed former Flames defenseman Al MacInnis for most games-played in a Calgary uniform (29 Nov 2007), followed by the toppling of Theoren Fleury's franchise goal-scoring record (10 March 2008) with his 365th Flames marker. His 50G-98PT '07-'08 campaign was his best since a 52G-96PT effort in 2001-02, and he came third in overall scoring leaders, after Alexander Ovechkin and Evgeni Malkin. Though he lost to Ovechkin in the end, Iginla was picked by The Hockey News to be MVP (Hart Trophy) at the halfway mark of 07-08.
Iginla was left hanging at 49 goals until the Flames' last regular season game of 07-08. He remained patient, and eventually notched the magic-number goal before wrapping up the 2008 regular season. In the first months of 2008-09 Iginla is still ranked among the NHL's top scorers, and has continued to show his well-rounded talents. Although Fleury and MacInnis still best him in franchise points, he gets nearer to being Calgary's irrefutable all-time player with every game.
~ Q.2: Against which team did Iginla score his 50th 2007-08 goal?
Photo: Jarome Iginla battles with Brian Campbell in Game 4 of the seven-game 2008 first-round playoff series. Iginla continues to display his never-say-die attitude in 2008-09.
2007-08 End-of-Season Standings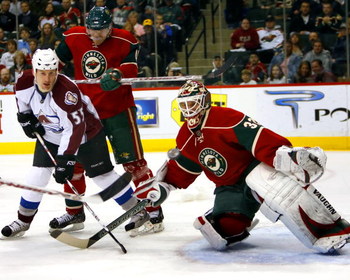 2008 again saw numerous teams make some last ditch effort to secure a postseason position. The Washington Capitals edged into the playoffs at the last minute by winning the Southeast Division, the only SE club to earn a seeding. Many say making the playoffs was the clincher to Ovechkin's eventual Hart Trophy win.
The ultra-competitive Northwest Division had tight rankings (again), with only ten points separating first and fifth place. The Oilers, counted out early in 07-08, made a valiant last-minute push to try for the playoffs but were edged out in the dying days of the season. Detroit led NHL standings with 115 points, followed by San Jose (108), Montreal (104), and Pittsburgh (102). Tampa Bay and Los Angeles bottomed out the standings with 71 points apiece, while the Predators had the least points of any playoff-seeded team with 91.
~ Q.3: Which 2007-08 division boasted the biggest point-difference between the team which came in first place and the one which landed last?
Photo: The Minnesota Wild won a hard-fought Northwest Division title in the spring of 2008, and faced division rival Colorado in the first round of the playoffs. The Avs won the series.
2008 Stanley Cup Playoffs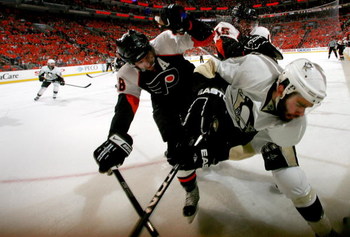 The 2008 playoffs were a hit as usual. The recent trend which saw Canadian clubs play in the final was bucked for the first time in three seasons. Out East the Devils-Rangers match-up was relished by New Yorkers when they eliminated Jersey in five games. The Bruins-Canadiens first-round series went the distance and did the rivalry proud, but Montreal quickly went on to an unceremonious exit at the hands of the Philadelphia Flyers. Pittsburgh swept the Sens out of the Eastern Conference Quarter-Finals, then took out the Rangers and Flyers on their way to the Cup Final.
In the West, regular Cup-favourite/disappointment San Jose edged past the Flames in seven before being ousted by the Stars in the second round. Dallas met rival Anaheim in the Quarter-Finals and carried through to the Western-title series, but were taken down by the eventual Cup-winners. The Preds gave the Red Wings fits in the first, but Detroit would come back and move on to eliminate the Avs, Stars, and Penguins to win the 2008 Stanley Cup.
~ Q. 4: Which player tied an NHL record for most points scored during a single playoff period during the 2008 Stanley Cup Playoffs?
Photo: Daniel Briere and the Philadelphia Flyers looked like a legitimate threat after taking out the Capitals and Canadiens, but were knocked out of the Eastern Conference Final in five games by state rival Pittsburgh.
Avery's Always At It!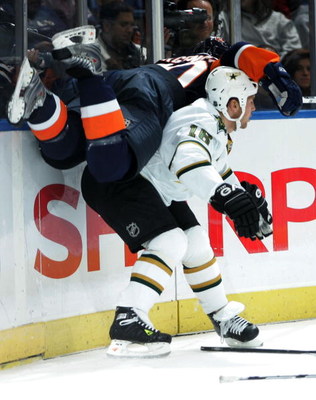 Sean Avery has made noise since the beginning. From outrageous outbursts and on-ice antics to playing with dolls (as a child...?) and crib-pimping, there is no doubt that the Ontario-born pest has made a hearty impression. Some say he's just making the best of his talents!
When he bamboozled Devil's goalie Martin Brodeur with "unsportsmanlike" tactics during the 2008 playoffs, it resulted in an unprecedented mid-playoff rule adjustment; the league suspension he received after remarks in winter of the same year was equally unparalleled. Avery has never played a full 82-game pro season, and was cut off at 23 games at the start of 2008-09 when first the NHL, then the Stars opted to keep him out of uniform. He scored one of his three '08-'09 goals in what would be his last game of 2008, 30 November, in Edmonton.
~ Q.5: In April 2008, where specifically did Avery tell media he would be spending the off-season, working as an intern?
Photo: Sean Avery was a Ranger in the spring, but is seen here the next season as a Star, giving a hip to Islander Sean Bergenheim. It has been announced by the Dallas franchise that Avery will not return to that squad after his suspension.
Detroit Makes History with Latest Stanley Cup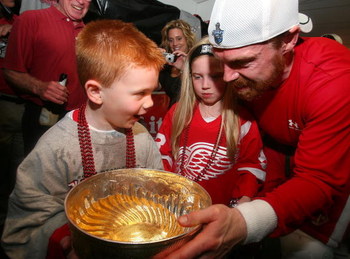 When the Detroit Red Wings won their eleventh Stanley Cup Championship in 2008, it included a number of personal and NHL firsts. Norris-winning leader Nik Lidstrom became the first born-and-raised European to captain a team to the Cup; Dan Cleary was the first Newfoundland-native to have his name engraved on the silver mug; and three Red Wing players joined the elite Triple Gold Club (Olympic gold, World Championship gold, Stanley Cup).
Veteran goaltender Chris Osgood helped steady the Wings after a rocky start which saw star backstop Dominik Hasek lose his edge. Osgood managed to post 14 wins in 19 games, recording three shutouts, a 1.55 GAA, and a .930 save percentage; numbers which led him to his third Cup, all with Detroit. The 2008 Wings boasted many multi-mug winners, including Kris Draper, Darren McCarty, Lidstrom, Chris Chelios, Brian Rafalski, and many, many others.
Most of the Championship ring-bearers are still in the Detroit locker room for 2008-09, and Cup-rival Marian Hossa has been added to the bench. The Wings franchise now has the third-most Stanley Cup victories all-time.
~ Q.6: One of the 2008 Triple Gold inductees also scored the Cup-winning goal in the third period of Game Six. Who?
Photo: Kris Draper shares the 2008 Cup-winning moment with his family, his fourth Championship as a Red Wing.
Ovechkin SCORES!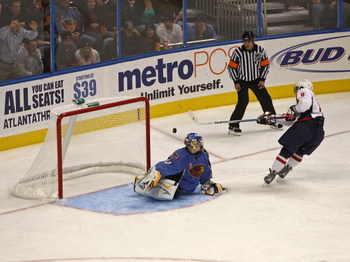 Alex Ovechkin continued to amaze fans and frustrate opponents this past year. He brought his numbers back up after a slightly less productive sophomore year, and recorded a league-leading 65 goals to help the Capitals squad to the 2008 Southeast Division title. He was the first player to notch 50 goals in 07-08, and the second in NHL history to nab a hat trick in the same contest. His tally-total was good for a Washington franchise record and made him the first NHL player to score 60+ goals since 1995-96, when Lemieux and Jagr each pulled it off. Ovechkin even managed to break an NHL record at the end of the '07-'08 season.
Alex the Great started slow in 2008-09, but when he returned to Russia to visit his ailing grandfather, the reason became obvious. The first day of his leave-of-absence was only the second game he had missed in his career. Finding inspiration from his grandfather's influence on his life in hockey, Ovechkin has returned and looks to move the Caps further forward this season...the team leads the SE Division and sits safely at 3rd in the East heading into the New Year.
~ Q.7: Which NHL record did Alexander Ovechkin break in 2007-08, and who held the honour immediately before?
Photo: Ovechkin pots a goal at the expense of Kari Lehtonen and the Atlanta Thrashers, October 2008.
Chicago's Youthful Spirit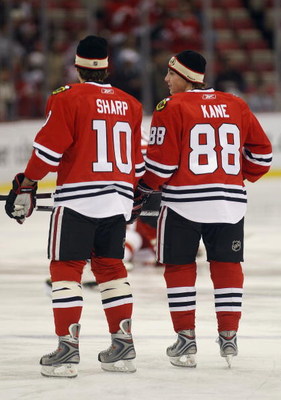 Patrick Kane and Jonathan Toews have both made an impact in Chicago, and are key players for the Blackhawks young and rising team. Kane led Chicago in scoring as an 18-year old rookie in '07-'08, and was followed along in points-per-game by fellow newbie Toews, who played fewer contests but kept up otherwise. Dave Bolland didn't play much either but still did well in his rookie campaign at age 22. When 23-year old Andrew Ladd was acquired in February it made the 'Hawks younger and stronger again. Kane won the Calder as 2008's Rookie of the Year, leading his team in scoring with 72 points.
Toews, now 20, currently wears the captain's "C", and 26-year old Sharp and 25-year old defender Duncan Keith are listed as assistants (December 2008).
The average age of the 2008-09 active bench is around 25-years old. There are only four men over 30 (two skaters and both goalies), and fourteen of the twenty-three man roster are 25 or under. Kane and Sharp are among the League's top scorers, and are joined by Toews to again lead Blackhawks scoring. Chicago's young guns aren't just keeping up in the big leagues...some are leading the way.
~ Q.8: How many rookie-ranked players registered at least one game with Chicago in 2007-08?
Photo: Chicago St Patricks? Assistant captain Patrick Sharp and leading scorer Patrick Kane are two of the Blackhawks' key young players. Chicago missed the playoffs in 2008 but are hoping to gain a spot in '09. Seen here debuting the vintage-style toques to be worn at the 2009 Winter Classic.
First and Lasts, Rookies and Retirements
Every year the league-wide roster shifts just slightly, as youngsters play their first NHL games and veterans finish out their pro hockey careers. 2007-08 welcomed newcomers such as Washington's Nicklas Backstrom, Chicago's Patrick Kane and Jonathan Towes, and Montreal's Carey Price, but it also bade farewell to a few familiar faces. Dominik Hasek, Jaromir Jagr, and Trevor Linden played their last games in the NHL, as did stalwarts like Dallas Drake, Stu Barnes, and Glen Wesley. Jagr took a hefty $25 million, 2-year deal with Russia's newest NHL rival, the Kontinental Hockey League; Hurricane Wesley recorded his 1,400th NHL game in November 2007, only the tenth defenseman to mark that milestone.
~ Q.9: How many points did Jagr record in his last NHL season?
Photo: New York Rangers captain Jaromir Jagr plays in his final NHL season in '07-'08. Seen here against the Rangers' rival Isles in March '08, he played his very last NHL game in the 2008 playoffs against his old club, the Pittsburgh Penguins.
More Rule Changes? No Kidding....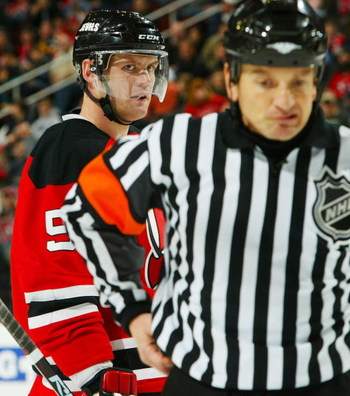 New Jersey players aren't the only ones to give on-ice officials the Devil's eye. It's been a wild few years for the NHL Rule Book, and many fans are still trying to fathom some of the tweaks that were made after the 2005 lockout. It seems like it's the new era of the penalty call.
Starting in '07-'08, penalty shots could be called when a player was hauled down from the centre line in, rather than forward of the blueline. Interference calls now include the possibility of a major penalty and possible misconduct if the play results in injury.
2008-09 expanded and refined even more rules. Faceoffs are now in the offending team's zone after a penalty, TV breaks are limited, and races for iced pucks must now be conducted with more restraint, among other adjustments.
~ Q.10: According to 2008-09 rule-refinement, where does the faceoff take place if the puck goes out of play off the crossbar or goal post? (This'll test how closely you watch the faceoffs!)
Photo: New Jersey's Colin White shoots daggers at NHL official Tim Peel. Rarely popular, NHL referees and linesmen have their work cut out for them with so many rule changes. Players have little sympathy...they're the ones who have to adjust their gameplay.
ENHL? Season Openers in London, then Stockholm and Prague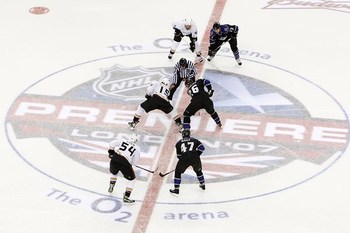 The 2007-08 season opened with the first ever regular season games to be played in Europe. The LA Kings took on the Stanley Cup-defending Anaheim Ducks in London, England. This year the experiment was expanded. The Ottawa Senators opened '08-'09 with the Pittsburgh Penguins for a pair of games in Stockholm, Sweden, and the New York Rangers faced the Tampa Bay Lightning in Prague, Czech Republic.
The league plans to send six clubs across the pond next season, adding more each year, but faces resistance from the NHLPA. Added travel, fatigue, and international exposure are elements of this one-of-many "controversial" issues in contemporary league business. The continued overseas interest has fostered rumours of NHL intent to look further into European expansion....
~ Q.11: Which player scored the first goal of 2007-08, at the same time scoring the first regular season goal in Europe?
Photo: 2007-08 London season opener, Kings (4) vs Ducks (1), the NHL's European debut. Getty Images
Pit Martin, Alexei Cherepanov, Luc Bourdon, Mickey Renaud, et al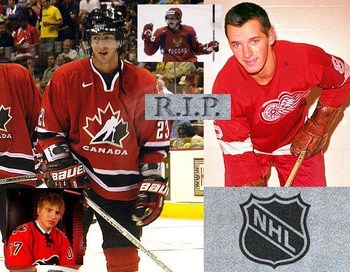 Like any community, the hockey world is always saddened by the sudden passing of one of its own. Four such tragic accidents occurred in 2008, as Mickey Renaud, Luc Bourdon, Alexei Cherepanov, and Pit Martin were mourned, among others.
Windsor Spitfire centreman Mickey Renaud, son of former Hartford d-man Mark Renaud, fell to a tragic heart condition at home in Tecumseh, February 2008. Drafted in 2007 by the Calgary Flames, Mickey's number was retired by the Spitfires after his passing, a memorial to his two years in the OHL. He was 19.
Bourdon, just 21-years old, was killed in a collision with a tractor-trailer while riding his motorcycle in his native New Brunswick in July, 2008. A strong defenseman with a heavy shot, he represented Canada internationally three times, winning two gold medals (WJC) and one silver (U18) before being drafted into the NHL 10th overall in 2005. His short pro career included 36 NHL games and 41 in the AHL.
Alexei Cherepanov was drafted by the Rangers in 2007, but passed away before he could make his NHL debut. He collapsed on the bench in October 2008 while playing for Avangard Omsk of the KHL, after skating his last shift with former Rangers captain Jaromir Jagr. The medical reasons behind the 19-year old's death are still under dispute despite an official inquiry. Like Bourdon, he competed in three IIHF events, taking gold, silver, and bronze with Russia. A concussion during the 2007 Super Series knocked Cherepanov out of the tournament, and Russia failed to win a single game without him.
Hubert Jacques "Pit" Martin passed away in November 2008 after an accident on the ice, as his snowmobile went through the frozen surface of Lake Kanasuta in northwestern Quebec. A talented player, Martin started his NHL career with Detroit in the early '60s, but would be best known as a Chicago Black Hawk, serving as their captain from 1975 to 1977. He had an interesting yet subtle career; he was part of the lopsided trade which saw Phil Esposito become a Bruin, was nicknamed "Pit" after a French cartoon character, played for three Original Six clubs, won the 1970 Bill Masterson Trophy, and quietly racked up an impressive 809 points in 1101 NHL contests.
~ Q.12: Which team did both Luc Bourdon and Pit Martin play on (at separate times) during their pro careers?
Photo: Luc Bourdon (left), seen here at the World Junior Championships, and former vetran "Pit" Martin both passed away in 2008. Insets: Alexei Cherepanov (top), and Mickey Renaud (bottom left) each collapsed suddenly in 2008; heart complications were involved.
2008 NHL Draft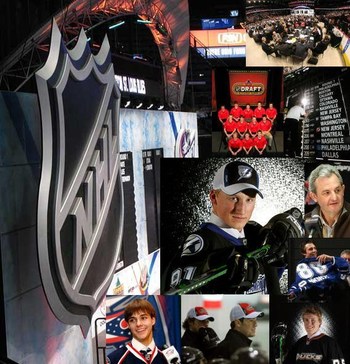 It may not have been the NHL's deepest draft ever, but Draft Day 2008 in Ottawa was eventful nonetheless. As expected, Sarnia Sting forward Steven Stamkos was taken first overall by the Tampa Bay Lightning, followed by current LA King Drew Doughty (2nd overall) and Atlanta's first choice, Zach Bogosian (3rd overall). But before any of that had even started, Calgary Flames GM Darryl Sutter made waves along with LA Kings GM Dean Lombardi and Anaheim Ducks GM Brian Burke in a three-way trade that saw Mike Cammalleri go to the Flames and the draft order shuffled. Then Alex Tanguay left the West for his native Quebec and became a Montreal Canadien, just to start things off...a lot of non-draft drama in the first few minutes of the event!
Though he wasn't yet the Maple Leafs' President and GM on Draft Day '08, Burke is probably pleased with Toronto's first-round choice of defenseman Luke Schenn, who went 5th overall and now averages over twenty minutes per game for the rough-run Leafs. Steven Stamkos faced early criticism after a slow start in Tampa but sits at 5th in team scoring, and Bogosian only got in eight games before suffering a fractured fibula in October. New blueliner Drew Doughty has been a bright spot in Los Angeles, with an average of over twenty-three minutes a game and good point-totals. This year's picks are labouring with and against other talented rookies to make their mark. Seven 2008 first-rounders are playing in the big leagues; for most of the 2008 crop of draftees, it will be a while before they get a chance at the NHL spotlight.
~ Q.13: Multiple Choice - Which of these early 2008 Draft picks scored the first NHL goal of the group?
a) Steve Stamkos
b) Drew Doughty
c) Zach Bogosian
d) Luke Schenn
Photo: (from top, left to right) "the floor" on Draft Day; 2008 top prospects; team order; Steven Stamkos; Darryl Sutter; Luke Schenn; 6th overall pick Nikita Filatov; Drew Doughty and Zach Bogosian at the 2008 Top Prospects Clinic; 17th overall Ducks pick Jake Gardiner.
Early Injuries: Johnson, Brodeur, Luongo, Semin...Too Many To Count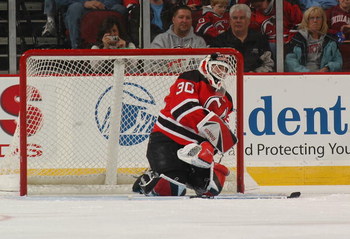 Every NHL season is riddled with player casualties, and 2008 was no different. Many teams fought their way through the spring with depleted rosters, and autumn brought a string of odd and inopportune ailments. The St Louis Blues were dealt a heavy blow before the new regular season even started when key young defenseman Erik Johnson tore his ACL and MCL during the 2008 off-season, an issue expected to keep the talented American out for the season. Washington's Alexander Semin was sidelined with a reported back injury in the midst of his furious early-start scoring burst.
Two of the League's premium netminders were hit hard by seemingly light plays. New Jersey Devil Martin Brodeur, donning a newly-designed mask, was shown wincing in pain in early November: the torn bicep will keep him out of action for at least three months. Recently-named Vancouver captain Roberto Luongo went down with a groin strain a few weeks later, and his recovery has been slowed by recurring pain. Both men are considered invaluable to their respective NHL clubs, and are regular Team Canada favourites, so there is plenty of fan concern to go around. Maybe the freshly-painted masks each had made this year will be considered bad luck!
~ Q.14: How did Blues rearguard Erik Johnson injure himself in September 2008?
Photo: Devils franchise backstop Martin Brodeur shows the first signs of distress in early 2008-09.
Haven't we seen this before... Sundin, Niedermeyer, Selanne: Playing Hard to Get
In 2007-08, Ducks stars Teemu Selanne and Scott Niedermeyer took a long breather after their Stanley Cup victory of 2007, playing only a fraction of the schedule but performing well in long-anticipated returns in the New Year of '08.
This season it's Mats Sundin who has been stringing everyone along since the end of last year, when speculation began as to where the long-time Leaf would spend 2008-09. Numerous teams were mentioned in the media as possible destinations, including another Original Six club and Eastern Conference rival, the New York Rangers. After months of waiting for news, it was finally announced Sundin would make his first move to the Western Conference and become a Vancouver Canuck.
Finally, we can stop pretending watching paint dry is a news story!
The Financial Post released details of the Canucks deal 19 December 2008, and Sundin is quoted as saying: "The first option has been Vancouver since we started to look at different teams." His one-year contract is listed at $8.6m USD, with a pro-rated cap hit of $5.625m. He apparently took less than Vancouver GM Mike Gillis' original offer to stay with a Canadian club.
~ Q.15: What was that original offer to Mats Sundin from the Vancouver Canucks, dating back to 1 July 2008?
Photo: Scott Niedermeyer, Mats Sundin (pre-Canuck days), and Teemu Selanne made us all wonder...will they play, and if so, where?
Anniversary Controversy: Montreal Canadiens Turn Ninety-Nine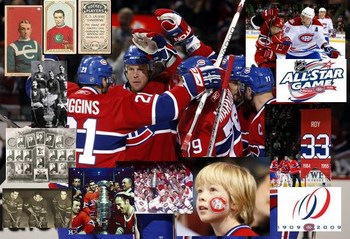 The Montreal Canadiens were founded 4 December 1909, one of the original members of the newly founded NHA, and have played under the same name ever since. They have won more Stanley Cups than any other club, have had some of the most famous players in the game wear the bleu, blanc, et rogue, and arguably been involved in more hockey history than any other team. But because that first Canadiens season was 1909-10, because there has been a cancelled season, and because people have nothing better to worry about than whether or not there's it's mistake (or a marketing grab), folks have been arguing all year about Montreal's 100th Anniversary.
In 2008 the Canadiens won the Northeast Division by an easy ten points as well as the Eastern Conference regular season title. They headed into the playoffs with promise, but were forced to seven games in the first round with Boston, and finally eliminated by the Flyers in a disappointing five contest semi-final.
~ Q.16: When Montreal beat Boston in the 2008 Eastern Conference Quarter-Final, how many police cars were reported as damaged in the ensuing riots...I mean, celebrations?
Photo: Montreal hockey has been around since the beginning. Hockey cards dating to the turn of the century show 1909 Canadien Joseph Cattarinich and a 1911-12 Newsy Lalonde; the first Stanley Cup, in Montreal; the 1916 Canadiens Cup-winning squad, the year before the NHL came into being; Montreal's famous "Punch Line": Maurice Richard, Elmer Lach, and Toe Blake; the 1968 Cup Champions; the last Canadian team in the 20th Century to win Stanley's prize, the 1993 Canadiens; one of the millions of fans who have followed Canadiens hockey over a century; franchise number-retirement ceremony for Patrick Roy; the current generation of Montreal Canadiens; logos for the club's 100th Anniversary and Montreal's All-Star Game.
2008 IIHF: World Juniors, et al.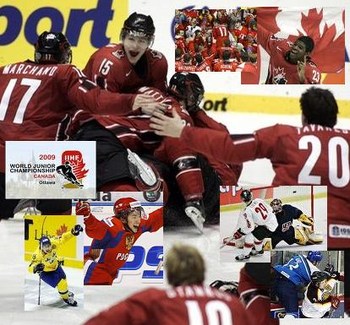 Boxing Week through New Year's Week means the annual IIHF World Junior Championships, a showcase of the world's best up-and-coming ice hockey talent. Last year's event was held in the Czech Republic; Team Canada won the 2008 title, the country's fourth in a row. The highest attendance came not in the gold medal game, but when the home team Czechs faced the rival Russians in the Quarter-Final.

Spring of 2008 also hosted the men's IIHF World Hockey Championship in Quebec, and the IIHF inducted a few new members into their Hall of Fame, including Mario Lemieux, Igor Larinov, and the first female inductees: Canada's Geraldine Heaney and Angela James, plus Team USA's Cammi Granato.
This year's edition of the WJC starts, as usual, on Boxing Day (26 December, 2008) and runs through the first week of the January 2009, taking place in Ottawa. A holiday classic, especially up North, many Canadians feel the World Juniors are even bigger than the Stanley Cup playoffs. Tournament games feature the world's best young hockey talents, and give fans and scouts a rare look at future NHL generations.
~ Q.17: Which international squad did Team Canada beat in the 2008 gold-medal match to win the World Junior Championships?
Photo: Canada enjoys their 2008 WJC win. Insets: The Canadian team celebrated with the crowds after their win in January, 2008; [AP Photo] PK Subban flies the maple leaf; Canada, USA, Finland, Germany, Russia, Czech Republic, Sweden were among teams playing internationally in 2008; Canada plays at home in Ottawa for 08-09.
"Happy New Year Canada, and Hockey Fans in the United States and Newfoundland...."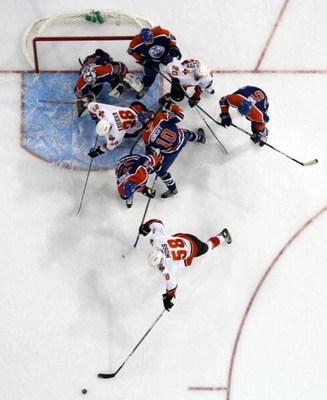 It means the players have to work, but fans who want to involve hockey in their winter holidays will be thrilled. In addition to the World Juniors there are NHL games scheduled on Boxing Day, as well as New Year's Eve AND Day, enough games so most teams play on at least one of those dates. Stay tuned in the last weeks of 2008 and wrap up the year in your hockey sweater:
December 26th, 2008 features nine NHL games, including a rematch of last season's Detroit-Nashville first-round meeting, a Florida-style tilt between the Panthers and Lightning, and a Canucks-Oilers NW Division rivalry match. New Year's Eve will see seven more games, like the returning Battle of Alberta and a Devils-Stars contest, and the first day of 2009 will host the Winter Classic (see next slide) along with four other regular season matches.
Also keep your eyes peeled on the 24th and 25th of January for the NHL SuperSkills contest and All-Star Game, as well as February 21st's Hockey Day in Canada, when all six Canadian clubs will play during CBC's fourteen-hour event broadcast. The 2008 All-Star break and HDIC were fan-favourites and provided tension relief in the home-stretch of the season; this year's January event will be held in Montreal, while Campbellton, NB will host CBC's February celebration of the game in Canada.
~ Q.18: The Calgary Flames have regularly played on January 31st, (usually against Northwest Division clubs in the last few years); which team have the Flames met MOST often on New Year's Eve, all-time?
Photo: One of the West's favourite New Year's Eve match-ups (Edmonton-Calgary) returns to end the year; the Flames met the Canucks last year while Columbus hosted the Oilers, but the Alberta teams will ring out 2008 at the Saddledome for their fourth January-31st meeting.
NHL Winter Classic: Future New Year's Tradition?
Taking a cue from the success of the Edmonton/Montreal Heritage Classic, the League has since committed to more outdoor regular season games: the NHL Winter Classic, set on New Year's Day. 2008's contest at the Buffalo Bills NFL stadium saw the Sabres clash with the Pittsburgh Penguins in a snow-laden event, featuring constant stoppages in play. 71,217 people sat bundled in the stands to watch the Pens score a 2-1 shootout victory, breaking the NHL attendance record set in Edmonton in 2003.
The 2009 Winter Classic is set to go on New Year's Day at Chicago's Wrigley Stadium, pitting the Blackhawks against the Detroit Red Wings in an Original Six match-up. Both squads will don history-inspired sweaters, with designs from the 1920s and 30s.
~ Q.19: As of the end of 2008, who are the only two players to compete in both the Heritage Classic and Winter Classic?
Photo: The Penguins and Sabres met in the first ever NHL Winter Classic on a snowy January 1, 2008. Both teams wore vintage jerseys; Pittsburgh's now-popular baby blues had not been seen since 1973, while Buffalo wore the classic logo they sported from 1978-96.
*2009 Winter Classic Fact: the last time Wrigley Field's home-team Cubs played in the World Series they faced the Detroit Tigers; Detroit won in seven games (1945).
2008 NHL Star Selections, Beginning to End....
A lot can happen on the score-sheet in an 82 game schedule: players go on hot streaks, suffer snakebite, and stats fluctuate all the time. The 2007-08 introduction of weekly and monthly NHL Three Star selections shows some of the players who raised the bar for a while, week-to-week.
The first week of 2008 featured St Louis goalie Manny Legace as 1st Star, Calgary's Kristian Huselius in 2nd position, and Penguin backstop Ty Conklin as 3rd Star; Alexander Ovechkin was the new year's first Player of the Month. The 2008-09 season opened with Washington's surprise point-scorer Alexander Semin (1st), Rangers work-horse goalie Henrik Lunqvist (2nd), and Nashville's talented young defenseman Shea Weber (3rd) as the NHL's Three Stars of October. November was good to Columbus Blue Jacket newbie Steve Mason, named the month's top rookie, and Ovechkin was again Player of the Month. With 2008 waning, there are few selections left in the year.
~ Q.20: Who was January 2008's NHL Rookie of the Month?
Photo: Nashville Predator Shea Weber shows intensity in October 2008, earning him a spot on the NHL's Player of the Month list, seen here battling St Louis Blue Brad Boyes. Already an assistant captain, 23-year old Weber is showing improved consistency in 2008-09 and has become a power-play quarterback.
2008 NHL Round-up (and Answers) - Looking Forward to More in 2009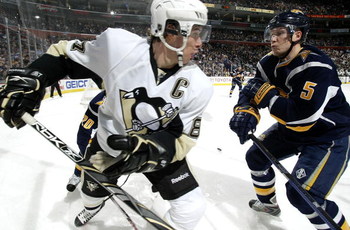 2008 featured more hits, goals, saves, and snapshots of the world's fastest game. All thirty NHL clubs competed hard to create a new album on the shelf of hockey history, and around the world players and fans continued to build the game, making it stronger and more popular than ever.
Another season under our belts, a new one underway, there are just too many highlights and memorable moments to count. Feel free to leave your thoughts below, and tell the hockey community about YOUR favourite NHL moments of 2008. Hope you enjoyed a look back at the past year in hockey!
Photo: Sidney Crosby and Toni Lydman a split-second before contact, in the last meeting between the 2008 Winter Classic teams of the year, 22 December, 2008. See you in 2009!
Answers:
~ 1. Chicago's Rene Bourque, who was moved to the Flames in the 2008 off-season. Hidden amongst the youthful talent of the Blackhawks roster, 27-year old Bourque has been listed among Calgary's top scorers in the first months of 2008-09, but some people still call him "Ray".
~ 2. The Vancouver Canucks; Iginla also led the procession to bid thanks to soon-to-be-retired Trevor Linden at the end of that game. http://bleacherreport.com/articles/16427-a-touch-of-class-linden-bows-out-iginla-finds-50-rivals-show-sportsmanship
~ 3. The Pacific Division, with 37 points between first-place San Jose and the basement-dwelling Kings. Central was a close second, with 36 points between the Wings and the Blues.
~ 4. Dallas Star Brad Richards, who scored a goal and three assists against San Jose in the third period, 27 April 2008.
~ 5. Vogue Magazine. His interest in fashion is now legendary.
~ 6. Henrik Zetterberg. The other "triplets"? Mikael Samuelsson and Niklas Kronwall.
~ 7. He broke Luc Robitaille's 1992-93 single-season record for most goals by a left winger.
~ 8. 17, according the 2009 NHL Record Book.
~ 9. He had 71 points in the regular season, 15 in the playoffs of 2007-08.
~ 10. It stays in the defending team's end zone, rather than being pulled back to the blueline.
~ 11. Mike Cammalleri, when he played for the LA Kings.
~ 12. The Vancouver Canucks
~ 13. b). Doughty scored his first NHL goal on 20 November 2008, against the Washington Capitals. Stamkos lit the lamp on 29 November, Schenn hadn't made a notch as of 22 Dec 08, nor did Bogosian before his injury.
~ 14. He caught his foot between the pedals of a golf cart during a team-building round in September 2008.
~ 15. The first offer was a two-year, $20m contract, later shortened to a single-season, $10m general proposal.
~ 16. Sixteen (16). According to a CBC report the day after Montreal's 5-0 series-clinching win over Boston, there was over $500,000 damage to police cars alone.
~ 17. Sweden. The game went into overtime, with Toronto-born Matthew Halischuk scoring the eventual 3-2 winner at 63:36.
~ 18. The Montreal Canadiens, a long-time Stanley Cup rival. Calgary has met them eight times for New Year's Eve; they didn't face the Oilers on that date until 2001-02.
~ 19. Ty Conklin and Georges Laraque, who played for the Oilers and then the Penguins. Conklin has a chance to make it three (in a row!) in 2009, playing for Detroit.
~ 20. Phoenix Coyote Peter Mueller. Other 07-08 Rookies of the Month were Chicago's Patrick Kane (October 07), Atlanta's Tobias Enstrom (November 07), Washington's Nicklas Backstrom (December 07), Edmonton's Sam Gagne (February 08), and Montreal goalie Carey Price (March 08).
Keep Reading

Calgary Flames: Like this team?