Coaching Hot Seat: 8 Coaches Who Earned Their Way off the List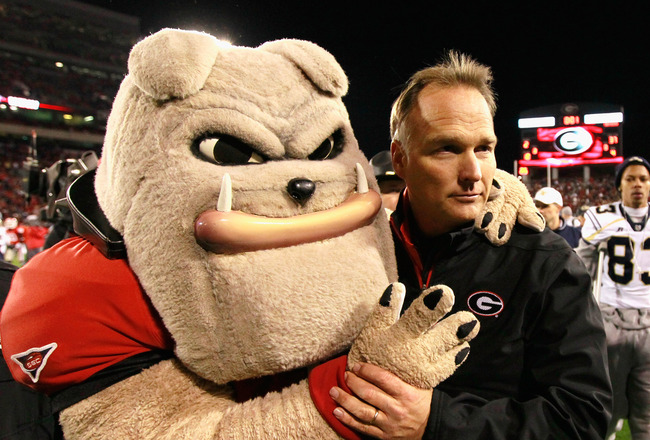 Kevin C. Cox/Getty Images
As the season draws to a close, several head coaching jobs also came to unhappy ends this last week. Men like Rick Neuheisel, Ron Zook and Paul Wulff were all released from the proverbial hot seat with the dreaded pink slip.
But, some men have been able to coach their way out of the hot seat.
These are the coaches that through their wins, potential bowl games and championships will live to coach another day, and I don't mean by the skin of their teeth like Zook used to do up until this season.
Who are they? Read on.
Greg Schiano, Rutgers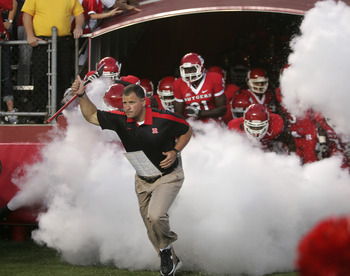 Rich Schultz/Getty Images
People began to wonder if Greg Schiano's magic had run out last season after missing a bowl game, after going to five straight.
Well, there's plenty of magic left at Rutgers as the Scarlet Knights have gotten to eight wins and will go bowling again this season.
Oh, and in case you didn't know, Rutgers had gone to a grand total of one bowl game before Schiano took the job.
Mack Brown, Texas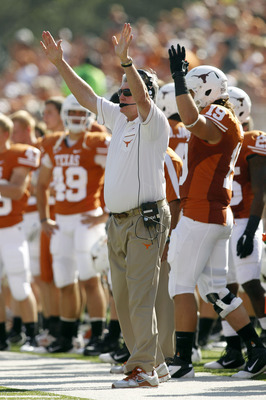 Erich Schlegel/Getty Images
Mack Brown was never firmly on the hot seat, but his seven wins and No. 22 ranking somewhat alleviates the pressure on him.
At the very least, Texas won't be staying home again come bowl season.
But, the Longhorns are still a far cry from where they were just two years ago. Brown's job may be secure for the time being, but he better get his Longhorns back into championship shape before too long.
Jim Grobe, Wake Forest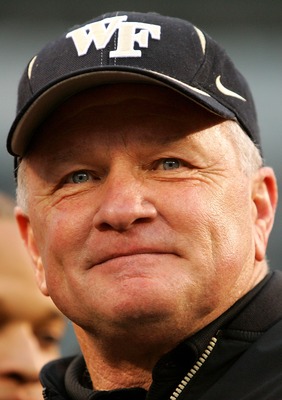 Streeter Lecka/Getty Images
Since winning the ACC back in 2006, Wake Forest's record got progressively worse each season, bottoming out at 3-9 last season.
But Jim Grobe and the Demon Deacons are headed to a bowl game for the first time since 2008, after a 6-6 record this year. While this doesn't match Grobe's glory days, it does do enough to keep him around for at least one more season.
Lane Kiffin, USC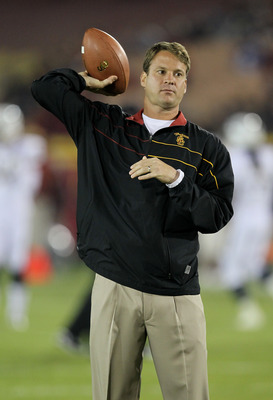 Stephen Dunn/Getty Images
Even though USC won't be playing Oregon for the Pac-12 title, we all know that the Trojans are clearly the best team in the Pac-12 South.
The pressure was on Lane Kiffin to rebuild USC, and for the most part he's been able to deliver. USC will be a strong contender for a BCS game once they get off of NCAA sanctions next season.
Ron English, Eastern Michigan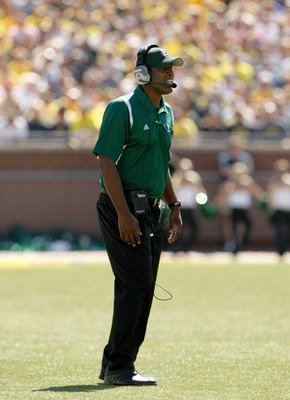 Stephen Dunn/Getty Images
Ron English and the Eastern Michigan Eagles just won three times more wins this year than they had previously in English's entire career up to this point.
English won't be going to a bowl game because two of those wins were against FCS teams, but his six wins this year will be enough to ensure his return next season.
Luke Fickell, Ohio State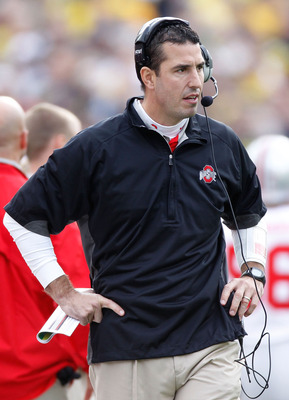 Gregory Shamus/Getty Images
OK, so Luke Fickell won't be the head coach at Ohio State after this season. But Fickell did pretty well considering the hand that he was dealt. Not to many other teams would manage to get to 6-6 after losing their head coach and QB to problems with the NCAA.
No, Fickell won't keep his job, but he was always a temporary place holder until they could finish wooing Urban Meyer. But, he will get his old job back.
So that's why he makes it onto this list.
Dabo Swinney, Clemson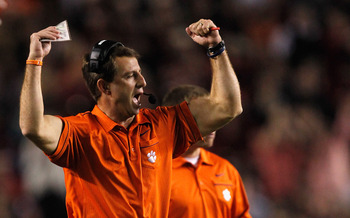 Streeter Lecka/Getty Images
Dabo Swinney and Clemson surprised everyone with wins over the likes of Virginia Tech and Florida State. He's taken the ACC Atlantic Division and will have a rematch with the Hokies for the right to play in a BCS Bowl.
Swinney isn't just off the hot seat. He just might get a raise if he can get the Tigers a BCS bowl win.
Mark Richt, Georgia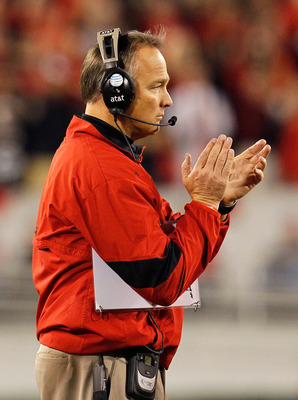 Kevin C. Cox/Getty Images
After Mark Richt started the season 0-2, a lot of people thought for sure that he was done.
But, Richt hasn't lost a game since and has won the SEC East.
True, Richt did have the benefit of not having to play the three best teams in the SEC, but he didn't suffer any shocking upsets. He probably doesn't have much of a chance against LSU (and let's face it, who does?), but he'll live to coach another day.
Keep Reading