Indianapolis Colts vs. New England Patriots: For First Time, Rivalry on Shelf
November 30, 2011
Elsa/Getty Images
This is weird. We've had 12 weeks to get used to it, and that still hasn't been enough time.
The Indianapolis Colts are coming to Gillette Stadium Sunday to face the New England Patriots, but this time, there is no buzz surrounding the matchup. This is normally a battle for AFC supremacy, Tom Brady versus Peyton Manning, the league's top individual rivalry played out over 60 minutes.
Instead, this year we have Dan Orlovsky, a winless team and a 21-point spread. Times have changed.
It's strange for this game to not be surrounded by anxiety and concern. After all, since Brady emerged as a starter in 2001, these games have never been anything short of crucial.
In 2003, the teams squared off twice, once in a regular season game that came down to a 4th-and-goal play with seconds remaining and again in the AFC championship game. In 2004, they met twice again. They've met each year since, with each game commanding massive media attention and greatly influencing the AFC standings.
The importance of the matchups played out in the postseason. The Patriots won the games in 2003 and '04 and won the Super Bowl. Indianapolis won in 2005 and was the top seed that year. The Colts won the next year and won the Super Bowl. The Patriots won a year later and went to the Super Bowl. In 2009, the Colts won and—yep—went to the Super Bowl.
Even in 2008, when the Patriots lost Brady for the whole season, this game was competitive. The Matt Cassel-led Patriots were up for the challenge and fought to a tie in the fourth quarter before Adam Vinatieri's 52-yard field goal won it, 18-15.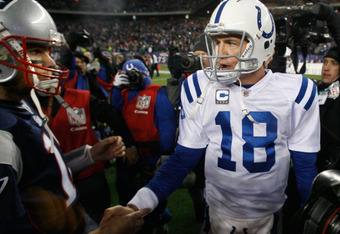 Jim Rogash/Getty Images
But this year, for the first time in almost a decade, the rivalry between the two teams isn't enough to sell the game. The Colts are pathetic, having failed to even fight back from losing Manning for the season. Their defense stinks, their offense stinks, the coaching stinks, and hence, you have an 0-11 football team.
Meanwhile, the Patriots are rolling, tied for the top spot in the AFC with an offense that appears to be finding its groove and a defense that, most people would agree, is improving.
So now, Colts/Patriots is supposed to be a bloodbath. New England is favored by three scores, an unheard of line in a series that has always been unpredictable and dead even. The Patriots will win, and it shouldn't be close.
In years past, thoughts of keeping Manning from marching the Colts offense down the field kept Bill Belichick up at night. This week, Belichick will be losing sleep over ways to keep his team from overlooking its age-old nemesis.
Give him credit, though. He's trying.
"Time to...start preparing for a team that...schematically, looks pretty much the same as they usually do," Belichick said.
Well, aside from the winless record, dysfunctional offense, sad-sack defense and future Hall of Fame quarterback standing on the sideline in a polo shirt and hat rather than in the huddle in pads and a helmet, he's exactly right.
This could just be a lull in a rivalry that will continue to grow. The Colts and Patriots will play next year, due to rotational scheduling, and New England will either go back to facing Manning or get its first look at this Andrew Luck guy. Either way, the competitive feel should be back soon.
"It's a team we always have trouble with," Belichick said.
Normally, yes. This year? Suffice it to say, things have changed.