Paulina Gretzky Is Done Embarrassing the Great One Through Racy Twitter Feed
November 29, 2011
I am not a father. However, I will take a giant leap into a vat of assumptions to state that I hope my daughter can engage others more than on a sexual level. 
That could be the impetus behind a discussion Wayne Gretzky had with his daughter Paulina recently. You see, Paulina is a Twitter fiend. She is great at what she does, and that is to take lurid and sexy photos and post them for her followers to see. 
To each his own is one way to look at it. It's quite another if that happens to be your daughter. The LA Times reports Paulina has closed her twitter account, shutting out the 24,000 or so followers she had collected. 
The reports cites a couple of final tweets made by the hockey legend's daughter. There was, "Having a nice sit down dinner with my dad about social media..haha," followed by the final post, "Taking a break from Twitter for a bit. Happy Holidays!!! xoxo."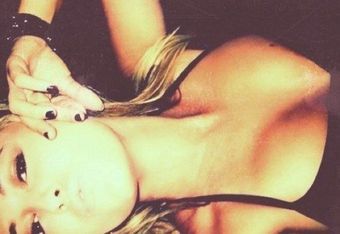 The fact that Gretzky has been rumored to be buying the Toronto Maple Leafs could have played a role into this. It also could have been as simple as a father finding the right time to have an overdue discussion. 
Perhaps Gretzky may have asked his beautiful daughter if this is what she wants to do with her life. Maybe he brought up the musician she once aspired to be. 
Again, to each his own. I am just taking the role of prototypical fuddy duddy. Therein lies the solution. Perhaps the Great One is just an ol' fashioned guy who would rather his daughter aspire to her dreams rather than post racy photos ad nauseum. 
The couple photos plastered here were meant to depict what Gretzky saw as a father looking upon his daughter's ventures. 
It was at that point that the best that ever was sat down and most likely muttered, "How about we do something with more clothes on?" Hey, a dad can try.