New York Mets Offseason Outlook: Bullpen
November 29, 2011
Jim Rogash/Getty Images
The bullpen was a mess for the New York Mets last year. It was easily one of the team's biggest problems and it consisted of many disappointments. However, beyond those disappointments there were a few "gems."
The 2011 Mets' bullpen welcomed a bunch of new faces. Mets' General Manager Sandy Alderson signed many low-risk, high-reward players last offseason. However, not many panned out. One player made Sandy Alderson look smart though. Tim Byrdak, a lefty, who strung together a fantastic 2011 Major League Baseball season. Alderson signed him for cheap, and Byrdak was well worth his contract.
Byrdak will most likely be in the New York Mets' Opening Day bullpen for this upcoming 2012 MLB season. He is not what you would call a "lefty specialist", but he has the ability to retire both left and right handed batters. He should be a valuable asset for New York in this upcoming season.
Pedro Beato is another bright spot for the Mets' bullpen this year. Beato was selected in the Rule 5 Draft by the New York Mets. He spent the whole season on the team's 40-man roster; therefore, he will be making a return to Queens, New York in 2012.
Beato was born in the Dominican Republic, and he eventually moved to Queens. Beato became a Mets fan, and he enjoyed watching the team play when he was a kid. He was ecstatic to be selected by his hometown team in the MLB Rule 5 Draft. The Mets plucked him from the Baltimore Orioles farm system. At the start of the season, it seemed as if Beato was unhittable.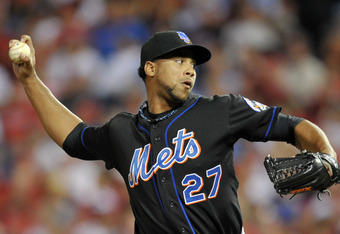 Drew Hallowell/Getty Images
He was particularly stingy when it came to surrendering runs. He was receiving an immense amount of praise from his peers. Beato's rookie season began to fizzle quickly though. A minor injury seemed to mess up his groove, and his return did not go smoothly.
It seemed as if Beato just "lost it" in his return. His command issues flared up. He was getting knocked around routinely. He did get back on track towards the end of the season though.
Beato went on to finish the year with a solid season, despite some of his struggles. Beato will most likely be in the Mets Opening Day bullpen for the 2012 season. Beato has a lot of talent, and the Mets hope that he can continue to grow as a pitcher.
As for the MLB free agent market for relief pitchers, it is pretty deep. The Mets have been linked to numerous relief pitchers in the past few weeks. It has been said that the Mets are strongly considering players like Frank Francisco, Brad Lidge, Octavio Dotel, Francisco Cordero, and Matt Capps to name some.
Most of those players should be in line for multi-year contracts. Sandy Alderson has said that the Mets are willing to give a two-year contract to a bullpen arm. It seems as if the bullpen is the only spot where Sandy Alderson is willing to grant a free agent a multi-year deal.
The Mets haven't been linked to any of the market's premier bullpen arms. It seems as if Heath Bell and former Met player Francisco Rodriguez haven't garnered any interest from the Mets, but I wouldn't rule them out. Sandy Alderson is known to keep his cards close. He barely leaks any information, so he might know something that we don't.
With that said, the Mets will most likely sign a middle-tier bullpen arm to a reasonable deal. The deal should be for two years, and the Mets won't break the bank for the respective player.
Expect the Mets to be mentioned in many rumors regarding the middle-tier bullpen arms. The Mets are probably going to sign a reliever during the MLB Winter Meetings in Dallas next week.
Sandy Alderson won't be afraid to pony up $5 million a year for a solid reliever that he believes deserves the money. The Mets will go hunting in the bargain bin routinely this offseason. But don't expect the same approach when it comes to the bullpen.
A good bullpen can cover up some of the blemishes of a weak rotation. Look for Alderson to make the right decisions regarding the bullpen this offseason.