Top 10 UFC Fights to Look Forward to in 2009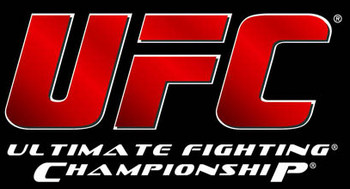 The last few years have been a breakout success for the UFC. No longer branded as "human cockfighting," the UFC and mixed martial arts exploded, especially aided by the first season of the TV hit "The Ultimate Fighter" in 2005. With an ever-growing fan base, the UFC has hosted events in multiple cities and countries around the world. As the number of states that regulate mixed martial arts grows, the swell of support for the UFC only seems to get larger.
This was a great year for the promotion of the sport. It began with the return of BJ Penn to champion status, the introduction of Brock Lesnar to the UFC, and Antonio Rodrigo Nogeuira being the first man to claim a title from both PRIDE and UFC. Anderson Silva and Georges St. Pierre established themselves as among the best pound-for-pound fighters in the world; Silva won three fights in 2008; and St. Pierre demolished Matt Serra to reclaim his championship belt before winning all five rounds of his defense against Jon Fitch.
And while 2008 also marked the departures of veteran fighters such as Tito Ortiz, Tim Sylvia, and Andrei Arlovski, a new wave of younger fighters have entered the scene, led by "The Ultimate Fighter" cast mates such as Nate Diaz, Joe Lauzon, and Gray Maynard.
One may ask the question, though—what's in store for the UFC in 2009? Rumored fight cards are taking place in the Phillipines and Germany for starters, but what about particular fights? Although some of the following fights may be rumored, unconfirmed, or just wishful thinking, here are the top 10 fights to watch for in 2009.
No. 10: Thiago Alves vs. Georges St. Pierre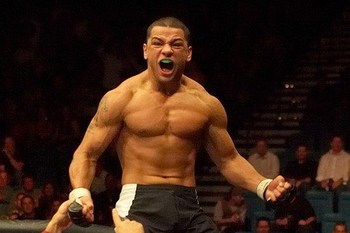 With a GSP win over BJ Penn at UFC 94, this match is all set. Alves has been guaranteed a title shot by Dana White after dominating Josh Koscheck in October. He's 9-2 in the UFC, with his only losses coming to Jon Fitch and Spencer Fisher. He's got amazing power in his hands—just watch his fights against Tony DeSouza or Karo Parisyan.
St. Pierre is well known for his versatility on the ground or on his feet. He's avenged both his losses—an armbar to Matt Hughes, and a TKO to Matt Serra.
One thing to keep in mind—of Alves' nine wins inside the Octagon, he's gone to a decision twice. Expect fireworks in this one.
No. 9: Junior dos Santos vs. Cain Velasquez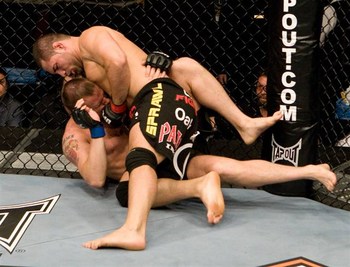 Cain Velasquez is a rising prospect in the UFC's heavyweight division. He trains out of American Kickboxing Academy with the likes of Josh Koscheck, Mike Swick, and Jon Fitch. He's undefeated, and no fight has gone past the first round.
Junior dos Santos made a huge splash onto the MMA scene with a stunning first-round knockout of Fabricio Werdum. His uppercut collapsed Werdum like a house of cards, and he did it in just over a minute.
Dos Santos is already scheduled to fight at UFC 95, and Velasquez is scheduled for UFC Fight Night 17. If they both win, a matchup with each other may be in their future.
No. 8: Shane Carwin vs. Gabriel Gonzaga
Yep, that's Gabe Gonzaga decapitating Mirko Cro Cop. That earned him a title shot against Randy Couture, which he lost via TKO. After again stumbling against Fabricio Werdum (Couture and Werdum are the only men to defeat him), Gonzaga bounced back with two wins in a combined 2:58.
Shane Carwin is a beast. Literally. Much was made of Brock Lesnar needing 4XL gloves to fight in the UFC, but Carwin needs 5XL. He's one of the most promising prospects in the UFC right now, and this is definitely a test for him. If he can defeat the Brazilian Jiu-Jitsu black belt, especially in a convincing fashion, he may soon be destined for a title shot. And oh, yeah—Carwin has finished all of his opponents inside one round. The longest lasted 2:11.
No. 7: Matt Hughes vs. Matt Serra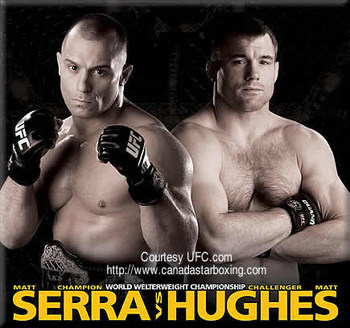 The fight that was supposed to end the feud never happened. After an injured back forced Serra to withdraw from the original fight with Hughes, they both got a case of "Rush"—Georges St. Pierre defeated Hughes (again) at UFC 79, and defeated Serra at UFC 83.
So whatever happened to the two coaches from the sixth season of "The Ultimate Fighter?" Hughes, who has lost three of his last four fights, has been recovering from injuries sustained in a TKO loss to Thiago Alves.
Serra has basically been waiting for Hughes—the UFC devoted an entire season of "The Ultimate Fighter" to this matchup, so there's no way they were going to scrap it. Add in the fact that Hughes has been contemplating retirement, and you're set for a battle of bad blood—hopefully at UFC 97.
No. 6: Anderson Silva vs. Any Light Heavyweight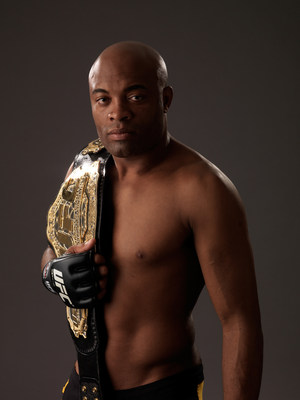 What if the UFC decides to test the middleweight champ at light heavyweight again?
We saw what Silva did to James Irvin in just over a minute; so what about matching him up with Thiago Silva? Or Wanderlei Silva? Or "Rampage" Jackson? Or Rashad Evans? I'm pretty sure that after another title defense at middleweight (possibly against Thales Leites), Silva will move up to 205 pounds again. The man wants to fight every three months—if I was the UFC, I'd let him.
No. 5: Michael Bisping vs. the Winner of Dan Henderson/Rich Franklin
Michael Bisping has already been confirmed as one of the coaches on the next season of "The Ultimate Fighter" and the winner of Henderson/Franklin will likely coach opposite the Brit. Bisping is the icon of the UFC in the UK; he only has one loss (a split decision to Rashad Evans) in his entire career.
Fans have been urging UFC matchmaker Joe Silva to step up the level of his competition, and this fight would definitely be his toughest to date—both Franklin and Henderson are former champions (Henderson in PRIDE).
No. 4: Diego Sanchez vs. Kenny Florian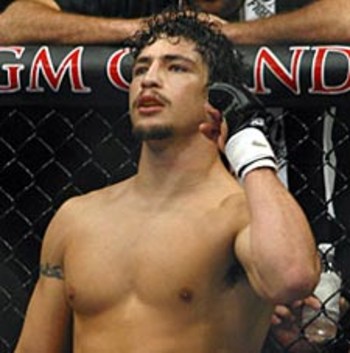 Against Joe Stevenson at UFC 95, Diego will fight for the first time in the lightweight division (155 pounds). He previous dropped from middleweight (185 pounds) to welterweight (170 pounds) shortly following his win over Kenny Florian (another current lightweight) on the finale of the first season of "The Ultimate Fighter."
My, how times have changed. Diego's previously undefeated career was derailed by two American Kickboxing Academy products in Josh Koscheck (another "TUF" alum) and Jon Fitch. Although Sanchez has rebounded with two solid wins, they haven't been against top competition.
Florian, on the other hand, has risen to No. 1 contender status after losing a decision to Sean Sherk for the title when the UFC restarted the lightweight division. Since that fight, he's reeled off six straight wins inside the Octagon, and is guaranteed a title shot. If BJ Penn defeats Georges St. Pierre and relinquishes the lightweight strap, and if Sanchez dispatches Stevenson (which Florian already did), can you see a "TUF" rematch for the lightweight title? I
t's possible.
No. 3: Brock Lesnar vs. Winner of Antonio Rodrigo Nogeuira/Frank Mir.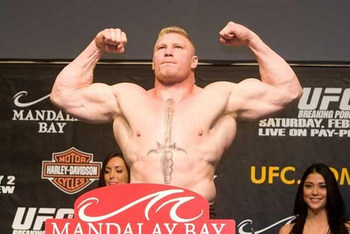 Say it with me now—Brock Lesnar, UFC heavyweight champion.
Still sounds a little weird, doesn't it?
After beating Randy Couture with a second-round TKO, he's up against the coaches from the most recent season of "The Ultimate Fighter"—current interim champ Nogueira and former champ Mir. Lesnar and Mir have already introduced themselves—remember 30 hammerfists followed by a kneebar?
The more intriguing matchup has to be Lesnar vs. Nogueira. "Minotauro" is known for two things—his ridiculous Brazilian Jiu-Jitsu, and his ability to take punishment. He's never been stopped in a fight before, and although he looked to be in bad shape against both Heath Herring and Tim Sylvia, he came back and won both fights.
Against a behemoth like Lesnar, though? The plan would be to obviously take the fight to the ground, but with two giant bear claws from Lesnar being fired at his face, could he do it?
No. 2: BJ Penn vs. Georges St. Pierre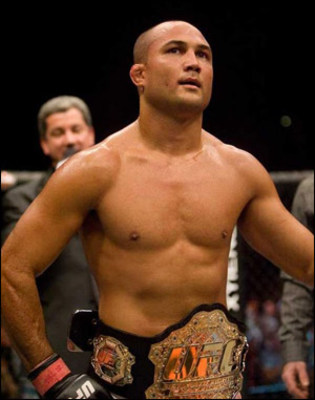 Two of the top pound-for-pound fighters in the world. Two future UFC Hall of Fame inductees. A rematch from a razor-thin controversial split decision. UFC 94.
Any questions?
No. 1: Georges St. Pierre vs. Anderson Silva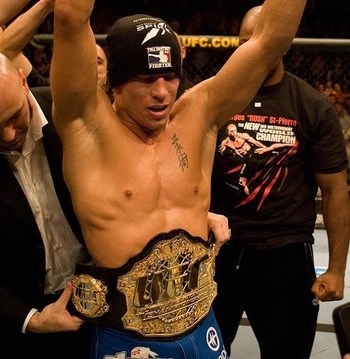 This could be the biggest fight in UFC history. Joe Silva has already set up two of the top 10 pound-for-pound fighters in the world in BJ Penn and St. Pierre—so why not have another blockbuster in the same calendar year?
Of course, this all hinges on St. Pierre actually beating Penn, which, even with a previous win, is still a formidable task
Keep Reading