Philadelphia Eagles: 5 Players/Coaches Most at Fault for a Disappointing Season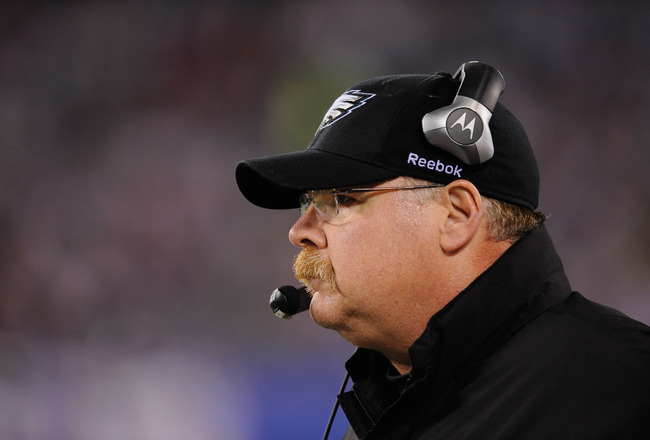 Patrick McDermott/Getty Images
There's plenty of blame to go around in Philadelphia now that the Eagles are 4-7 and their playoff hopes pretty much done. Juan Castillo has been a disaster as a defensive coordinator.
Asante Samuel and DeSean Jackson have been even softer than usual. Let's not forget about Michael Vick's 14 turnovers through nine starts. Linebacker play has been pretty bad as well, but you can blame a lot of that on the lack of a true 4-3 middle linebacker. Andy Reid put this team and coaching staff together, and it has been a unorganized, dysfunctional mess since Week 2.
There will be consequences at the end of the season. Coaches will be fired. Players will be cut, traded or left to test the free-agency waters. Changes will be made this offseason. It won't be a complete overhaul, but the mentality of the team will chance and certain high-profile players will be shipped out.
The base of this team is talented enough to compete for a Super Bowl. We saw that last season, and we have seen glimpses of that this season as well.
The future is still bright in Philadelphia but not before some tough decision by the front office this offseason. Complete dysfunction will not be tolerated by Eagles fans, and you can expect some familiar faces to get the axe following the season.
5. Michael Vick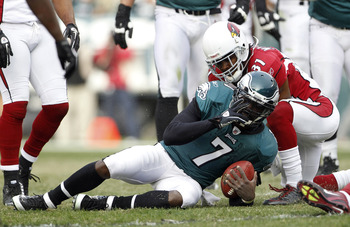 Rich Schultz/Getty Images
Michael Vick's turnaround story is Oscar-worthy. He went from being one of the most selfish players in the league to a felon to a third-string quarterback trying to make a comeback to an MVP candidate.
Now Vick in his second year as the Eagles starting quarterback, seems to be regressing. He isn't reading defenses or picking up the blitz, and he's turning the ball over like it's going out of style.
Through his first nine starts, Vick has 11 interceptions and three lost fumbles. His turnovers in the red zone have been especially crushing. Vick has failed to live up to his $100 million contract extension. His inability to read a defense or stay healthy has led up to a very disappointing 2011 season.
Michael Vick has gone from the quarterback everyone expected to lead the Eagles to their first Super Bowl to maybe the second-best quarterback on the Eagles roster.
4. Asante Samuel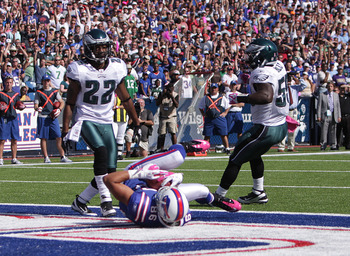 Brody Wheeler/Getty Images
Asante Samuel may be the most overrated defensive back in the NFL right now. Sure, there's nobody better at jumping routes, but at the same time, there may not be a worse starting cornerback in the red zone not to mention one of the worst tacklers in the league.
Samuel racked up 16 interceptions the past two seasons but has just two this year. He has also blasted the Eagles' front office twice this season. Once before the season started and once before the trading deadline. Samuel was upset that he was been shopped around.
He was never traded, although maybe he should have been. His presence forced Dominique Rodgers-Cromartie to play in the slot, where he's not comfortable. It also forced ace slot corner Joselio Hanson to only play in dime packages.
Samuel's time in Philly has run out. His soft play is becoming a cancer in the entire secondary. Regardless of how well he can cover receivers on the outside, between the 20s, the last thing this Eagles defense needs is more defenders who can't tackle.
3. DeSean Jackson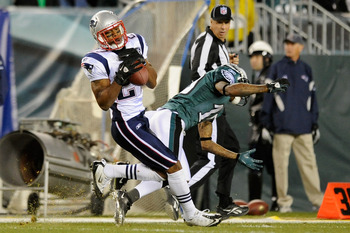 Patrick McDermott/Getty Images
Through the first three seasons of DeSean Jackson's career, he was the most dangerous receiver in football. This season, Jackson has become the most selfish receiver in football. Jackson's No. 1 concern this season has been himself. He wants a new deal and will not do anything that would risk injury.
I understand he's concerned about getting a serious injury before getting his first big NFL contract, but at times, he isn't even trying. One selfish player can destroy the entire morale of a team. It appears that's the case in Philly.
Through 10 starts and one game being deactivated after missing a team meeting, Jackson has just 39 receptions for 664 yards and two touchdowns. Jackson's lack of production has killed this offense. The offense thrives on the big-play ability of Jackson opening up the offense for everyone else. With Jackson short-arming catches and worrying more about getting hurt than making any catches, he has been a cancer to this offense.
It will be very interesting to see what the Eagles front office decides to do with Jackson. He reportedly wants around $10 million a year. Whether that's accurate or not, he obviously wants more money than the Eagles are willing to give him, otherwise he would have been extended already. The Eagles could franchise him, re-sign him and trade him somewhere else or just let him walk.
2. Juan Castillo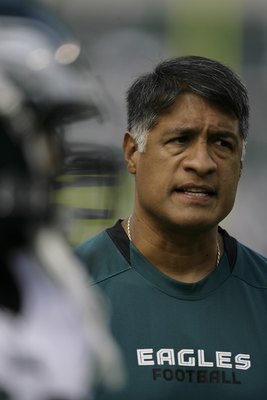 Chris Gardner/Getty Images
The decision to promote offensive line coach Juan Castillo to defensive coordinator by Andy Reid was criticized at first, supported by two former colleagues in Ron Rivera and Leslie Frazier, but now, may end up costing both Reid and Castillo their jobs.
The defense hasn't been as bad statistically as most experts would make you believe. The Eagles are 15th in the NFL against the run and 16th against the pass. The defense also has recorded 30 sacks which ranks them seventh in the NFL. Stats don't always tell the whole story however.
The defense has looked lost at times, and the better quarterbacks in the NFL have taken advantage of it. Actually some of the less quarterbacks have as well, just ask John Skelton. Castillo has taken one of the best cover corners in Nnamdi Asomugha and moved him into zone coverage all to often this season.
The defense has really come up short this season, blowing five fourth-quarter leads when it mattered the most. Castillo is all but assured to be gone after this season if not sooner. He's clearly not qualified to be a defensive coordinator.
As much blame as Castillo deserves for the team's lack of success this season, he didn't hire himself. He wasn't the one who decided hiring a coach on the offensive side of the ball to call the plays on the defensive side was a great idea.
1. Andy Reid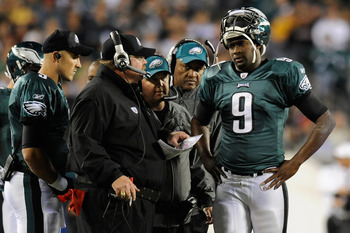 Patrick McDermott/Getty Images
Very few coaches have as much control as Andy Reid does. He hired all the coaches and has the final say in all personnel moves. Andy Reid has always gotten most of the credit when the Eagles have done well and most of the blame when the Eagles fail. He puts the team together, and he controls just about every aspect of the Eagles.
The Eagles have looked unorganized and dysfunctional this season. The team lacks fire on defense and has yet to figure out their red-zone offense. The entire team has become soft and has lacked the fundamentals such as carrying the ball high and tight and managing the clock.
Andy Reid is likely to be the Eagles head coach next season. Owner Jeffrey Lurie likes Reid and won't fire Andy Reid one season after he assembled one of the most talented Eagles' rosters since Reid was hired in 1999.
Lurie will most likely give Reid the 2012 season to get things on the right track again and prove that he's capable of bringing the Lombardi Trophy to Philadelphia.
Keep Reading

Philadelphia Eagles: Like this team?