Tebow or Sanchez: The One Where I'm a Sanchez Apologist
November 29, 2011
Al Bello/Getty Images
Here is the message I had waiting for me on my voicemail Monday morning from my best friend:
Her rant goes something like this:
"Victoria,  I can't believe how biased against Mark Sanchez the broadcasters were in that Jets game against Buffalo. They were hammering him the whole time. And yet, in the Denver-San Diego game, the Tim Tebow love was almost embarrassingly unseemly. There is such a double standard." (Her message may have been a little more strongly worded—I paraphrase here.) 
Something interesting is happening in Florham Park. I believe a very subtle power shift is underway. I think Mark Sanchez is sick and tired of watching this team flail along. There is a hidebound refusal to acknowledge reality on the field by the coaching staff. It's holding Sanchez and this team back. 
The best leaders are clear-eyed about the actual reality in front of them. Mark Cuban is a perfect example. So is Bill Belichick.
Neither one is handcuffed by nostalgia. Or past glory. Or a pre-conceived sentiment of how things ought to be. 
What do I mean? I'll give you a perfect example.
It's only taken the Jets' coaching staff 12 weeks to acknowledge that the offensive line for this team is a problem and might need to be addressed. By contrast, it's taken little more than a month for the Denver Broncos to adapt and change to best fit Tim Tebow's talents. (Coincidentally, the Broncos are in the Jets' way for the sixth playoff spot in the AFC. Hmmm.) 
If you take a look back to the five Jets losses this year (Oakland, Baltimore, New England (twice) and Denver), you can draw a straight line from one to the next, and they all have the same glaring problem:  The offensive line's inability to protect the quarterback, and the absolute refusal of the Jets' coaching staff to do anything about it.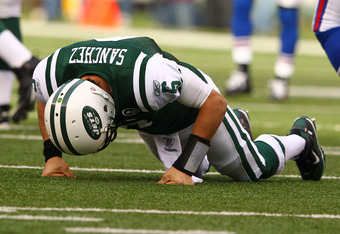 Al Bello/Getty Images
But the players are not dumb. They realize time is not on their side, and watching the beating Mark took in those games was a very sobering experience. (Mark is not without blame in this; he does have a tendency to hold onto the ball too long on occasion. But when you can barely get One Mississ…..out of your mouth before he is flattened, well, that's on the line. )   
So you would think I was heartened to find out that Rex Ryan called out the o-line on Saturday night before the elimination game against the Bills. I was not. Did it take Sanchez showing up on the injury report with a neck issue to finally get through to you? Oakland breaking his nose wasn't bad enough?
Apparently the lingering neck soreness is an after-effect of the brutal Von Miller hit Sanchez took in the Denver game. Re-watch that hit. It will make you blanch it is so brutal. Rex Ryan joked after the Bills game that he is only ever worried about his quarterback when Sanchez does not get up. 
Not funny. And way too cavalier about your quarterback's toughness and the awful hits he has been subjected to this year.
I think Sanchez has had enough of this nonsense. The "motivational" ploy of having Mark Brunell take snaps at practice was idiotic.
Ryan justified it as lighting a fire under Sanchez—same as he did last year after the December Miami loss. He characterized it as tough love, like he would mete out to his own kids. As some kind of way to whip Sanchez into shape and get his competitive fire lit. 
But Sanchez is not a moody teenager. He is the 25-year-old starting QB for the NY Jets. He is as ferociously competitive as any player in the league. Mark was tight-lipped about it when asked last week and terse again at the postgame press conference. Even Brunell had the grace to be sheepish when asked about the practice reps.
Come on Rex, you can rarely go back to the well with gimmicky ploys and expect them to work. I believe this has backfired with your quarterback.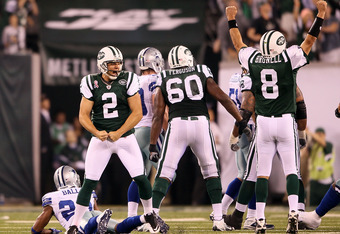 Elsa/Getty Images
All you had to see was Sanchez's demeanor on the sidelines on Sunday. There was no friendly banter. Sanchez was deadly serious, barely talked to Rex and was focused to an extent that I haven't seen since last year's playoffs. And it had nothing to do with Brunell taking first-team reps at practice. I think, on some level, Sanchez understands that if this team goes anywhere, it is going to be because of him and in spite of the coaching staff. 
Four people are going to make or break this team down the stretch: Sanchez, Dustin Keller, Santonio Holmes and Plaxico Burress. Put the last three in any order you like. 
All four of those guys can see that the once-vaunted defense has holes. The run game is not going to win for them the way it does in, say, Houston. But that doesn't matter.
At this point, it is not about the yardage put up in the run game, but the number of carries called. The run game in New York exists right now to eat clock when needed, pick up one- or two-yard gains when needed, but most importantly to set up the play action. (The fact that Brian Schottenheimer doesn't call play action nearly enough is a rant for another day.)
I don't care what Rex says. You will not win a championship in this league off a running game and defense. And Holmes, Burress and Keller know it. 
It is very telling that Sanchez has not lost their support. You can see it in Keller blocking and fighting for the extra yards for the touchdown against the Bills. You can see it in the effort and playmaking by Plax on the sideline circus catch to pick up the first on the final drive in the fourth quarter. And you can see it with both Keller and Holmes working back to their QB on the final TD as Mark scrambled to make something happen.
That's your QB, Jets coaches:  A mobile, athletic, unbelievably tough competitor who will never say die. That rollout scramble was vintage Sanchez, reminiscent of the game-turning TD against the Chargers in the Divisional playoffs his rookie year.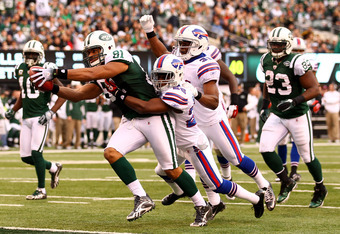 Al Bello/Getty Images
The receivers will close ranks in support of Sanchez. Both Holmes and Burress have been on championship teams, Burress also with an oft-criticized New York QB who, up until he won the Super Bowl, was continuously derided. Holmes played with another never-say-die competitor with superior scrambling ability.
Down the stretch, that will be the strength of this team.
Jets coaches, I know you are conservative and want to believe otherwise. I know Mark's picks have cost you. No one knows that better than Mark, who is his own harshest critic. Don't be lulled into a false sense of security because the o-line had a good day against the vanilla Buffalo pass rush. 
I do not think your defense and run game can beat any of the AFC teams that currently stand in your way if you make the playoffs. Your only hope to get past New England, Baltimore, Oakland and/or the Steelers is to let it rip with Mark and his playmakers. 
But maybe you want to be conservative. Maybe that is better than facing the six-touchdown shellacking Aaron Rodgers is waiting to hand you on Sunday, February 5, 2012. 
It took Denver only six weeks to tailor their offense to Tebow. How much longer are you going to wait, Jets?