NFL TV Schedule Week 13: Coverage Maps for All CBS and FOX NFL Action
November 30, 2011
Harry How/Getty Images
Which NFL games will you be watching this weekend?
Preferably, you would be watching all of them, am I right? It's just too bad that choosing which games to watch every Sunday is kinda out of your hands. You only get to watch whichever games CBS and FOX are airing in your area.
If you're looking to find out which games will be shown in your area in Week 13, you've come to the right place. Courtesy of the506.com, we have some snazzy coverage maps that reveal which games will be broadcast where, as well as which announcers will be calling the action.
Keep reading for a breakdown of everything you need to know.
We shall start with CBS. They're going to be showcasing some pretty intriguing matchups early in the day, including an AFC North clash between the Cincinnati Bengals and Pittsburgh Steelers and the annual showdown between the Indianapolis Colts and New England Patriots. Later in the day, CBS will be airing the Baltimore Ravens' tilt at the Cleveland Browns.
Here's your coverage map for both early and late games on CBS: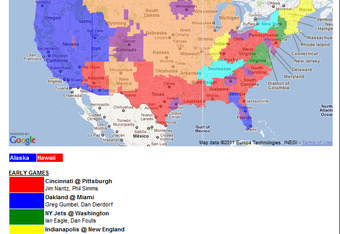 FOX has some pretty good matchups lined up for their early coverage. If you're looking to get your Tim Tebow fix, just know that FOX has Sunday's clash between the Denver Broncos and Minnesota Vikings.
Here's your coverage map for FOX's early coverage: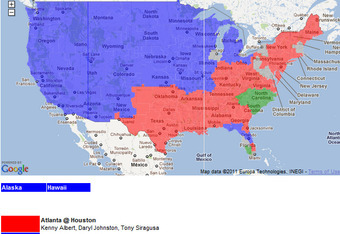 Later in the day, FOX will be airing the big showdown between the Green Bay Packers and New York Giants. The Packers will be looking to move to 12-0, and the Giants will be looking to save their waning playoff hopes. You're not going to want to miss it.
Here's your coverage map: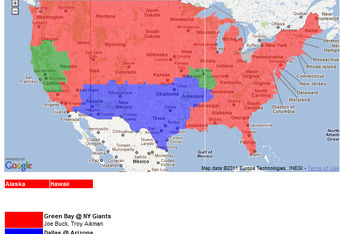 In case you're wondering, there is indeed a Thursday night game this week. The Philadelphia Eagles will be visiting the Seattle Seahawks, and the game will be shown on NFL Network at 8:20 p.m. ET.
The Sunday night game in Week 13 is a clash between the Detroit Lions and New Orleans Saints, and it will be shown on NBC at 8:20 p.m. ET. 
The Monday night game features a matchup between the San Diego Chargers and Jacksonville Jaguars, and it will air on ESPN at 8:30 p.m. ET.
That's pretty much everything you need to know. Happy football watching, folks.