Tim Tebow Hate Leaves John Elway Looking Like a Moron
November 29, 2011
Harry How/Getty Images
Tim Tebow doesn't care who talks trash about him. Even if it is his own boss.
Approximately one week after Broncos executive vice-president of football operations, John Elway, said "no" when asked if he felt any closer to finding his quarterback of the future, Elway finds himself defending his comments.
ESPN has the quotes of the former Broncos and Hall of Fame quarterback saying to NFL.com:
"I was surprised in the fact that people took it to be a negative answer and it really wasn't a negative answer," Elway said Monday on the same show, according to NFL.com. "That's where I was taken aback. It wasn't meant to be a strike at Timmy at all."

"It was just a reality check of where we were at the time, and it wasn't a negative because I tried to follow it up with all the positive things we were doing and tried to point out some things we needed to get better at."
We've applauded Elway's concerted effort to be more open and honest with the fans about the things he and the Broncos are doing (his Twitter account included) but this is where he shows that he's got as much to learn about being an executive as Tebow does about throwing the football.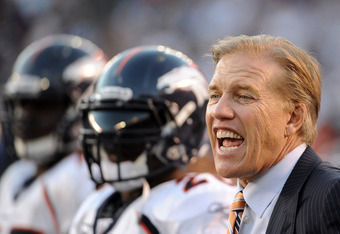 Harry How/Getty Images
We've basically gotten to the point where we've become accustomed to hearing "Tebow does it again."
Denver is 5-1 with Tebow under center and one game behind the Oakland Raiders in AFC West.
People can hate or love Tebow all they want, but the wish-wash from Elway is just stupid.
This is a franchise that hasn't been to the postseason since 2005. They've had one winning season in the last five years and have won only one postseason game since winning the Super Bowl in 1998.
Since Elway's retirement after the 1998 Super Bowl win, the Broncos have gone through four different leading passers: Brian Griese, Jake Plummer, Jay Cutler and Kyle Orton.
The only one that consistently won games was Plummer, who went 42-22 in the regular season and led the Broncos to the postseason three of his four years under center.
The sample size on Tebow is certainly very small, but for a guy who took the Broncos to the playoffs 10 of his 16 years in the league, Elway has to realize that standing behind someone who is winning isn't going to kill him.
Elway doesn't need to blow smoke up Tebow's rear end, but what's wrong with supporting him openly for once? We know Tebow isn't going to rest on his laurels. Heck, Elway and Fox's decision to go with Kyle Orton for as long as they did is arguably the biggest mistake of the year.
Tim Tebow isn't the only one facing a learning curve with a new job in Denver. Elway would be wise to realize his current quarterback and organization is stronger with the two of them together than it is with Tebow going it alone.