Ohio State Football: Will Braxton Miller Ever Win the Heisman?
November 30, 2011
Jamie Sabau/Getty Images
At a press conference on Monday, Ohio State introduced Urban Meyer as their football team's new head coach.
Meyer, the former head football coach of the Florida Gators and the Utah Utes, takes over a Buckeyes program that has been riddled with NCAA violations and controversy in the past year.
While there could still be imminent trouble for the Buckeyes regarding the NCAA violations, Meyer still has a reason for optimism when it comes to Ohio State's future.
For Meyer, this optimism starts with true freshman quarterback Braxton Miller.
This season, Miller has accumulated 997 passing yards with 11 touchdowns and four interceptions. He has also rushed for 695 yards and seven touchdowns.
Although Miller's passing mechanics need improvement, his running ability has made him a threat and a problem for opposing defenses.
Luckily for Miller, his abilities will be pushed to the limit with Meyer as a head coach.
Meyer's resume of quarterbacks include Heisman finalist Alex Smith and Heisman winner Tim Tebow. Both players were also NFL first-round draft picks after being coached by Meyer.
So what traits does Miller have that can make him a dominant quarterback in Meyer's system?
For one, Miller's leadership has significantly improved throughout the season. Whether it's taking control of the huddle or running a successful two-minute offense, Miller has shown he deserves the respect of the players that surround him. It is obvious that everybody on the offense plays at a higher level with Miller leading them at quarterback.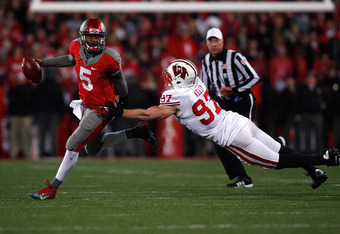 Kirk Irwin/Getty Images
Another trait that Miller will use to succeed is his athletic ability. As a quarterback, rushing for 695 yards is a difficult task, especially when you haven't started every game this season. Miller is similar, in his athletic ability, to Michigan quarterback Denard Robinson.
Just like Robinson, Miller has dual-threat ability and has a chance to break a big run every time he touches the ball. One major difference, however, is that Miller protects the football a lot better than Robinson.  If he can continue to limit his turnovers, Miller has the potential to be much more productive than Robinson—and that says a lot.
It is no secret that Miller has a bright future as a Buckeye. If he continues to mature and develop in Meyer's system, Miller has the aptitude to become great.
Meyer's system gives Miller an excellent opportunity to utilize his dual-threat capabilities and showcase them for the world to see.
With Meyer's coaching and recruiting, there is a great potential that Miller will win the Heisman before his four years at Ohio State are completed.
Expect Meyer to make the Buckeyes a top team in college football once again, while possibly winning another national championship before it's all said and done.