Five Things the Green Bay Packers Can Do for a Better 2009
The Green Bay Packers' season is, for all intents and purposes, over.
To say 2008 was a roller coaster would be inappropriate. You can stop a rollercoaster ride if you scream loud and long enough. This was like a cruise with a hopeful bon voyage (Brett Favre's "retirement"), followed up by choppy waters (Ted Thompson's offseason of free-agent inaction and an inconclusive draft), followed up by clear skies (Aaron Rodgers' transition during mini-camp), then a hurricane (Brett Favre's un-retirement and the subsequent soap opera), then clear skies (the opening wins against Minnesota and Detroit), then choppy waters (weeks 3 thru 7) and then an all-out pirate attack (the rest of the season).
Now, as the Packers try to be the only team to NOT lose to the Lions next week, the ship is merely trying it's best to find the nearest dock without crashing the rudderless vessel.
The last few weeks of talk radio, blogs and other outlets of fan discontent have seen the calls to remove Ted Thompson, Mark Murphy, Mike McCarthy, Bob Sanders or the entire 53-man roster.
What isn't being talked about, however, is what the Packers need to do next year to improve upon this year's disappointments. Firing people might be cathartic, but slash-and-burn approaches should be left to truly dysfunctional franchises (like the Dolphins and Falcons of last year and the Lions and Chiefs of this year). The Packers were bad, but they were not and are not unfixable. Here are some suggestions from an unqualified boob on what the Packers could do to reclaim the magic of 2007…
Bring Back the Short Pass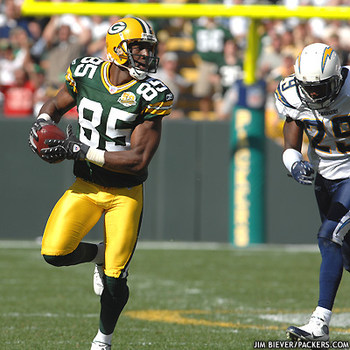 One of McCarthy's better strategic decisions since he's taken over was drawing up more short passes in the form of slants and button hooks. This helped Favre limit his interceptions, prevented the defense from getting pressure on an immobile Favre and provided guaranteed yardage on first and second down.
The one time the coach deviated from this scheme was the Dallas game, where he dialed up long bombs and 5 or 7-step pass plays, which ratcheted up the defensive pressure and knocked Favre out of the game. With receivers like Driver and Jennings who thrive on RAC yards, short passes were usually the smart play—as the above photo of Jennings extending short catch-and-go into a 57-yard game-tying score against San Diego last year.
This year, whether it was because McCarthy thought a younger, more mobile Rodgers could handle the rush or because he overestimated Clifton's and Tauscher's durability, longer-developing passes became the norm.
Since McCarthy is a pass-first coach, this usually led to longer second and third downs, decreasing the offense's potency compared to last year. This is also why Rodgers is going to be sacked as many times as Favre was during the past two seasons combined.
The bright side is that Jordy Nelson has developed extremely well and could be a tall possession receiver whose speed could extend the play. That or else he could be the down-field threat and open up the middle for Driver, Jennings and Lee. McCarthy was a successful playcaller when he kept it short and simple instead of gambling downfield constantly. By going back to short passes, McCarthy:
1) Gives Rodgers less time to stand in the pocket and reduce the sacks.
2) Gives the Packers a higher percentage to convert second and third downs.
3) Keeps defenses up close and increase the chance for a long pass when it's least expected (i.e. the game-winning score against the Broncos in 2007).
Remember Fritz Shurmur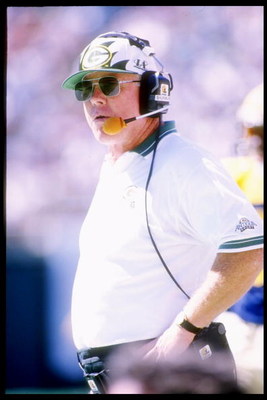 Shurmur, the Pack's defensive coordinator during the Holmgren era, had a genius for maximizing his talent. When he was with the L.A. Rams in 1989, Shurmer developed the 2-5 scheme because his linebackers were better pass rushers than his down linemen. A few years later, Shurmer brought the DB's into the box because he didn't have his outside LB's due to injury and created the "Big Nickel" defense.
Even with arguably the greatest pass rusher of the sport (Reggie White) and an All-Pro in Sean Jones, Shurmer insisted on bringing the athletic safety LeRoy Butler constantly, which is why Butler ranked second behind White in sacks in 1996, when the team last won the Super Bowl.
Whoever is the defensive coordinator next year, he will inherit a weak D-Line. He must be willing to adapt with the talent he has. For instance, OLB Brady Poppinga and S Atari Bigby are guys who live for the big hit and are above-average tacklers with limited pass-coverage skills. Since the division is run-oriented (with AP, Matt Forte and an emerging Kevin Smith), why not switch to a 3-4 and bring Poppinga or Bigby in certain situations?
Shurmur constantly moved his players around (even having Gilbert Brown drop into coverage). And as Harris and Woodson get older, the need for pressure is increasingly important.
Aaron Kampmann can't do it alone and unless the Packers make a huge splash in the draft or free agency (I'll get to this in the next suggestion), they will need to compensate for Jenkins and a weak interior line.
Reg-gie! Reg-gie! Reg-gie!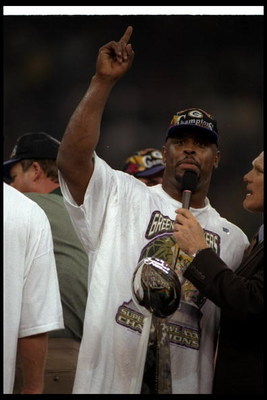 Like Ted Thompson, Ron Wolf was a GM who believed in building a team through the draft and trades for youth, more picks or both. And like Thompson, Wolf compiled a young team without much leadership, meaning his team needed free agents to provide the talent and guidance his young players would need to succeed.
One of the forgotten aspects of the successful tenure of Wolf was that he wasn't afraid of bringing in a veteran midseason to help the team. Everyone remembers Reggie White, but remember how important previously-picked up vets like Sean Jones, Andre Rison, Don Beebe and Desmond Howard were to that SB-winning team?
It's a well-known fact that the Packers are one of the youngest teams in the league. And as they lost their most important vet on the offensive side, a new veteran presence is just what the team needs both to help the young ones develop on the field and in the locker room.
The 2009 free agent list is filled with proven veterans like Albert Haynesworth, Julius Peppers and Ray Lewis, all of whom have been on doormats and playoff favorites alike. Convincing them to live in Green Bay might be a challenge, but if Reggie White and Charles Woodson can adjust to the city, so can these guys.
The only problem is whether or not Thompson sees the free agents as vital. Now he gets a lot of flack for not pulling the trigger quickly (see Moss, Randy), or bringing in low-rent talent, (see Manuel, Marquand) but Thompson brought Woodson to GB and signed Harris long-term. He might not be completely against spending for talent, he just needs a nudge. And nothing is more convincing than a losing season filled with "almost" moments.
B.J. Raji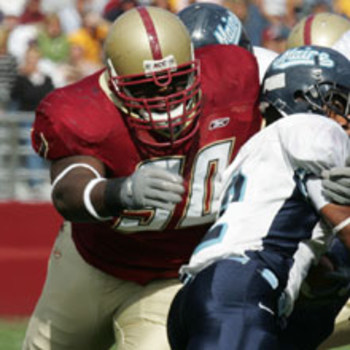 Want to see how much Thompson disrespects the first round of the draft? Only three Packer first-round picks (Rodgers, Hawk and Justin Harrell) are on the 53-man roster. Add previous first-rounders Woodson and Ryan Pickett and you have five total. This is fine if you're in the bottom half of the order and pick 34 is comparable to pick 22. However, the Packers are in serious need of tackle help on both sides and that help needs to come in the first round.
Assuming OT's Michael Oher and Andre Smith (both are needed replacements for the rapidly aging Clifton and possibly departing Taucher) are gone by then, Thompson could find DT B.J. Raji out of Boston College in the low tens/high teens. Raji's high motor (unlike Harrell) and large size could help the Packer MLB, whether it's Barnett or Hawk.
Look at any successful middle linebacker (Lewis, Urlacher, etc) and they usually have a massive DT (Haloti Ngata, Tommie Harris, etc) clogging up the middle, giving the linebacker a clearer shot to the ball. Barnett had a monster year last year thanks to Corey Williams wreaking havoc in the middle (seven sacks). Compare that to this year, where a depleted and overwhelmed DT combo of Pickett and Colin Cole/Johnny Jolly meant having the LB's fend off guards and fullbacks on the second level, hence the monster days for DeAngelo Williams, AP, Steve Slaton, etc). Thompson needs to fill the middle if he wants to make 2009 less painful in a division full of productive RB's.
Encourage the Starters to Play Special Teams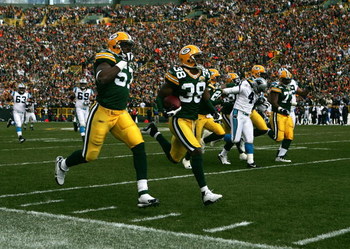 As I'm writing this, the Packers just lost to the Chicago Bears due to poor special teams play (blocked field goal, poor coverage, etc.). Last year, the Packers' special teams unit rose from last to seventh in Rick Gosselin's statistical rankings, mostly on coach Mike Stock instilling a fearless attitude in his players.
This year, the unit has lapsed into futility, ranking 25th on kick return coverage. The team's poor play led to breakdowns in games like against Carolina, where Mark Jones consistently put the Panthers in near midfield—such as the final return which led to Jake Delhomme's pass to Steve Smith to get to the Packer red zone.
Stock succeeded primarily in getting the rookies and second-year players to buy in on the importance of special teams instead of treating it as a hindrance to starting.
Teams with successful special teams units (like Cleveland and Buffalo) employ their starters into the unit as return men and coverage tacklers, a move which emphasizes the importance of the unit to all ages and levels of experience. It's a risky move, but the Packers need to remember that every yard counts and can determine the momentum of the game. Just as they learned on Soldier Field...again.
Keep Reading