Atlanta Falcons: 5 Players Who Made the Biggest Contributions in Sunday's Win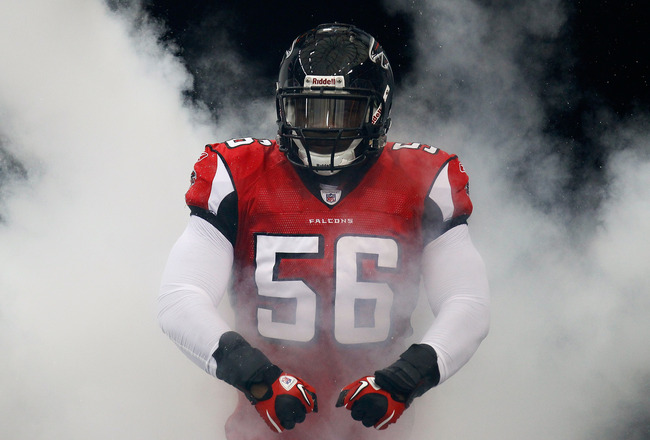 Kevin C. Cox/Getty Images
The Atlanta Falcons are 3-1 coming off their bye week and it looks like there isn't much that will slow them down in the coming weeks.
We're used to seeing big names show up in the postgame recaps, i.e. Matt Ryan and Roddy White. But Sunday's game involved much more than star power.
New players are starting to step up everyday, which bodes well for the rest of 2011 and, potentially, 2012.
I may be getting ahead of myself, but with contributions like we saw in Week 12, there's a promising aura surrounding Atlanta.
Let's take a look at those who stood out this past Sunday.
Sean Weatherspoon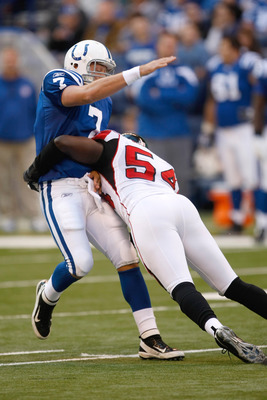 Scott Boehm/Getty Images
The second-year linebacker out of Mizzou has really come on strong in 2011. Sunday was one of the top highlights of the season for Weatherspoon.
His tenacity and pursuit have made him an excellent addition to the Falcons. He finished with 10 total tackles (three for losses) and a sack against the Vikings.
Spoon didn't have any trouble getting in the middle of any play he could against Minnesota.
It's exciting to see the kind of player he's becoming.
Matt Ryan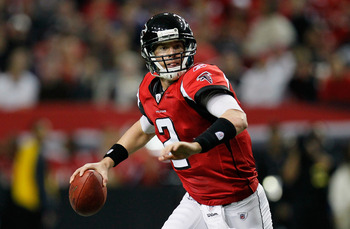 Kevin C. Cox/Getty Images
Despite what was said in the title slide, the stars are always going to get the recognition they deserve.
Matt Ryan is the leader of Atlanta's offense, and he's doing a perfect job of orchestrating everything right now.
Ryan finished with three touchdowns, zero picks and a passer rating of 128.2 against the Vikings. Seriously, besides the missed deep balls, could you have asked for anything else?
Hopefully, with the pace the Falcons are on right now, they will find a way to win their first playoff game under Ryan's command.
Chris Owens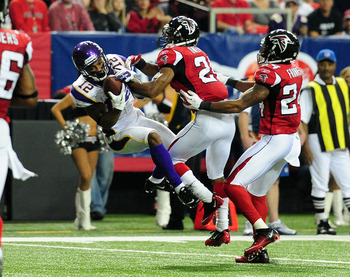 Scott Cunningham/Getty Images
A touchdown-saving tackle can make all the difference in the perception of one player's performance.
Such is the case with Chris Owens.
As he ran down Percy Harvin to stop him short of the end zone, you could literally feel public opinion about Owens change by the second.
He hustled more than I've ever seen from him on that one play; it will not be soon forgotten.
Now, please take a look at the picture above. That is Owens giving up a catch to Harvin in double coverage. Owens seemed like he was in perfect position to pick that ball off, but he looked timid from my perspective.
Owens has the physical tools, now he just has to sharpen his mental game.
Will Svitek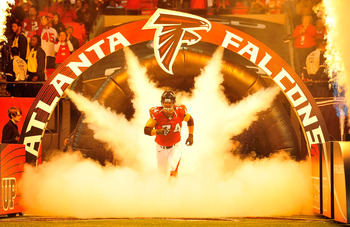 Grant Halverson/Getty Images
Things are looking up for Will Svitek. He was given the start yesterday over Sam Baker and he's starting to win over Falcons fans.
Baker is critiqued harshly due to the high position he was drafted at, but he really hasn't been able to stay healthy, so that has been a constant, lingering issue.
Svitek has stepped up in his recent performances; he looked good on Sunday, keeping the trend alive. However, if he has one bad game, I'm afraid the entire situation might be swayed in Baker's favor.
But, for now, Svitek is the man at left tackle.
Lawrence Sidbury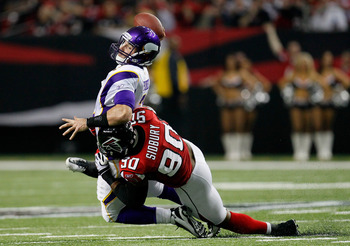 Kevin C. Cox/Getty Images
Yes, Christian Ponder basically said, "Hey Sidbury, here's a sack for you," but I still like what I'm seeing.
No. 90 came up with two sacks against the Vikings; it was good to see him make the most of his playing time.
The Falcons pass rush looked dreadful at the beginning of the year, but we've seen a lot more out of the line lately.
Let's hope Sidbury keeps it up.
Keep Reading

Atlanta Falcons: Like this team?