The 10 Biggest Sports Moments of 2008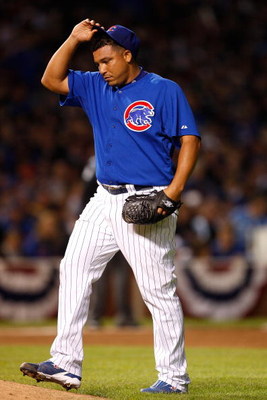 It was undeniably an incredible year in sports. 2008 provided so much of what we love in sports. Champions asserting their power, underdogs fulfilling their roles, and newcomers surprising us all. With so many moments to choose from, this was a difficult list to put together. But in the end, here is the list I found to be most memorable...
Who will be No. 1?
10. Changing of the Guard: Brett Favre Traded to the Jets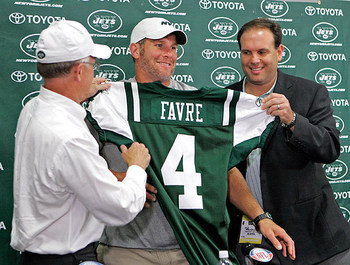 Aaron Rodgers or Brett Favre? With much thanks to Tony Kornheiser, this story will seemingly never die. The constant and superfluous comparison of these two QBs is unrelenting. But beyond all of the media drama, the reason this makes the list is the picture above: Brett Favre playing for a football team NOT named the Green Bay Packers.
With free agency the way it is, it's so rare to see a player who becomes an institution for a franchise. Their name is synonymous with a team. Michael Jordan. Dan Marino. John Elway. Joe Montana. Tim Duncan. They are the biggest and best in the sport, and we want that image to stay perfect.
Marino and Elway were able to begin and end their careers with the same organization. But Montana, Jordan, Favre, and many others just weren't ready to give it all up. They wouldn't be who they are without that fire. This, and not the media circus, was why it made my list.
9. Carlos Zambrano Throws a No-Hitter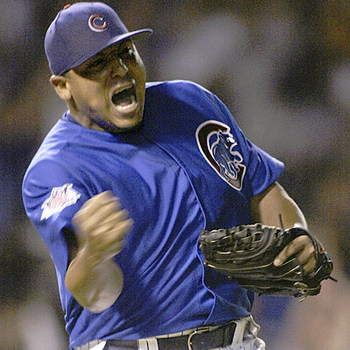 Foul-mouthed, obscene, angry, hot-tempered-all words used by the media to describe Carlos Zambrano.
Intimidating, electrifying, crazy, talented-all words used by players to describe Carlos Zambrano.
No. 38 has always had the raw talent, but he always seems to get in his own way by losing his cool, leaving many to wonder when/if he could put it all together. But on September 14th, 2008 that all changed.
In a game displaced by Hurricane Ike, the Chicago Cubs faced off with the Houston Astros at Miller Park in Milwaukee, WI. Zambrano had missed his previous two starts with tendinitis in his shoulder, but clearly it was a non-issue on this magical night. Big Z struck out 10 on his way to the first no-hitter of his big-league career and the first no-hitter thrown at a neutral site in MLB history. Surely a strange night, but most certainly memorable.
(Honorable mention must be given to cancer survivor Jon Lester who threw a no-hitter this year in front of his proud and teary-eyed parents).
8. How to Start a Fire: Usain Bolt Wins Three Gold Medals in Beijing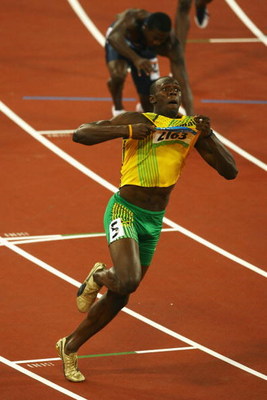 Usain Bolt won individual gold and broke the world record in both the 100m (9.69 sec) and 200m (19.69 sec)-and it would have been even faster if he didn't take time to celebrate before he finished both sprints. He went onto to win his third gold in the 4x100 realy...and with his teammates, they also broke the world record. The Lightning Bolt electrified Beijing and impressed us all.
He's pretty fast.
7. Winter Classic Brings NHL Back Into Prominence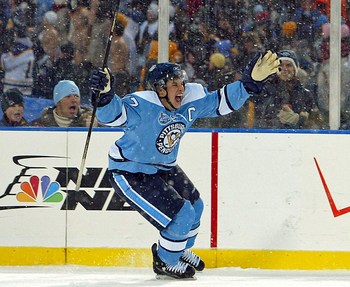 The NHL was on the decline for several years before the Lockout. But when Gary Bettman and the owners couldn't come to terms on a CBA and the entire 2004-2005 season was cancelled, the NHL of old died. And when the Lockout ended, and the new NHL skated out onto ice it was surrounded by plenty of skepticism and far fewer fans, and it seemed doomed to ride on the VS. channel.
With a remarkable pool of young talent and a revamped marketing plan centered around younger players like Crosby, Ovechkin, and Thornton, the new NHL began to take shape. Several rule changes helped in picking up the pace of play and opened the ice up for more offense. Most importantly, there were no more ties-rather shootouts to determine a victor.
All of this led to the No. 7 moment that took place on just the 2nd day of January, 2008.
The NHL brass could not have written a better scenario for this Winter Classic. Almost 72,000 fans packed into Ralph Wilson Stadium in snowy Orchard Park, NY to watch the face of the new NHL, Sidney Crosby. He did not disappoint, grabbing an assist in the 1st period and dazzling fans with some crafty stick-handling.
After the Sabres and Pens played to a regulation and overtime tie, the shootout was on. Each team scored once in its first two tries, and after Ty Conklin stopped Maxim Afinogenov on the Sabres third try, Crosby skated out in front of 72,000 fans in the stadium and 3.7 million viewers nationwide and scored the game-winning goal. The NHL was back.
6. Tiger Woods Hobbles to U.S. Open Victory in Playoff
Many may scoff at the idea of Golf as a sport, challenging that it is not as competitive or physically exacting as football or hockey or even basketball-that it's "soft." I offer Exhibit A: Tiger Woods.
He is a physical specimen and he is as dominant of an athlete as we may ever see in any sport. But for all the laurels and trophies he has accrued, his victory at Torrey Pines in 2008 might have been his most impressive yet.
Rocco Mediate garnered a great deal of coverage and fanfare while he made his improbable run at the U.S. Open title, and late on that Sunday he looked as if he could hold off the charging Tiger.
But like so many before, Rocco eventually succumbed to Woods' presence and raw talent in a playoff and Tiger hoisted the trophy once more-his fifth victory out of seven tournaments in 2008.
If his play out on the course wasn't enough to make this list, then what he revealed afterward certainly did. Tiger Woods had been playing with a partially torn knee ligament and a double stress-fracture in his leg. Not bad for an athlete in a "soft" sport.
5. The Luck of the Irish: Harrington Wins Back-To-Back Majors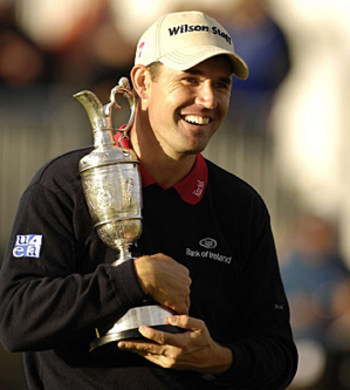 Ok, so this wasn't just one moment, but it still stands out as one of the top stories of the year. After Tiger's memorable win at the U.S. Open, he then his announcement that he would be having surgery on his knee and missing the rest of the season.
PGA executives and Tournament sponsors couldn't help but lament this fact, but Padraig Harrington seized this opportunity to show that he belongs in the conversation with the world's best.
After beating out Sergio Garcia in the 2007 British Open at Carnoustie, Harrington came to Royal Birkdale hoping to defend his title here in 2008. Facing some of the worst conditions in recent memory, Harrington was a model of consistency and his strong putting and steely focus (along with a remarkable five-wood shot on the 71st hole) pushed him past a challenging Greg Norman for his second consecutive Claret Jug.
A month later he beat out the field and Sergio Garcia (again) at Oakland Hills to win the PGA Championship; that's back-to-back Major Championship victories and three of the last six majors.
Say what you will about the absence of Tiger Woods, but Padraig Harrington (just named the PGA Player of the Year) truly is one of the best in the game. I look forward to a final pairing of Woods' and Harrington at a major at some point in 2009.
4. Showdown In Lubbock: Texas Tech Shocks Texas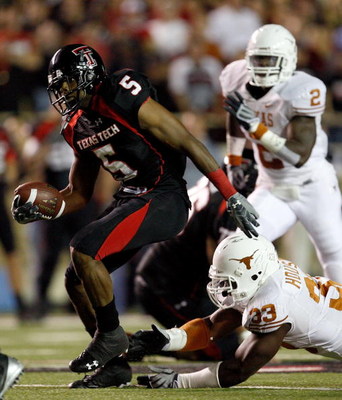 In one of the most memorable and exciting games in recent College Football history, (No. 1) Texas traveled into Lubbock, TX to face the dangerous Red Raiders of Texas Tech (No. 6). Going into the half, the Red Raiders had a 22-6.
But a big surge in the second half, led by Colt McCoy put the Longhorns ahead 33-32 with just moments left. It seemed like Texas might survive and come away with a W.
Then, as a record Texas Tech crowd and millions watched around the country as Graham Harrell marched his team down the field, ultimately connecting with Sophomore phenom Michael Crabtree for a game-winning TD with just 8 seconds to go. The fans crashed the field, only to be pushed back in order to run the final ticks off the clock. It was an incredible and surreal finish to a spectacular game.
3. The Battle at Centre Court: Nadal vs. Federer at Wimbledon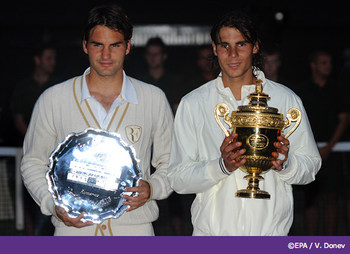 If something seems off to you in this picture, that's because for the last five years, Federer was the one holding the Wimbledon Cup-and for the previous two years, Rafa Nadal was holding the Runner-Up trophy.
In the most epic tennis match ever (as lauded by many tennis legends and myself), Nadal overcame Federer in a five-set barnburner that (with rain delays) lasted almost seven hours.
Even in defeat, Federer showed that true heart of a champion at a point where many said his play was fading. Rafa has gotten the best of Roger in his career, but we have not seen the last of Federer-one of the greatest champions in tennis history.
Note: If you haven't seen this match, it is truly worth your time.
2. New England Patriots (18-1)/ Who is David Tyree?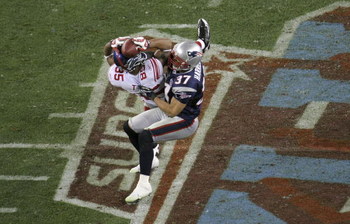 After coming so close to ruining the Patriots undefeated regular season, losing 38-35 in Week 17, the Giants unexpectedly got a second chance to play spoiler AND champion in Super Bowl XLII.
A very physical game seemed to come to the expected conclusion when Tom Brady connected with Randy Moss with just 2:42 left in the fourth putting the Patriots on top 14-10. But Eli Manning, the Giants, and a guy named David Tyree thought otherwise.
As we all remember, with just over a minute to go, Eli Manning escaped a sure sack only to heave the ball downfield to David Tyree who leaps up and catches the ball by pinning it to his helmet-somehow he hung on to it despite having Rodney Harrison draped all over him.
Then with :35 seconds to go Manning connected with Plaxico Burress for the game-winning TD, bringing the Lombardi trophy to New York and handing the Patriots "18-1."
Tyree's "Catch" will go down in history much like Dwight Clark's "Catch."
1. Michael Phelps: The Man, The Myth, The Legend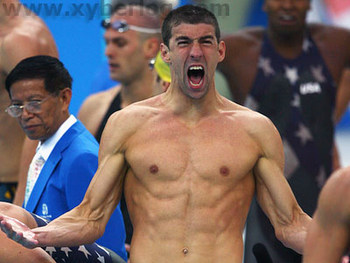 This one was easy and almost no one can object, so let me make this simple:
Michael Phelps won eight Gold Medals in eight swimming events at the Summer Olympics in Beijing, breaking Mark Spitz's record of seven in one Olympic games. Pick which race impressed you the most and you'll have a strong case.
Michael Phelps now has 14 Gold medals to his name.
Michael Phelps is 23 years old.
Keep Reading

New York Giants: Like this team?