Mario Manningham Injury: Updates on Giant WR's Week 13 Status and Fantasy Value
November 29, 2011
Christian Petersen/Getty Images
New York Giants wide receiver Mario Manningham has been hampered by a knee injury for much of the season, and while he has often played through it he was forced to miss the team's Week 12 Monday night game against the New Orleans Saints.
While Manningham hasn't lived up to his promise this season due to the emergence of Victor Cruz as a top option, the Giants will want to have all hands on deck when they host the undefeated Green Bay Packers in Week 13.
Keep checking back to this page throughout the week for the latest updates on Manningham's playing status and potential fantasy value.
UPDATE: Friday, Dec. 2 at 3:09 p.m. EDT by Kyle Vassalo
Bad news for Manningham owners. Manningham was held out of practice and appears doubtful for Sunday's game, according to Jeff Roberts of The Record.
Having Manningham on a bike instead of on the practice field is obviously a bad sign. The skidding Giants have dropped three straight and need to be at their best to bounce back against the Saints.
This is another huge blow for a Giants team that can't shake the injury bug.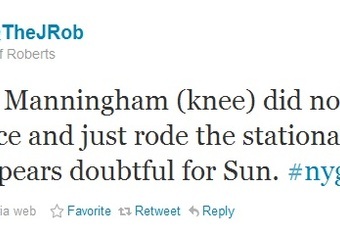 UPDATE: Tuesday, Nov. 29 at 12 p.m. EDT by Mike Chiari
While there isn't yet any update on Manningham's status regarding his availability for Week 13, RotoWorld.com reports that the Giants' receiver tested out his injured knee prior to Monday night's game against the Saints in the Superdome.
The fact that he was on the border in terms of whether he would play this week probably bodes well for his chances to face the Packers. The fact that the game against New Orleans was on turf may have had something to do with why Manningham was held out.
With another week of rest, Manningham may be ready for Sunday's game against an inconsistent Green Bay secondary that he is capable of exploiting with his speed.