Cincinnati Reds: Winter Meetings Preview According to TPR
November 29, 2011
Patrick McDermott/Getty Images
The 2011 season was disappointing for the Cincinnati Reds. They were coming off of a 2010 central division championship, and they appeared to be a team on the rise.
That all disappeared when their pitching seemed to dry up in an instant. Yet behind all of the disappointment, there is quite a bit of optimism left at Great American Ballpark.
Joey Votto was almost as good in 2011 as he was in 2010, and Jay Bruce seemed to finally turn the corner at the plate. Meanwhile, Ryan Hanigan seemed to take control of the catcher's spot, and Brandon Phillips continued his strong play.
If it weren't for the pitching they would have repeated as central division champs.
Infield
We begin behind the dish where the Reds have an unsettled situation on their hands. Hanigan and Ramon Hernandez were both positive impact performers. Hernandez is a free agent and has yet to find a home. Some speculate that the Reds could move Hanigan and re-sign Hernandez. The smart money has Hanigan taking over full time, but the Reds may not want to pay his increased rate now that he is eligible for arbitration.
There were also rumors that Joey Votto was on the block. Yonder Alonso is ready for prime time, but left field was difficult for him. Walt Jocketty is used to running on a tight budget, and he is looking for creative ways to bring in more pitching. He also must find enough money in the piggy bank for Brandon Phillips.
Another potential area for savings will come at third base. Scott Rolen had an injury-riddled campaign, and his hitting numbers suffered. They have the combination of Todd Frazier and Juan Francisco ready to take over. If they can find a taker for Rolen they could eventually afford some quality pitching.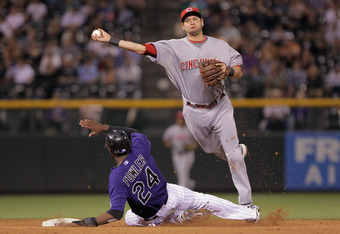 Doug Pensinger/Getty Images
Finally, we have an interesting battle at short. Paul Janish beat out Edgar Renteria last year and performed very well defensively. Unfortunately, he was a negative impact performer overall because of his offensive struggles.
Enter Zack Cozart. Cozart is old for a prospect, but he seems to be a better offensive and fielding balance than Janish. That will be an interesting story to watch in Spring Training.
Player to Watch: Scott Rolen
Outfield
The outfield is a little more settled than the infield. Both Jay Bruce and Drew Stubbs are entrenched in their spots for better or worse. Bruce took a big step forward, but he had a subpar fielding season. Normally, those two categories would reverse a little, so overall we should see a similar Bruce. Stubbs had a huge sophomore slump, but he has a great deal of athleticism and should bounce back some.
Most of the offseason rumors involve Yonder Alonso in some capacity. Either they are trading Joey Votto to make room for him at first, or they will trade him to acquire veteran pitching. The latter seems to be the most likely now as there have been rumors linking the Reds to the Houston Astros for Wandy Rodriguez.
If Alonso is traded then Chris Heisey will take over in left field. He had a very solid season last year in the role of fourth outfielder. If you project his numbers out to a full season he could produce 20 home runs and 80 RBIs. With the likes of Votto, Bruce, and Phillips in the middle of the order that would suit them just fine.
Player to Watch: Yonder Alonso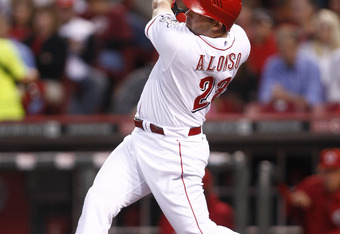 John Grieshop/Getty Images
Starting Rotation
This is the area of biggest concern. In a scant three years, Edinson Volquez has gone from a rookie of the year candidate to a sub-replacement level performer. His demise could be linked to Dusty Baker and his insistence on ruining young pitchers. Why any GM with a young team would hire him is beyond me.
Johnny Cueto on the other hand was good enough to win an ERA title. He stands alone as a bright spot on an otherwise very shaky pitching staff. Mike Leake took a step forward as well when he wasn't stealing t-shirts.
Beyond this, Jocketty is desperate for another veteran presence. Bronson Arroyo became a replacement-level performer after turning in a solid 2010. He really can't be counted on, but he might have a bounce-back season.
The Reds have been waiting on Homer Bailey and Travis Wood to arrive, and they are still waiting. Bailey in particular has been a big disappointment. He got innings last year because of the dearth of starting pitching, but he didn't do anything to assert himself. Both pitchers will get another chance this spring.
Player to Watch: Johnny Cueto
Bullpen
The Reds do have a fairly deep bullpen, and they needed every last bit of it this past season. Francisco Cordero has been one of the more consistent closers in baseball. The Reds are bringing him back, but they may be easing the job to Aroldis Chapman. Chapman presents an interesting dilemma. The Reds aren't sure whether to make him a closer or stretch him out into a starter.
Sam Lecure and Bill Bray quietly put up solid campaigns as well. Nick Massett was also a hair above average. So, the Reds bring five quality relievers to the party. If the starters can add even an inning a start to their effort, the bullpen will last through the season and perhaps be enough for them to reclaim the division.
Player to Watch: Aroldis Chapman
Winter Meeting Win
Few teams enter the winter meetings with a clearer mandate than the Reds. They must add starting pitching. If they add one significant starter through free agency or trade, they will be successful. If they add two, Walt Jocketty will be knighted in the queen city.