NFL Draft 2012: 10 Top Prospects Who Came out of Nowhere in 2011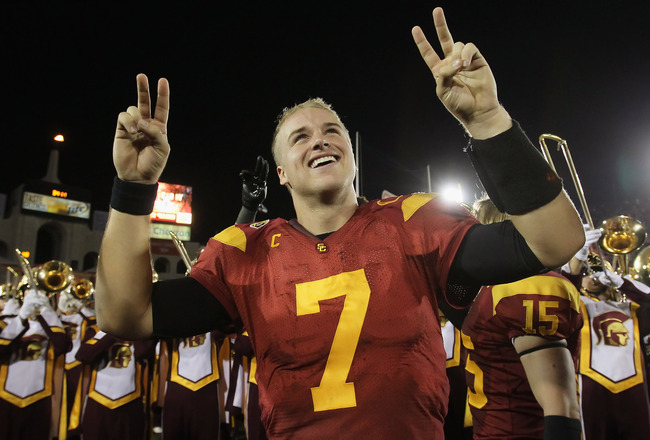 Jeff Gross/Getty Images
The 2012 NFL draft is loaded with talent, easily the deepest in recent memory.
There is still football ahead for some schools, which means more chances to shine for players on the verge of entering round No. 1 of the NFL draft. Whether it be a conference championship game or a bowl game, we will see how the nation's best NFL prospects do in big games.
The increasingly popular Andrew Luck has led his Stanford Cardinal squad to a good bowl game for sure, but how will he perform? Against Stanford's toughest opponent, the Oregon Ducks, Luck threw two interceptions and looked a bit flustered.
A poor performance in a bowl game probably wouldn't cost him the No 1. overall draft pick, but it would cause some scouts to question how good he really is. I know it isn't his fault the Cardinal play a weak schedule but that's a fact.
A lot of the names are familiar at the top, but some of these players have come a long way over the last couple of seasons.
Lets take a look at 10 players whose draft stock has soared this season.
10. Mohamed Sanu: Wide Receiver, Rutgers
Patrick McDermott/Getty Images
Rutgers junior wide receiver Mohamed Sanu has brought national attention to himself in 2011.
He took a step back from his freshman year to his sophomore year, dropping in receptions, receiving yards and touchdowns. He pretty much erased his first two seasons with his jaw-dropping improvement as a junior.
The 6'2" 215-pound receiver pulled in 109 catches for 1,144 yards and seven touchdowns this season.
Sanu broke the Big East Conference single-season record of 92 catches, which was held by Pittsburgh's Larry Fitzgerald since 2003. He easily broke Kenny Britt's school record of 87 catches set in 2008. Many people believe he will go pro after this stellar junior campaign.
He definitely earned that right and would probably be making a mistake if he didn't go pro.
After all, how can you improve on such a great season? His draft stock is as high as it will ever get.
9. Kendall Wright: Wide Receiver, Baylor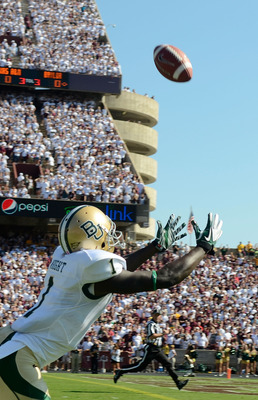 Sarah Glenn/Getty Images
Baylor Bears senior wide receiver Kendall Wright has absolutely exploded this season.
The 5'10" 190-pound speedster caught 95 passes for 1,406 yards and 12 touchdowns in 2011. These are all career highs and have sent him skyrocketing up every NFL team draft board.
He is very versatile and has been used many ways. He has several rushes in his career with the Bears, and has returned kicks as well as thrown a few passes. I could see him fitting in with a team who likes to mix it up offensively, such as the Philadelphia Eagles do.
Where he lacks in size he makes up with effort and pure athleticism. This kid has the ability to be a starter at the next level, and will warrant a much higher draft pick due to his success this year.
8. Dwayne Allen: Tight End, Clemson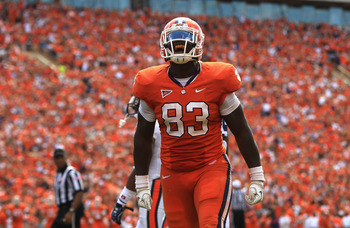 Streeter Lecka/Getty Images
Clemson Tigers junior tight end Dwayne Allen went from unknown to the best tight end prospect in the country in 2011.
Allen has more catches, receiving yards and touchdowns this season than he did in his first two seasons combined. He has 46 catches for 545 yards and six touchdowns this season. In the right offense he has the athleticism and skill to become a starter right away in the NFL.
Allen was a victim of a Clemson offense that didn't pass to the tight end until 2011 when the team hired a new offensive coordinator.
NFL teams know this, and if he chooses to enter the draft, he is projected to be the first tight end taken.
7. Nick Toon: Wide Receiver, Wisconsin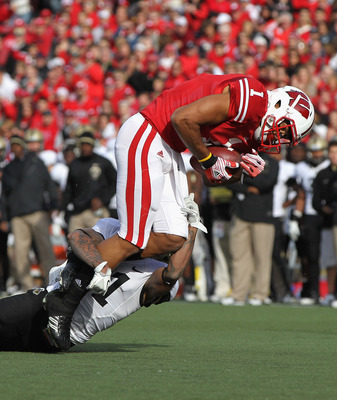 Jonathan Daniel/Getty Images
Nick Toon has my favorite name in all of college football. I'm an admitted cartoon junky!
Cool name aside, Toon has had a great senior season. He didn't put up numbers that are going to blow anybody away, but this is due to Wisconsin's run heavy offense.
Before this season I wasn't sure if Toon would be drafted, mostly because his routes needed work and he isn't exceptionally fast.
He only had eight touchdowns in his first three seasons and didn't seem to get open often enough in the endzone despite his size at 6'3" 220 pounds. 2011 was a good season for Toon, as he improved on his routes and showed that he wanted the football.
He had 52 catches for 788 yards and nine touchdowns, an impressive 15.2 yards per catch.
He may never be a No. 1 receiver but Toon showed that he could be a number two or three guy. He has good hands and catches the ball at its highest point, a great threat in the end zone.
6. Dont'a Hightower: Inside Linebacker, Alabama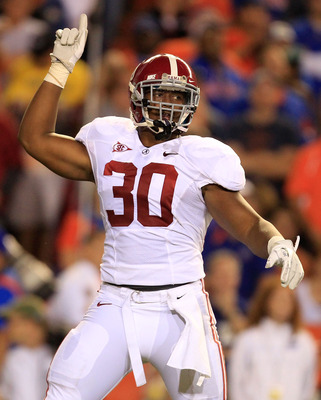 Sam Greenwood/Getty Images
Alabama linebacker Dont'a Hightower was a productive player last season, but not to the same extent as he has been in 2011.
Hightower has 79 tackles, three sacks and an interception this season.
After suffering a torn ACL early in his sophomore season, he didn't seem as quick or instinctive. That returned this year as he showed the explosiveness he had as a freshman. He had never been much of a pass rusher but seems to have improved there as well.
He only had two sacks combined going into his senior season, and he has three sacks this year. He's been close several times and this cannot be forgotten. Sacks are nice but hurries can be just as valuable, which he does multiple times per game.
An interception at the linebacker position is just a bonus, but he looked like a running back as he returned in 29 yards.
Dont'a has superstar ability, he will fit in somewhere in the NFL. As versatile a player as he is, I could see him playing in any scheme and doing well.
5. Ryan Tannehill: Quarterback, Texas A&M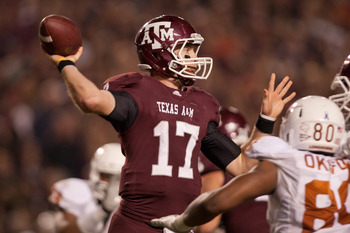 Darren Carroll/Getty Images
Texas A&M quarterback Ryan Tannehill has improved tremendously this season.
He barely saw any playing time as a freshman or a sophomore, and looked average as a junior. While his decision-making needs to improve, everything else looks great. His presence on the football field is a lot better and he turned into a leader this season.
As a junior, Tannehill completed 65 percent of his passes for 1,638 yards, 13 touchdowns and six interceptions. This season his completion percentage dipped a bit, but his production more than doubled in every category.
Ryan completed 300 passes for 3,415 yards, 28 touchdowns and 14 interceptions.
His decision-making is poor at times which led to some costly interceptions, but you have to remember this was the first season in which he was allowed to play more freely. He had more responsibility within the offense and overall he did a good job.
Before this season I would have laughed if someone told me Tannehill was an NFL-caliber QB, but he has proved me wrong.
4. Zach Brown: Linebacker, North Carolina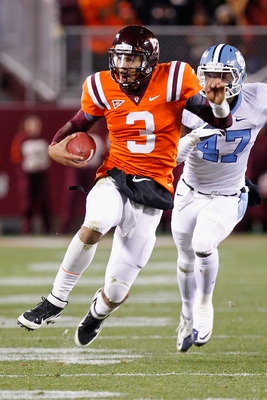 Geoff Burke/Getty Images
Zach Brown went from being a good college linebacker to a pass-rushing monster in one season.
Brown was always a good tackler but seems to have really improved his pass rushing techniques in the offseason, and it shows. The guy looks like a completely different player out there, definitely more confident.
He didn't have any sacks or forced fumbles in his first three seasons as a North Carolina Tar Heel, and has five-and-a-half sacks and two forced fumbles this season. He also has 91 tackles and two interceptions on the season. He looks to have worked his way into the first round on the 2012 NFL draft.
Most impressive is the fact that he had only started 11 games in college going into his senior season.
3. Matt Kalil: Offensive Tackle, USC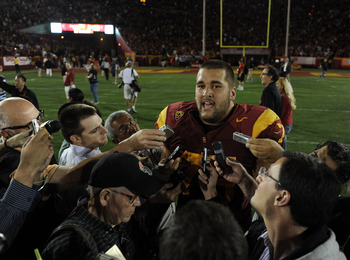 Harry How/Getty Images
Considering the fact that Matt Kalil has only started a couple of seasons for the USC Trojans, you could say that he came out of nowhere!
He is now considered by most so called draft experts to be the second best player in the entire 2012 NFL draft behind Stanford quarterback Andrew Luck.
Kalil is a good all-around blocker, I would say his strength is run blocking but he is above average at both. He red-shirted in 2008 due to injury and then was a backup in 2009, but was successful as soon as he became the started. His brother and father both play(ed) in the NFL, so he is sure to get some good advice.
Kalil may be a risky pick as high as he is projected to go, but the talent is there for sure.
2. Robert Griffin III: Quarterback, Baylor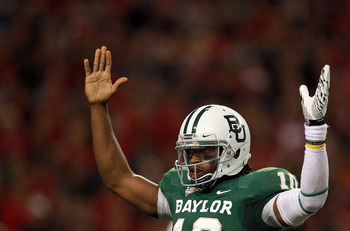 Ronald Martinez/Getty Images
Robert Griffin the third should have been well known well before this season, but he wasn't.
Maybe it's because he plays for the Baylor Bears, or maybe it's because he missed the majority of the 2009 season after tearing his ACL.
For whatever reason, he is still being talked about after Stanford quarterback Andrew Luck and USC quarterback Matt Barkley. I'm in the minority, but Griffin III is the best player in the 2012 NFL draft if you ask me. I would draft him first no questions asked.
Griffin can do it all and is the most complete offensive player in the draft.
He has never thrown more than eight interceptions in a season, which is very impressive considering how often he throws the ball.
His completion percentage has improved each year as well, rising from 59.9 percent as a freshman to 72.6 percent this season as a junior.
Griffin III has thrown an amazing 75 touchdowns and just 16 interceptions in his career, and has scored several rushing touchdowns as well.
I've seen him projected anywhere from the fifth pick to the middle of round one.
Any team who lets this kid fall out of the top five is making a huge mistake.
1. Matt Barkley: Quarterback, USC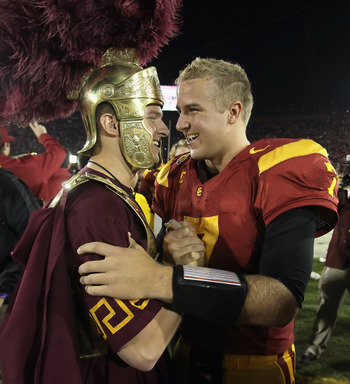 Jeff Gross/Getty Images
USC quarterback Matt Barkley has experienced just about everything throughout his football career so far.
Barkley played high school football at Mater Dei High School in Santa Ana, California. He started all four years, having most of his success in the first three seasons. In three seasons, he passed for 6,994 yards and 57 touchdowns before struggling his senior year.
Despite these struggles, he was still named the No. 1 high school prospect in America by ESPN.
As a freshman at USC, Barkley looked average at best for a player as highly touted as he was. He completed 59.9 percent of his passes for 2,735 yards, with 15 touchdowns and 14 interceptions. His sophomore year he played a lot better but still threw 12 interceptions. He improved his completion percentage to 62.6 and threw 26 touchdowns.
This season as a junior he has played at the level everyone expected him to.
He has completed nearly 70 percent of his passes for 3,528 yards, 39 touchdowns and only seven interceptions.
Before this season I thought he would have to play well his senior year to have a chance at being drafted in the first round of the NFL draft.
As things stand now, he would probably be drafted in the top five of the 2012 NFL draft should he choose to forgo his senior season at USC.
Keep Reading