Philadelphia Eagles: Ranking Their Best Offseason Acquisitions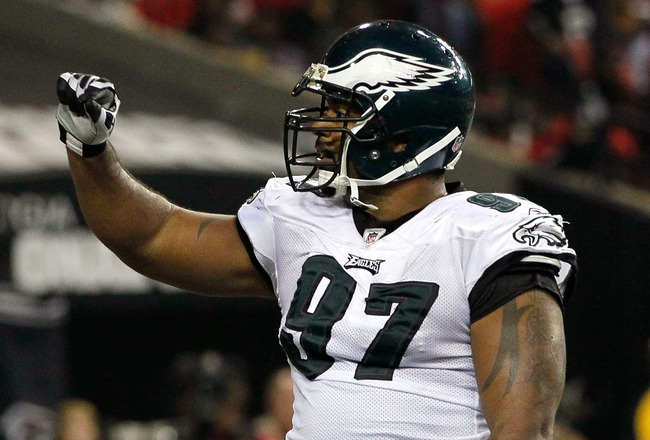 Kevin C. Cox/Getty Images
The Philadelphia Eagles made a lot of offseason acquisitions, most of which have not seemed to work out for them. Based on all of the players they signed, I have decided to rank the team's top five offseason acquisitions.
The criteria is not just talent, but contract details, talent, production, future projections and more. For example, while Asomugha has not been great this year, he would get credit for future projection if I believed that he could bounce back.
So here is the list of the Eagles' top offseason acquisitions.
5. Jason Babin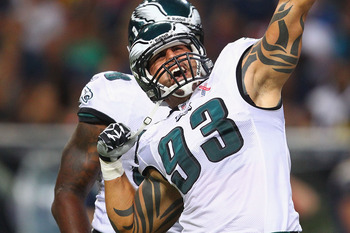 Dilip Vishwanat/Getty Images
Jason Babin should arguably be higher on this list, but the reason he only comes in at number five is because he has a very large contract.
I was not a fan of the Babin signing because the Eagles committed a lot of money to him. Babin has a track record of disappearing in the second half of the season, and he currently seems to be doing that again. He is also undersized and not very strong against the run.
Babin's strength is his status as a solid pass rusher. He will certainly get sacks, but he also gets exposed in the running game.
Overall, I think Babin was a good signing, but the Eagles are paying him too much money. Considering his track record of wearing down in the second half, I do not believe he was a great signing and places at the bottom of this list.
4. Derek Landri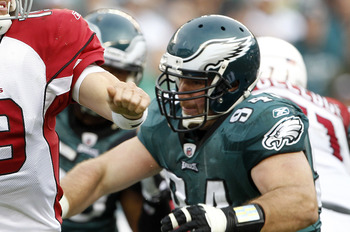 Rich Schultz/Getty Images
I am about to let my fellow Eagles fans in on a secret: Derek Landri can play.
He was an excellent, unheralded offseason acquisition. He does not make a ton of money, but the guy can play defensive tackle. He seems to make tackles in the backfield and pressures the quarterback often.
Honestly, Landri may turn out to be the best offseason acquisition, but the reason he is only fourth is because I am not sure the Eagles will retain him after this season, making his future projection murky at best.
3. Nnamdi Asomougha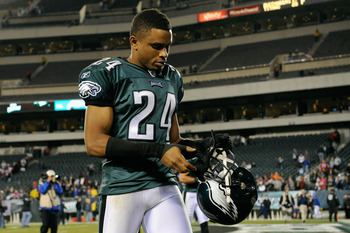 Patrick McDermott/Getty Images
There is no doubt that Asomugha is the most-talented player the Eagles signed in the offseason. However, he has underperformed this season.
I have dropped him from his obvious No. 1 spot to third for several reasons: First, his performance this season; second, I do not believe he fits well into the Eagles' defensive scheme, and I am not sure that this problem will change; third, he has a huge contract, and if he does not start playing at a higher level, he could go down as one of the biggest free-agent busts ever.
Looking on the positive side, there was no offseason and the Eagles may not quite know how to use him yet. He still has a chance to have a great career here, as he is a solid guy with a lot of talent and his future projection looks strong.
Overall, Asomugha was a good signing, although I do not believe he fits well into this scheme the way it is presently being run. Hopefully, that could change in the future.
2. Vince Young and the Kevin Kolb Trade: DRC and a Second Rounder
Rich Schultz/Getty Images
Look, there is no doubt that the Kevin Kolb trade was the right thing to do for both Kolb and the Eagles. The Eagles got DRC, who has underachieved this year, and a second-round pick.
The deal also allowed them to bring in Vince Young, who has played pretty well in two games when filling in for Michael Vick. Young was a good offseason acquisition because he has a one-year deal that will be done after this season. He is a solid backup quarterback, and moving Kolb allowed the Eagles to sign him.
His future projection in Philadelphia is non-existent. Although he will likely not be a long-term Eagle, signing Young was a good offseason move. The Kolb trade has to be mentioned in the same breath as Young because he never would have signed if Kolb hadn't moved.
1. Cullen Jenkins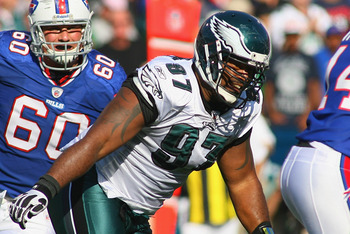 Rick Stewart/Getty Images
Cullen Jenkins was a great move for several reasons: First, the guy can flat out play and is an excellent defensive tackle; second, he is a great locker room guy.
Jenkins is a stand-up guy who has become one of the Eagles' outspoken leaders. He apologized to the fans on Twitter this week, and I like the fact that Jenkins cares and wants to win. He also has a Super Bowl ring.
Jenkins was a very good move and, in my opinion, has turned out to be the best Eagles offseason move. His contract is fairly reasonable and he has made a big impact. Even though the Eagles have struggled this year, Jenkins' play has been impressive and dominant at times.
For that reason alone, Jenkins earns the top spot.
Keep Reading

Philadelphia Eagles: Like this team?