Cricket: Does Test Match Cricket Have to Stand Aside for ODI and Twenty20?
November 30, 2011
Gareth Copley/Getty Images
The future of Test Match cricket has once again been up for debate with dwindling attendances around the world and the supposed Test Match championship being moved from 2013 to 2017.
Recent series have seen India beat West Indies 2-0 in a mostly competitive set of games, including a final-day draw that saw India needing one run and West Indies a couple of wickets for victory.
South Africa against Australia in a pitifully scheduled two-match series—which ended 1-1—threw up more twists and turns than a roller coaster, including Australia being 22-9 in game one before chasing down 310 to level the series in the second match.
Pakistan overcame Sri Lanka 1-0 in a three-match series with a rejuvinated Pakistan team edging out a competitive Sri Lankan outfit.
Australia host New Zealand in an upcoming two test series, Sri Lanka go to South Africa in another two test series, India head to Australia for three test matches and England go to Dubai and Abu Dhabi in 2012 to face Pakistan for a three-match test series.
The emerging pattern seems to be keeping test match series short, while filling the schedule with ODI and Twenty20 matches.
Comparing the above series, Sri Lanka play five ODIs in South Africa, India play at least eight in a tri-series also featuring Australia and Sri Lanka and England play four ODIs with Pakistan.
This has not gone unnoticed, Graeme Swann has questioned 50-over cricket altogether and suggested just playing Test Match and Twenty20 formats, James Anderson, Andrew Strauss and Andy Flower have all voiced concerns over the future of the five-day game.
However, England is not the place where the game is struggling with almost sell-out crowds for every game and a new 10-year contract for English Test cricket with South African investment bank, Investec.  
The problem was highlighted in the South Africa vs. Australia series, second Test Match final day when Australia started the day on 142-3 but chased down 310 for an unlikely victory. The crowd was sparce and reasons can be suggested but when Twenty20 matches are sold out it seems an obvious short-term financial fix.
A suggestion to improve attendances has been a pink ball for use in day/night Test cricket. Glamorgan and Kent recently experimented with a pink ball in a four-day County Championship match to a mixed reaction. At best, a day/night version with a pink ball looks quite a few years down the line.
Landmarks such as Sachin Tendulkar chasing down his 100th 100 are unlikely to be unrepeated—it is questionable whether they would anyway, but the lack of Test Match cricket makes this almost a certainty.
Tendulkar, stuck on 99 hundreds after falling agonisingly short with a score of 94 in their latest series against West Indies, VVS Laxman, Rahul Dravid and Zaheer Khan are some of the star names in the Indian set-up who won't be around for much longer but recent evidence has shown India have capable replacements.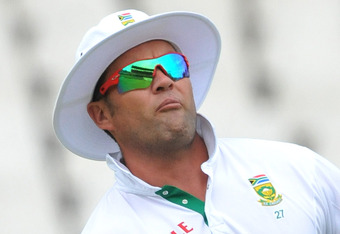 Gallo Images/Getty Images
Muttiah Muralitharan snared 800 Test wickets, including 10 wickets in a match on 22 occasions—a record which looks a more than formidable. 
Finally, there are players such as Jacques Kallis, one of the best all-rounders of recent years. Kallis's Test record currently stands at 12,005 runs in 147 tests at an average of 56.89, including 40 centuries and 55 half-centuries with a high score of 201 not out.
He has taken a impressive 271 wickets at an average of 32.33 with a best innings performance of 6-54 and add to all that 169 catches, another impressive record.
Undoubtedly we will see ODI and Twenty20 records set and broken but will some of these Test match records ever come under threat, let alone be broken? With the amount of Test match cricket currently around the world it seems unlikely.