Cleveland Browns: What Happened to the Offense in the 2nd Half of Week 12 Game?
November 29, 2011
Tyler Barrick/Getty Images
Sunday's heart-wrenching 23-20 loss to the Cincinnati Bengals was the quintessential game for the Cleveland Browns and their fans.
There was excitement and anticipation, followed by fearful nervousness, ending in abject despair.
At this point the Browns have more uplifting moments followed by heartbreak than a Nicholas Sparks novel.
After the best half of football that the Browns have played all year, fans were left to wonder what exactly happened in the second half on Sunday.
During the first half the Browns moved the ball with confidence. Colt McCoy showed poise and made smart decisions. He found Jordan Norwood (who's having a surprisingly nice rookie season) on two long throws on the first drive, including a touchdown.
Peyton Hillis looked like the Peyton Hillis of last year. He ground out runs and carried piles, seemingly picking up six or seven yards a pop.
Greg Little was all over the field making catches, including his first touchdown of the season.
But the second half had none of that.
McCoy was pressured and made mistakes.
Hillis did nothing.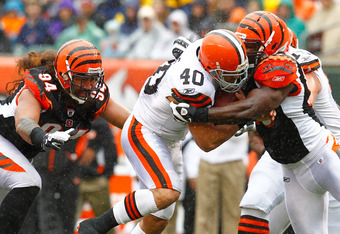 Tyler Barrick/Getty Images
Little dropped just about everything thrown his way.
Seventeen points in the first half. Three points in the second half. The Browns found a way to lose.
It was depressing to watch.
I could rant as well about the defense, which was a major disappointment, but the fact is that if the offense had done anything in the second half, the Browns would have won.
The play calling was pedestrian. There were little-to-no downfield throws.
I'm not sure if the interception was all McCoy's fault. I don't know what the route was, but it looked like Little cut his route deep instead of coming right across where the pass ended up. That said, it was an ill-advised throw.
Where was Chris Ogbonnaya?
He had three carries for 16 yards in the first half and nothing in the second half after racking up 205 yards over the previous two games.
It was obvious Hillis, due to his hamstring issues, could do nothing on outside runs. Everything he got was going up the A and B gaps. Case in point: He had two catches for minus-four yards.
There were a lot of situations that Ogbonnaya has proved to be effective in and yet he was not used at all on Sunday. He came out often on third-down situations but didn't see the ball.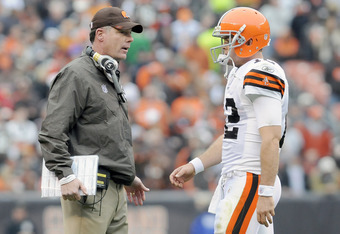 Jason Miller/Getty Images
I don't want to make Ogbonnaya into Barry Sanders or even Arian Foster, but he played great two weeks in a row and was then virtually thrown to the curb. He's still averaging almost a yard more per carry than both Hillis and Montario Hardesty with nearly the same number of carries.
Another guy who's had recent success but was invisible on Sunday was Joshua Cribbs. There's little question that Cribbs has been the most productive receiver this year with four touchdowns, but against the Bengals he had only one catch for eight yards and one carry for two yards.
Huh?
What is going on with this team?
How can you go from looking so good in one half to totally inept in the second?
It has to come down to coaching.
The lack of success offensively in the third quarter this year speaks volumes about Pat Shurmur's inability to make half-time adjustments and keep the opponent guessing.
All I can say is that this isn't acceptable. I'm tired of watching crappy football.
Four of the next five games coming up are against the Steelers and Ravens. and if they don't figure something out they're going to get embarrassed, go into another offseason without winning a divisional game and picking in the top 10 of the draft again.
Thank our lucky stars the NBA lockout is over and we can have Cavaliers basketball back in our lives. They might suck, too, but they can't be any less impressive than the Browns.
So, with that...Go Cavs.
You can follow Benjamin Flack on Twitter @ClevelandFlack.