NFL Power Rankings: Cowboys on the Rise, Giants on the Fall
November 29, 2011
Ronald Martinez/Getty Images
The Eagles and Chargers are 4-7, and the Lions and Bengals are 7-4. Whatttttt?
That's right, Detroit and Cincy have legitimate playoff hopes while Philly and San Diego have legitimate question marks. Norv Turner would seemingly be reaching the end of his tenure with the Bolts, but Andy Reid appears to be on a slightly cooler hot seat.
Elsewhere around the league, the 49ers long winning streak came to an end while the Redskins snapped a six-game losing streak.
The Packers remained unbeaten while the Colts remained, well, completely beaten.  And yes, it was Tebow Time for the fourth straight week as the Broncos moved over the .500 mark.
The NFL season has just five weeks left, and my unofficial count has just nine teams that don't have playoff hopes. Outside of Indy, nobody else has been mathematically eliminated quite yet, but who really needs math? I say there are still 23 teams that could join the playoff party.
As we head to Week 13, here are the latest rankings.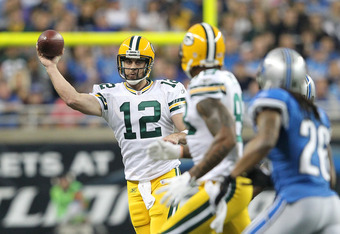 Leon Halip/Getty Images
Teams' previous ranking in ( ).
1.       Green Bay Packers (1): After winning three games in 11 days, it seems as if the Pack may be destined for 16-0. With a two game lead on the 49ers, though, will they rest players in the final weeks?
2.       New Orleans Saints (4): Drew Brees is making a late push to win the MVP award. Will he lead the Saints to a rematch of opening night against the Packers?
3.       Pittsburgh Steelers (3): It wasn't pretty against the Chiefs, but it got the job done. If the Ravens slip up in the next five weeks, expect the Steelers to win the division, despite losing both against Baltimore.
4.       Baltimore Ravens (7): In a potential Super Bowl preview, the Ravens took care of business against the 49ers. It's hard to say a team with three losses should be undefeated, but that's exactly the case with the Ravens.
5.       San Francisco 49ers (2): I expected a little better showing by the 49ers against the Ravens, but let's not jump to conclusions yet; it was their fifth trip to the East Coast this season, and they only had three days off.
6.       New England Patriots (6): The Patriots have gotten off to slow starts in their last two games but looked unbeatable once they got it going. Is Rob Gronkowski the best tight end in football?
7.       Houston Texans (5): Despite another win, the Texans drop two spots. With Matt Schaub and Matt Leinart out for the season, can this team legitimately win any playoff games with T. J. Yates under center?
8.       Oakland Raiders (12): The Raiders lead their division, but with road games against Miami and Green Bay, followed by a game at home against the Lions, they could be in a dogfight with the Broncos.
9.       Dallas Cowboys (11): They got everything they could handle from Miami but walked away with another close call—their fourth win of the season by three points or fewer. It's not often I am right, but I did say three weeks ago Dallas would overtake the Giants this week for first place, and that is the case. Look for them to extend their lead again next week.
10.   Chicago Bears (8): If Caleb Hanie can play smarter and avoid costly turnovers, he can guide the Bears into the playoffs.
11.   Detroit Lions (9): Trailing Green Bay 24-0 heading into the fourth quarter wasn't what the Lions were hoping for. With Ndamukong Suh out against the Saints, and likely longer, the Lions playoff hopes are beginning to thin.
12.   Cincinnati Bengals (13): Playing close games with Baltimore and Pittsburgh was impressive. Playing a close game with the Browns causes some worry. They probably need to win at least one of their remaining two games against the Steelers and Ravens to make the playoffs.
13.   Atlanta Falcons (14): Since their Week 5 loss to Green Bay, Atlanta has gone 5-1 with their only loss in overtime against the Saints. Based on their schedule, the Falcons should be a lock for the playoffs.
14.   New York Jets (15): I just can't trust the Jets. Even if they beat Washington and Kansas City and move to 8-5, can they win two of three against the Eagles, Giants and Dolphins?
15.   Denver Broncos (16): I sound like a broken record every week, but the reason for this team's turnaround is more about the defense than Tim Tebow. They allowed 28 points per game pre-Tebow and are allowing 20 points per game post-Tebow (and that includes a 45-point effort they gave up against the Lions).
16.   New York Giants (10): As expected, a brutal schedule is quickly making the Giants look like an average team. The good news is, a win next week could save their season. The bad news is, they must beat a team that hasn't lost a meaningful game since Week 15 of last season.
17.   Tennessee Titans (18): The Texans winning the division is not as much of a lock as people think. The Titans could very easily finish 4-1 in their final five games. That Week 17 matchup against Houston has the potential to decide the AFC South.
18.   Buffalo Bills (17): It is likely the Bills would have to win out to reach the playoffs. Even though they have played poorly in their past four games, winning their next five isn't out of the question. Three games at home and one on the road against the reeling Chargers.
Their Week 17 game? On the road against the Patriots, who may not have anything to play for.
19.   Philadelphia Eagles (19): Vince Young did what he could, but ultimately the Eagles defense just couldn't keep up with the Patriots offense. Even though they aren't mathematically eliminated, you can kiss any playoff hopes the Eagles had goodbye.
20.   San Diego Chargers (20): Six straight losses for the Chargers have all but ended their playoff hopes. And things were looking so good after a 4-1 start.
21.   Tampa Bay Buccaneers (21): The Bucs took a big step back this year and will likely need to address some offensive positions come draft time.
22.   Seattle Seahawks (22):  With a pretty deep draft of quarterbacks coming up, you have to wonder if Seattle is ready to admit Tarvaris Jackson simply isn't the answer.
23.   Cleveland Browns (23): The Browns' season pretty much came to an end in Week 12, as four of their remaining five games come against the Steelers and Ravens.
24.   Kansas City Chiefs (24): The Chiefs hung tough with the Steelers but just couldn't overcome four Tyler Palko turnovers.
25.   Arizona Cardinals (26): Patrick Peterson appears to be the next Devin Hester. All four of his punt return touchdowns this season have been 80 yards or more. That's an NFL record.
26.   Washington Redskins (30): The 'Skins ended their six-game losing streak, which is good because if they hadn't, that streak likely would have reached at least 10 games.
27.   Carolina Panthers (29): The Panthers have an extremely bright future if they can build a good defense.
28.   Jacksonville Jaguars (25): The Jags have to be wondering if drafting Blaine Gabbert was the right move.
29.   Miami Dolphins (27): The Dolphins have lost games by one point, one point, three points and three points. Can you imagine how tight that division would be if they had won three of those games?
30.   St. Louis Rams (28): Fool me once, shame on you, fool me twice, shame on me. Shame on the Rams for punting to Peterson after he returned a 99-yard punt in overtime to win in their previous matchup.
31.   Minnesota Vikings (31): The Vikings showed life in the second half, but a questionable decision to go for it on 4th-and-goal from the one when a field goal would have made it a seven-point game really hurt.
32.   Indianapolis Colts (32): There isn't much more to say about the Colts at this point, other than rant about how Reggie Wayne has killed my fantasy team all year, and the one week I finally decide to bench him, he goes off for over 120 yards and a score. The Colts have one shot left to get a win, and that's in Week 17 against the Jags.