WWE Raw (11/28/11): Live Blog, Results, Coverage and Analysis
Tonight, as with every Monday night, Bleacher Report and yours truly will be providing the best damn live blog on the Internet as I cover WWE Raw live.
"Rowdy" Roddy Piper is scheduled to return with his popular Piper's Pit segment featuring John Cena and there are rumors of a Mae Young appearance as well (what, do they WANT people to change the channel)? You never know, the Rock could always check in "via satellite."
Also, the rumor is this episode will be John Morrison's final one as a WWE employee, joining his trouble-causing girlfriend Melina on the unemployment line. Rumor mills are churning and saying Brodus Clay will make his "much anticipated" debut and squash Jo-Mo to send him packing.
In any event, feel free to comment down below and offer and criticisms towards WWE (I'm sure there will be many).
Now, on with the show...
We return with Del Rio working the arm which was injured by a kick during the commercial break. Punk tries a sunset flip but overshoots on the "flip" part and Del Rio attacks the arm yet again. Del Rio heads upstairs and hits what looks like a double forearm for two. That was goofy looking.
Punk kicks away from Del Rio but whiffs on a high cross body attempt and Del Rio gets two off a low dropkick. Alberto goes back to the armbar but Punk slugs out and runs into a tilt-a-whirl backbreaker for a near fall. Del Rio goes back to the top rope and comes off with another double-ax type maneuver. After a brief conference in a top wristlock, Del Rio kicks Punk in the head and puts him down. Alberto heads to the top rope for a third time but that's a mistake as Punk catches him with a kick to the face for two.
Punk kicks away at Del Rio's legs and catches him with a leg lariat, triggering his comeback and a neckbreaker for two. To the corner, Punk hits his high knee but Alberto shoves out of a bulldog and hits Divorce Court for two.
Del Rio hits a German suplex after some swapping around and begins to show his frustration to the referee. He looks to finish with the armbreaker but Punk reverses to the GTS, forcing Del Rio to plant him with a DDT for a near fall. Del Rio gets desperate, removing the turnbuckle pad and having an extended discusses with the referee.
Rodriguez uses the opportunity to toss a chair in the ring and Del Rio dents it against the mat before tossing it to Punk, trying to get him disqualified. Punk however has seen more Eddie Guerrero matches than Del Rio and tosses the chair back to Alberto before feigning injury. The referee turns around just in time to see Del Rio with a chair and is about to call for the bell while Del Rio begs.
Punk quickly rolls him up for two on a hot near-fall but Del Rio quickly hits the Back Stabber for his own two count. Rodriguez occupies the referee and Del Rio tries to toss Punk into the exposed buckle but IRONY STRIKES as Punk drops him face-first into the corner and gets three to retain the title.
Winner and STILL Champion: CM Punk
-Punk delivers a GTS to Rodriguez because he's a jerk and we quickly fade to black as the show runs out of time.
-The match started slow as usual but the ending was super-hot and the crowd was really into it by the end. Punk continues to put on great matches with Del Rio and it was definitely a worthy main event to close the show ***1/2.
WWE World Title
CM Punk vs. Alberto Del Rio
Naturally, Del Rio goes to work on the arm early but Punk drives him to the corner and monkey flips out, allowing Punk to go to the arm. The way the announcers are discussing this "if Punk gets DQed he loses the title" thing kinda makes you go hmmmmmm.
Del Rio gets a hip toss and works the arm some more but Punk fights out and catches him with an elbow before clotheslining Del Rio to the outside. As usual, Punk follows out with a suicide dive through the middle ropes and takes us to commercial.
-Recap of Roddy Piper trying to get John Cena all fired up.
-Mick Foley joins us to recite "Twas the Night before Smackdown"...all promo here but cute.
-Meanwhile, CM Punk wants Johnny Ace to kiss his ass.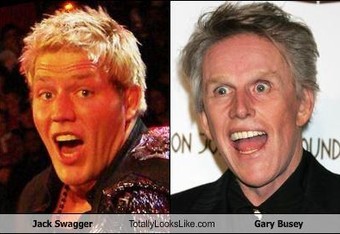 Jack Swagger vs. Zack Ryder
Swagger takes him down and dances but Ryder comes back with a flying clothesline. Swagger quickly puts him down with a belly to belly suplex and hammers away before hitting a legdrop for two. Swagger punches some more in an effort to get ANYONE in the crowd to boo or give a rat's ass about him...it fails, of course.
Ryder fights his out out of an arm submission and hits a neckbreaker for two. Swagger recovers and catches Ryder coming off the top with a backbreaker then he screws up a pump splash. Of course, it's the finish so he has to repeat the spot so Ryder can get his feet up and hit the Ruff Ryder for the win.
Winner: Zack Ryder
-Well, a screwed up finish always causes lost points and Swagger is boring as hell on a normal week *1/4.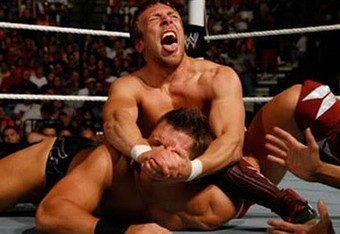 -We come back from commercial with Michael Cole interviewing Daniel Bryan in the ring. Of course, that disintegrates fairly quickly and Bryan calls Cole the worst announcer in the history of WWE. Obviously, Daniel has not heard tapes of Rob Bartlett, Mike Adamle, Booker T, Shane McMahon, Jonathan Coachman, Todd Grisham, or a number of others.
All joking aside, Cole flips on Bryan about trying to cash in his MITB case on a defenseless world champion and then making fun of him for having the decision overturned. You know, Bryan comes off as a total wuss for letting a moron like Cole mock him for this long. No serious wrestler should ever take this much abuse from a non-wrestler in any situation, he already should have knocked his head off.
Bryan switches the focus back to the cage match on Smackdown and he says that being the world champion is much more important than main eventing WrestleMania. Mark Henry appears on the stage and proclaims that Bryan can't beat him no matter what. Bryan walks up and kicks him in his injured leg and says "we'll see".
That was a very weird segment:
a) Why didn't Bryan knock Cole upside his head?
b) What's with the face-ish promo that Henry cut?
c) Why the heelsih actions from Bryan?
If anyone can make sense of that, I'd be glad to hear it.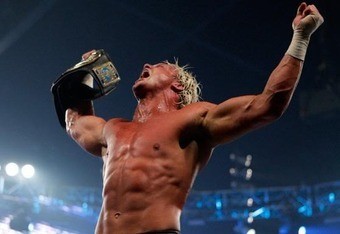 We return with the guys having a slugfest with Orton getting the better of it and hitting a clothesline to trigger his comeback. Powerslam hits and Orton follows with the draping DDT, sending him into his ridiculous-looking tribal dance to signal that an RKO is imminent. Ziggler wisely rolls to the outside to avoid such a dance and Barrett decides this is the best time to attack. Orton takes out Barrett with a dropkick but Ziggler slides back into the ring and hits a Zig Zag for the win.
Winner: Dolph Ziggler
-Dolph does a handstand on the floor to celebrate because he's great. A huge win for Dolph Ziggler as they continue to elevate him to the main event level so now all they have to do is get that pesky US title off of him. Good match by TV standards ***.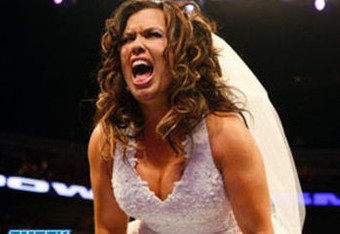 Randy Orton vs. Dolph Ziggler
Wade Barrett is on commentary while Dolph gets the awesome picture-in-picture promo on his entrance. They battle over a lockup and Orton grabs a headlock but Ziggler rolls him up for two. They rest for a second and Orton gets an Irish Whip so Dolph tries the old-school up and over move but Orton takes his head off with a clothesline, causing Dolph to take a powder.
Back inside, Orton hooks a hip toss and a portion of the Garvin Stomp before dropping a knee for two. Vertical suplex puts Dolph down but Orton misses a second knee drop, allowing Dolph to take control and get two off an elbow. Randy looks to counter to his backbreaker but Dolph rolls him up for two and uses a dropkick to send Orton to the floor.
Ziggler hammers away on the outside and gets two back in the ring before stomping away in the corner. He mistimes a splash in the corner though and looks for a comeback but Dolph stops that with a neckbreaker for two. Barrett actually isn't bad on commentary but we would never know that otherwise since personalities aren't allowed in WWE. Dolph heads to the top but gets caught and Orton brings him down with a top-rope superplex for two. The announcers sold that like it was a routine submission hold...terrible.
Anyways, that takes us to our first mid-match commercial break.
-Yet again, Brodus Clay's debut is pushed back by Johnny Ace. The guy is fat and a terrible worker anyways so it's not like we're actually MISSING anything. Ace talks to Del Rio about winning the title but CM Punk bursts in and rains on everyone's parade with some Google statistics. Johnny Ace proclaims if Punk gets intentionally disqualified tonight, he will lose the title.
-Meanwhile, Randy Orton and Dolph Ziggler can walk down hallways.
-Oops, this is another "we need to waste 10 minutes" segment so absolutely NOTHING HAPPENS.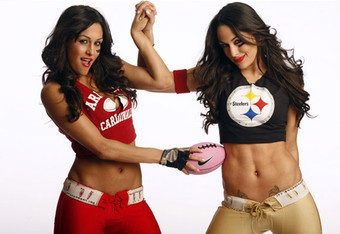 The Bellas vs. Kelly Kelly & Alicia Fox
Neither team gets an entrance because WWE knows these matches suck and it's just an excuse to show that weird static promo again. Natalya and Beth jog and bounce around the ring then just head to the back (called a "run-in" by Michael Cole...wow, he's so edgy).
Anyways, Kelly gets her terrible flying headscissors and Alicia comes in with a flipping legdrop to get the pin. Yes, seriously, that's all this was.
Winners: Kelly Kelly & Alicia Fox
-DUD DUD DUD...how is Vince McMahon still a millionaire putting this crap on TV?
-Cole shills the crap out of WWE '12, which is waiting for me on my Gamefly queue.
Falls Count Anywhere Match
John Morrison vs. The Miz
The Miz attacks Morrison with a comically large lead pipe during Morrison's entrance, injuring his knee and causing the announcers to speculate about his career being over.
Of course, John Morrison WILL...NOT...DIE and decides to go ahead with the match anyways. He attacks but Miz quickly takes control and wraps the injured leg around the ring post before grabbing a kendo stick from under the ring. Why the hell would a KENDO STICK be underneath the ring? At least you could buy a chair or even a table but a KENDO STICK? Is Steve Blackman on the ring crew now?
Miz whacks him a couple times with the stick but Morrison counters and gets hold of the international object, beating Miz's ass around the ring and getting two on the entrance aisle. Miz tries to crawl for safety at the top of the stage but Morrison gives chase using the stick as a crutch.
Miz suckers him in and sends Morrison head-first into the big WWE logo on the stage (nice bump by Morrison) then delivers the Skull Crushing Finale on the stage. Miz harnesses his inner-HHH, posing for about 20 seconds before actually going for the pin. It doesn't matter though because Morrison is unconscious and the referee calls for the bell.
Winner: The Miz
-Short and just another job by Morrison on his way out of the promotion. A lesson for you kiddies: You always go out on your back...good effort for a short match **1/2.
-Morrison does a stretcher job afterward, so Miz decides to cut a promo. I guess you could say Miz killed Morrison's career on the stage with the lead pipe. The Miz promises that he will continue to injure people in the coming weeks. WHO CAN STOP THE PATH OF RAGE!?!?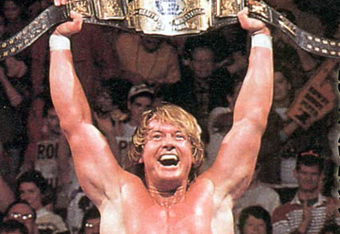 Piper's Pit
Piper hits the ring and wants to know how he became such an icon without ever winning the world title and not having the best physique. The answer of course is the fans because even Roddy wants to be cheered once in awhile.
John Cena joins him in the ring and Piper wants to play word association...here we go: Stone Cold (cheer), Bret Hart (cheer), Rock (cheer/minute booing), John Cena (65% cheer from high pitched voices/35% boo from people who's testicles have dropped).
So anyways, Cena spouts the company line about the fans and their "freedom of speech" (so long as you don't exercise it too much) but Piper tells him to man up. My God, a Cena heel turn would be gigantic, it would just absolutely cripple about 50% of the audience. I personally guarantee that the 18-35 demographic would LOVE him if he turned heel as well. It would be a complete 180 degree turnaround.
So John Cena runs through all the times the crowd was absolutely vicious to him and he excuses the crowd as just being themselves. Then he goes completely sappy bringing up kids, Make-A-Wish foundation, and the US Army in the front row. My God, I feel like humming "Amazing Grace" right now.
Again, Piper rambles a bit and then tells Cena he's seen everything and hands him his Hall of Fame ring. Piper tells Cena that he has to tell the crowd exactly what he thinks about them but Cena refuses. Roddy gets all upset and smacks Cena across the face to try to bring out some aggression in him. Cena looks to respond but simply hands the Hall of Fame ring back and walks to the locker room.
I understand the slow build but please don't let this lead to John Cena "doing the right thing" for the 9843rd time.
-Recap of the breakup of R-Truth because Ron refuses to set his clock to anything but 4:20.
-How long before we can just drop the whole "super show" thing? Isn't it pretty much established that the "brand extension" is a joke and fairly much over?
-King and Cole announce CM Punk will face Alberto Del Rio for the world title tonight.
This article is
What is the duplicate article?
Why is this article offensive?
Where is this article plagiarized from?
Why is this article poorly edited?