Why Tim Tebow Will Win a Super Bowl Before Urban Meyer Wins National Title
November 29, 2011
Chris Graythen/Getty Images
Because of what they accomplished together at the University of Florida, Tim Tebow and Urban Meyer shall forever be joined at the hip. It's pretty hard to discuss one without discussing the other.
This is true now more than ever. Tebow and the Denver Broncos are on a hot streak that has captivated the nation and the rest of the known universe, and Meyer took over as the new head football coach of the Ohio State Buckeyes on Monday.
It didn't take long for a certain question to start making the rounds: Who will win a championship first—Tim Tebow or Urban Meyer?
The easy answer is that Meyer will win a BCS national title long before Tebow wins a Super Bowl. He's already won two national titles, and he's taking over a program that has a never-ending supply of talent. Tebow, on the other hand, needs to worry about hitting open receivers before he can start worrying about winning the Lombardi Trophy.
I say to the depths with popular opinion. Tebow is going to win a Super Bowl before Meyer wins a championship.
If you want to know how and why, you must read on.
Meyer Will Be Slowed by NCAA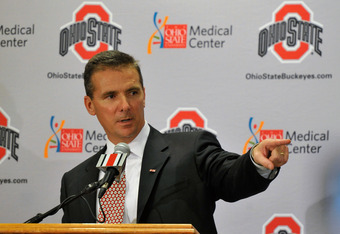 Jamie Sabau/Getty Images
Urban Meyer does not need to be told that he is walking into something of an uncomfortable situation at Columbus. He is essentially being tasked with picking up where Jim Tressel left off, but the NCAA hasn't quite moved on from the scandal that led to Tressel's exit.
As of right now, the NCAA's committee on infractions is still deciding what to do with Ohio State. It has already hit the Buckeyes with a "failure to monitor" charge, which is one step below a lack of institutional control charge. Per ESPN, a bowl ban and/or a loss of scholarships are in the cards for Ohio State.
I'm going to assume that the NCAA will hit Ohio State with at least some penalties, the purpose of which will be to limit Ohio State's ability to compete going forward.
The short version of all this is that Meyer's chase for a national title in Columbus is likely going to be delayed by the mess his predecessor left behind. It's a raw deal, but it is what it is. 
Meyer Will Be Slowed by the SEC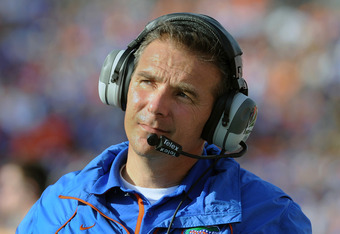 Al Messerschmidt/Getty Images
Under Tressel, the Buckeyes were practically a lock to win the Big Ten every year. Under Meyer, I suspect that not much is going to change. The Big Ten is not as weak as people think it is, but it's a conference that Meyer and the Buckeyes can win with ease once they get their act together.
And as we all know, winning the Big Ten means being in the national title picture. The only trouble is that the national title picture tends to include the best of the best from the SEC.
Meyer knows as well as anyone that the SEC is the best there is. Here's how Doug Lesmerises of the Cleveland Plain-Dealer summarized Meyer's thoughts on the SEC during his press conference: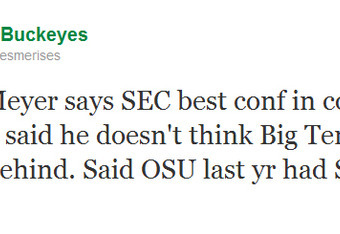 You know how people can look at something from a glass-half-full perspective? Meyer is doing it right.
The trouble is that it's hard to see the Buckeyes or any team in the Big Ten being able to go toe-to-toe with the best teams in the SEC. And if Meyer wants to win a title, he's going to have to go through the SEC to get it.
Seeing as how the SEC is about to stretch its title streak to six in a row, I say good luck with that. 
Broncos' Defense Getting Better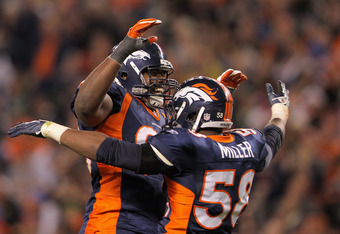 Doug Pensinger/Getty Images
Okay, let's talk about the Broncos. After all, even if Meyer's pursuit of a title is delayed, Tebow and the Broncos will have to take care of their own business.
When you look at the Broncos now, you have to look beyond the fact that they are winning with Tebow under center. As good as he's been (admittedly, he's been just okay), the Broncos' defense has been unreal in recent weeks. They haven't allowed more than 13 points in any of their last three games. 
If you're wondering why Tebow has a knack for winning close games, it's because his defense keeps the games close. If Denver's defense was playing like it did earlier in the season, then we're probably still talking about what a huge bust Tebow is.
Either that, or we're talking about Brady Quinn.
If (and I'll stress "if") the defense continues to evolve, it won't be long before it's a Super Bowl-caliber unit.
One more thing: rookie linebacker Von Miller is a stud. I second what ESPNDallas.com's Tim MacMahon has to say here: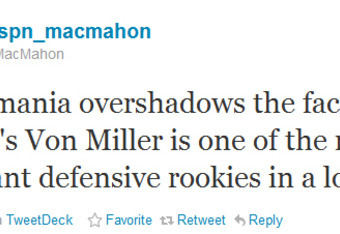 Tebow Will Get Better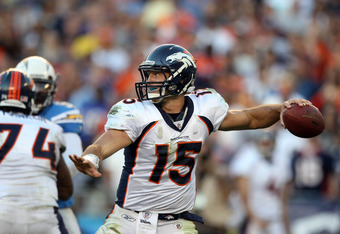 Donald Miralle/Getty Images
We now come to the part of our program when we talk about Tim Tebow's ability to play quarterback in the NFL.
Because the Broncos have won four of Tebow's five starts, many of his critics have jumped ship. The truth is that he is still a flawed quarterback, especially when it comes to his accuracy as a passer. If he doesn't show any improvement in this regard, then the Broncos are only going to go so far with him under center.
However, it would seem that Tebow is going to have the starting gig for the rest of the season, and I think it's a good bet that it will be his to lose in 2012 as well. He's going to log a lot of time under center, and you have to think he can only get better with more and more reps. 
If the Broncos are winning with Tebow now, just imagine what they'll be capable of once he starts hitting open receivers on a consistent basis.
John Fox Has Been Here Before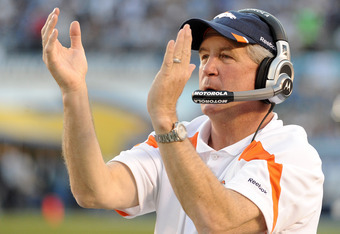 Harry How/Getty Images
So this John Fox guy is pretty good, huh? No wonder the Broncos hired him.
I'm actually of the opinion that Fox hasn't gotten nearly enough credit for the Broncos' turnaround. He's a defensive-minded coach, and you can see that rubbing off in the improved play of Denver's defense.
Along with offensive coordinator Mike McCoy, Fox also made the brave decision to turn the Broncos' offense into an option offense better suited for Tebow's skill set.
The results speak for themselves.
Are the Broncos Super Bowl contenders? Not this year. They need to add a few more pieces, and they have too many areas in which they need to improve.
But they may not be all that far off either. The Broncos appear to be a team on the rise, and that bodes well for them, considering how many of the traditional powerhouse teams in the AFC seem to be declining. Good things are happening for the Broncos at a good time.
Besides, let's not forget that Fox has been through all this before. He took over a dismal Carolina Panthers team in 2002 and had them in the Super Bowl in 2003.
Who's to say he can't pull off the same trick with the Broncos?