Saints vs Giants: Emotions Running High in the Big Easy
November 29, 2011
Chris Graythen/Getty Images
This is not just another game on Monday Night. To say that emotions are running high would be an understatement.
Tonight, another hometown hero will take the field. Yes, the Manning family has strong ties to New Orleans and the Saints, but I'm not talking about Eli this time. For the first time ever in a professional football uniform, Chad Jones will take the field.
I guess the Giants are doing whatever they can to give them a boost. However the fans in the Mercedes-Benz Superdome will be thrilled to see their former LSU Tiger finally making his debut into the NFL after his long struggle back from his automobile accident, but harnessing that emotion for good use will be on the New Orleans Saints side.
It is no secret that the Black and Gold faithful have a love affair with their team and even though Chad helped secure a BCS championship and a CWS championship while being a Tiger, tonight he is in enemy territory.
On October 3, 2011 we were all behind Chad as he ran a 4.84 at St.Martin's Episcopal High School, proving he was ready to come back to the sport he loves, but all of that goes out the window once the whistle blows.
After taking part in Gleason Gras yesterday outside of the Superdome at Champions Square, the WhoDat Nation is ready, willing and able to make a difference once again. For those who don't know what Gleason Gras is all about, it was a fundraiser for our former Saint Steve Gleason who has been diagnosed with ALS or Lou Gerhig's Disease.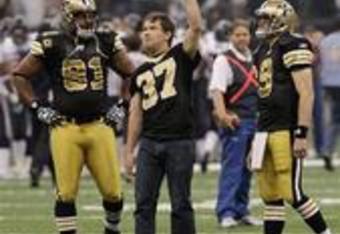 Current players mingled with fans in the rain to show support for an amazing guy. A guy who always gave his all for his team. A guy who is turning a terminal disease into an education and a fight for a cure.
He said yesterday that he was there to enjoy his three favorite things about New Orleans...the fans, the food and the music, and as he did Coach Payton was standing behind him and in true form, Steve said..."and Coach too!"
The crowd went nuts, broke into the WhoDat chant and the pregame festivities have been going on ever since.
Here we GEAUX...it's Monday Night, and all our rowdy friends are ready.