UFC 140: Jon Jones Will Destroy Lyoto Machida
November 28, 2011
The potential for epic and historic greatness currently residing atop the UFC light heavyweight division is without a doubt a spectacle that all fight fans carry an opinion on.  Many celebrate him, others question him, but everyone knows the deal when it comes to Jon Jones. 
Simply put, he is the real deal.
Jon Jones is quite possibly the greatest thing to hit MMA since Georges St. Pierre, Anderson Silva, or perhaps even Royce Gracie.  One thing is undeniable, to this point the man has displayed a potential for greatness that this sport has rarely seen.
The blueprint of the rise of Jones is not as unique as the man himself.  While we indeed are knee deep in the Jones era, it was not that long ago that we thought we had entered the Machida era.  Love him or hate him, there are not too many fight fans who would lay big money against "Bones". 
If they did it would ride as scared money without a doubt.
There was a time that the same could be said about Lyoto Machida, the next man now in line to face Jon Jones for his UFC light heavyweight title.  Machida will mark the third consecutive current or former UFC champion Jones has faced.
When Machida was on his way to, and standing on top there were not five people on the planet who thought he wouldn't remain at the top of the division either as champ or contender perennially.  His elusive style, combined with explosive power, and unpredictable attacks spelled disaster for many game plan.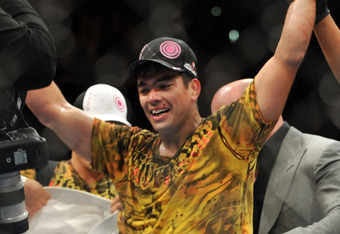 Jon Kopaloff/Getty Images
He destroyed rapidly rising star and then undefeated Rashad Evans to snatch his title and many felt it was the first step on a long journey to Machida's own greatness. 
After one loss (arguably two) to Mauricio "Shogun "Rua, and a second consecutive loss to Quinton "Rampage" Jackson, the legendary expectations of Lyoto Machida had been reduced to more question marks than the rave reviews that once surrounded him.
While a devastating hiccup in the career of Lyoto Machida, the foundation of who this fighter is can simply not be overlooked.  However easy it is to write him off after a few missteps along the way, it is extremely shortsighted to assume that the best Lyoto Machida this game has seen is in the rear view.
Many fight fans wonder though, is the best Lyoto Machida good enough to beat this unstoppable force in Jon Jones?  Perhaps, but it will not happen at UFC 140.
The reason why is as simple as momentum, then again it is a bit more complicated than that.  The careers of Jon Jones and Lyoto Machida are on two separate paths even if their pedigrees are similar. 
Cutting through the light heavyweight division like a hot scalpel through butter has left Jones riding high.  Regaining composure by retiring a legend in Randy Couture after three consecutive eye opening fights for Machida leaves him in a totally different place in his career. 
Jones is feeling undefeatable at the present time whereas all Machida has to go on is kicking a 48 year old man in the face at the twilight of his career.  Other than that he is still looking to regain that confidence that perpetuated him when he stopped Evans over two years ago, a lifetime in fighter years.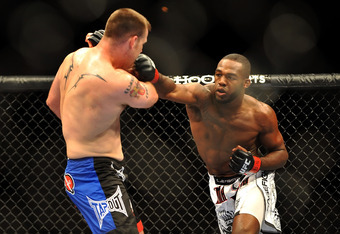 Jon Kopaloff/Getty Images
A fighter's mindset is paramount in the pressure cooker that is a UFC title fight, but it is not everything.
In a sport where game plans are key, with the styles of combat these two employ, that combination of confidence vs. uneasiness spells disaster for the former champion Machida. 
Jon Jones should enter this fight with the mindset that Machida will have to engage him, which if history tells us anything, will not happen.  The smartest Machida, the one that led up to his first title run, was not the most aggressive of fighters. 
Unless something has drastically changed in his mindset this is the Machida that fight fans can expect to see on December 10th against Jon Jones; the elusive chess master that lies in wait and capitalizes on openings from strange angles and a lengthy distance.
This Machida closes gaps and explodes yet rarely takes chances of his own.  His ability to react and score from the outside was his strategy for many fights during the most successful run of his career.  To recapture that success, we can expect him to revert to practices he employed when he was most successful. 
Sure there were flashes that showed what a more aggressive Machida could do but they were few and far between.  These tactics should not be abundant against the unorthodox Jones.  For Machida he should look to wait for openings rather than create them.
This man he has to face will simply not allow for a calculated Machida to hang back and pick his shots.   Jon Jones represents a much clearer threat to Machida than anything Suga, Rampage, or Shogun had to offer him.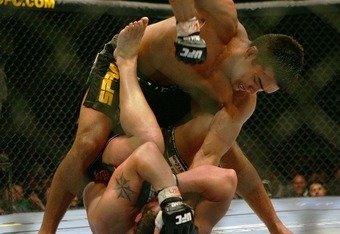 Gary M. Prior/Getty Images
Two of those three beat Machida and Jones has stopped them both.
Yet past performances really amount to nothing when predicting future expectation in MMA. 
What we know today is Jones utilizes a very unpredictable and unorthodox approach of attack.  This attack comes from nowhere, and it comes from everywhere.  He imposes this attack from a distance that can be neither duplicated nor prepared for.
The distance Machida tends to enjoy as he awaits his openings will be reduced to next to nothing.  In three forward attacks, Jones can take the fight from cage wall to cage wall.  Lying back in a comfort zone will not be an option for Machida.
Therefore he can expect Jones to be in his face more often than not, forcing the issue if you will.  This is where Machida will have to adapt to a new game plan.  More than likely a game plan he did not prepare for, further opening the door for questions marks in the realm of confidence which may already be shaky.
This is where Shogun was able to capitalize; this is how Rampage was able to throw him off.  By engaging Machida these two were able to change the fight.  Understanding that, Jones should be able to realize that if he sits back and looks to trade occasional blows with the former champ that he indeed falls into the trap.
Considering the master game plans formulated at Jackson's, if a simple MMA analyst can see this, they have indeed broken it down and rebuilt it time and time again in the gym.  By setting up counter measures and playing to the strengths of Jon Jones, they may be able to set up a trap of their own.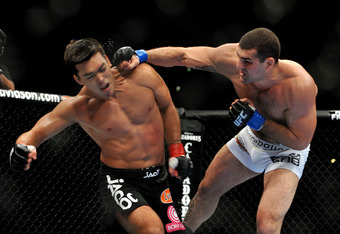 Jon Kopaloff/Getty Images
By engaging Lyoto Machida and forcing him to not only defend but seek openings in the heat of battle as opposed to dictating when and where they happen Machida will himself leave openings.  This is where Jon Jones will destroy him. 
Bringing the level of confidence and success into the cage that envelops this Jon Jones will allow him to engage the Brazilian relentlessly with attacks and a reach that no one will see coming or be able to prepare for.
Regardless of which Machida shows up and which game plan he brings with him, he will be forced to fight a battle that is up fast paced, up close, and personal.  Assuming his game plan is as it has been in the past and he is prepared to play the role of the counter striker, most likely his game plan will be null and void by the second round if not earlier.
Dealing with the confidence issues that have to accompany a fighter at the point in his career Machida is at, and being thrown out of his game plan by an aggressive and unorthodox Jon Jones, look for Machida to fall outside his comfort zone. 
When this happens expect Jon Jones to snatch the opportunity with a vengeance and notch one more world class former champion on his belt as he continues to redefine the landscape that is not only the UFC light heavyweight division but MMA as a whole.