Toronto Maple Leafs: Could Acquiring One Star Player Put the Leafs over the Top?
November 28, 2011
Richard Wolowicz/Getty Images
All is well in Leafs Nation this time of year. That is, except for the players.
With injuries to Carl Gunnarsson, David Steckel, Matt Lombardi, Colby Armstrong, Mike Brown, Mike Komisarek and, most notably, James Reimer, the Leafs have managed to survive a wave of injuries and stay atop the Northeast Division through the first two months of the season.
Usually this is the time of year when the Leafs begin their free fall in the standings, but not this year, not this season and not even in the wake of these injuries.
Who knew that with these injuries would come some good news? The good news is the Leafs' ever-growing depth in the organization.
Players stepping up in the absence of injured players include Joe Colborne, Matt Frattin, Joey Crabb, Cody Franson, and most notably, Jonas Gustavsson and Tyler Bozak (when Mikhail Grabovski and Tim Connolly were injured separately).
All of these players have shown their worth in these tough times, but it appears sunnier skies are ahead for the Leafs.
With Grabovski returning last night, Reimer isn't too far away and neither is Armstrong, both of whom are potent pieces to the Leafs attack.
Gunnarrson, Steckel and Brown, three valuable pieces to the defensive puzzle, are day-to-day injuries and could be back anytime as well.
Right now the only long-term injuries are Lombardi and Komisarek, and to be honest, their replacements are better than they are anyways. With Joe Colborne and Cody Franson filling in for them, their loss isn't as noticeable as say Reimer or Armstrong.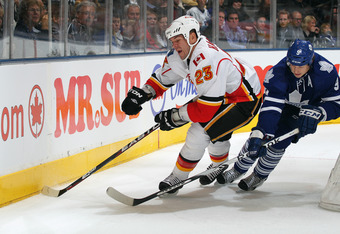 Claus Andersen/Getty Images
The Leafs are enjoying a consistent season so far, despite the injuries, and that can all be attributed to the team's depth. The organization can go seven deep at center with Bozak, Connolly, Steckel, Colborne, Lombardi, Zigomanis and Kadri, who can also play center.
On the wings, Phil Kessel, Joffrey Lupul, Clarke MacArthur and Nikolai Kulemin make for a very dangerous set of top-six wingers.
With all this depth, it puts the Leafs in a perfect position to add that one missing piece to the puzzle to put the club over the top and in good position to get home-ice advantage in the playoffs.
Oddly enough, with an 8-5-0 record away from the Air Canada Centre, the Leafs' road record is better than their 6-3-2 home record. The pressure of playing in Toronto may hit the young Leafs harder than veteran Leaf teams of years past.
In my previous articles I've stated that the Leafs still need to add quality veterans for this team to compete for the playoffs. Adding quality vets this offseason like Connoly, Steckel, and defenceman John Michael Liles has gone a long way towards making this team better.
However, with 75 goals against—which can be attributed to not having their number one goalie— the Leafs could still use a few more veterans, especially when it comes to defeating division rivals Boston, Buffalo, Ottawa, and Montreal on a regular basis.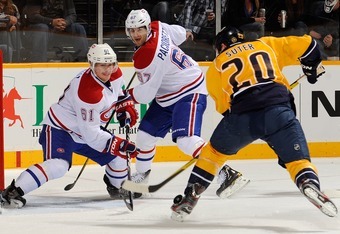 Frederick Breedon/Getty Images
I'm going to quickly breakdown a few star players who could be available at the right price and why adding them would make sense for the Leafs.
Ryan Suter
Ryan Suter is a perfect fit for the Maple Leafs squad and with the re-signing of Pekke Rinne and eventually Shea Weber, the Predators may not be able to afford the $5 million-plus contract Suter will likely ask for.
The Leafs could offer a trade option of Luke Schenn for Ryan Suter. Suter is just as effective defensively with a plus-18 rating this season. But what Suter brings that Schenn does not is confidence with the puck.
Suter plays in all situations and could be a rock next to the likes of Dion Phaneuf, Franson, Liles, Komisarek, Gardiner, Aulie, Gunnarsson and, eventually, Percy and Blacker.
A deal with Suter is dependent upon him signing an extension in Toronto. Nashville still has the cap space to resign all three, but the big question is are they willing to fork out the cash to get it done.
Eric Staal
The Leafs need for a number one center would be answered if they acquire Eric Staal from the Hurricanes. Still being haunted by the hit the essentially could put his brother's career in question, Staal is struggling to find his scoring touch in Carolina this season.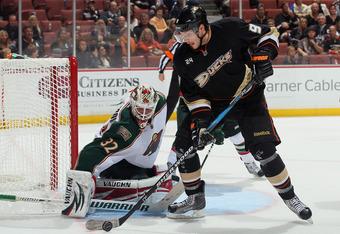 Jeff Gross/Getty Images
The Canes have just fired former Leafs coach and Paul Maurice and replaced him with Kirk Muller.
The odds Staal is traded soon are extremely unlikely, but the need for another scoring threat along with Kessel is still a need for the Leafs.
A package that includes Grabovski, Kadri and a prospect may be enough to get a deal done. However due to Staal's mammoth contract and lack of production so far this season, the asking price may get lowered by clubs looking to trade for him.
Bobby Ryan
A former Brian Burke draft pick, Ryan, who was taken immediately after Sidney Crosby in the 2005 NHL draft, could also fill a need for Toronto. His career has been a pretty productive one playing next to the likes of Ryan Getzlaf, Corey Perry and Teemu Selanne.
However, the Ducks are sporting one of the worst records in the NHL and are in total disarray. Would they look to trade one of their big three in an attempt to get a tad younger in their top six?
With Selanne, Jason Blake and Saku Koivu all nearing retirement sooner rather than later, there's no time like the present to try and get younger and quicker in your top six.
Andrew Cogliano was a good start, but he's not a top six talent, at least right now.
Ryan's asking price has always been two top six forwards and a draft pick. I've seen proposals of Grabovski, Kulemin and a first rounder thrown around, and to me, it's a fair deal.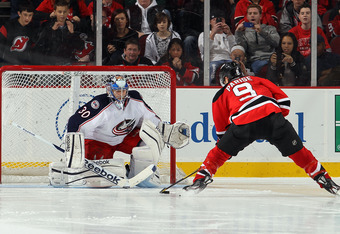 Jim McIsaac/Getty Images
The need for some consistent scoring for the Leafs is definitely a pressing one because the Leafs still have to play the Bruins four times this season and Kessel always gets shut down by Zdeno Chara. Having the extra point producers on different lines will cause the Bruins to not always burn out Chara against Kessel.
Zach Parise
Having long been linked to the Leafs, Parise is struggling majorly in New Jersey right now. With only 12 points in 22 games, Parise has been a shell of his former self. To some degree, he does miss Travis Zajac down the middle feeding him passes for goals, but one injury shouldn't have that much of an impact. Kessel was still scoring with Connolly on the shelf.
Parise is still one of the NHL's most dangerous snipers and needs special attention on the ice. The trouble with New Jersey is that they just struggle to score, mostly because they only have one line that can do so regularly. When they are held in check, the team struggles to put goals on the scoreboard.
The asking price for Parise will likely be two top six forwards and two draft picks. Would the Leafs offer up Grabovski, Kadri, and their first- and second-round picks for Parise? I highly doubt it, but it's fun to ponder.
Jason Spezza
Along with Colin Greening and Milan Michalek, Spezza gives the Senators a scoring line they can rely on for scoring. Along with Sergei Gonchar and Erik Karlsson on the back end, the Senators  boast an incredible power-play, but still are far too young to really compete this year in the NHL. They've had a winning streak of six games, but have also had a few long losing streaks, something that a veteran squad also goes through, but not at such a high rate.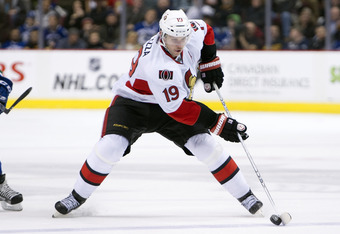 Rich Lam/Getty Images
Despite Spezza's short comings (specifically his defensive play), Spezza is still a dangerous, young center the Leafs could use. Being one of the best face-off men in the NHL doesn't hurt either.
The Senators will likely ask for Nazem Kadri, a guy they were targeting with their first-round pick two years ago when the Leafs took him seventh overall. The Senators settled for defender Jared Cowen instead.
Other than Kadri, look for the Senators to ask for Tyler Bozak and likely a player like Cody Franson or Keith Aulie. If the Senators don't want the defencemen, look for them to ask for a first rounder if the Leafs explore Spezza.
Jarome Iginla
Long been rumored to be on the outs in Calgary, Iginla is an aging sniper who put together a nice year last season, scoring 43 goals and adding 43 assists. Iginla this season hasn't been that great and rumors are swirling that he's willing to waive his no-trade clause to head to a cup contender.
Teams such as Los Angeles and Boston will likely be waiting at the Flames doorstep asking about him, but Toronto may also be around kicking the car tires outside as well.
Could Brian Burke fleece the Flames again and manage to nab both Phaneuf and Iginla from the Calgary? That remains to be seen.
A package that includes Grabovski, Kulemin or Kadri and a first will be the starting point of any deal involving Iginla.
Again, adding another 35-plus goal scoring winger will take pressure off the Kessel line to score when they face teams like the Flyers, Bruins, or Rangers.
These six players could easily players put Toronto over the top and into a position to contend for an Eastern Conference Championship. The first step though for that to happen is to get healthy and regain some chemistry so the team can withstand what looks to be a tough 60 games down the stretch of the season.