10 NFL Head Coaches That Seem in Way over Their Heads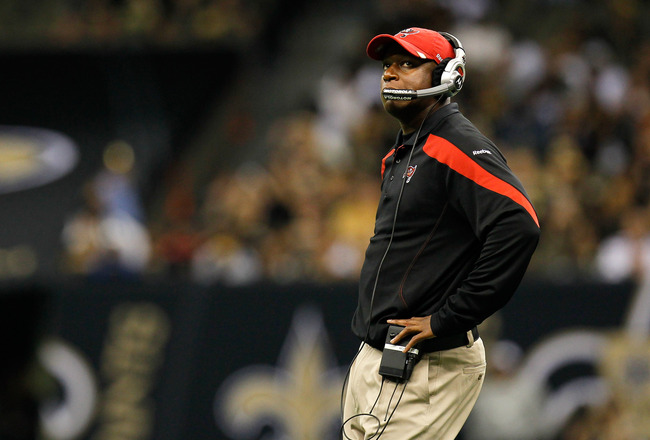 Kevin C. Cox/Getty Images
In the NFL, teams need to win now. It is not like the olden days, when you could take your time building a team from scratch, developing the players and building team chemistry over the course of years.
In today's NFL, owners need to please their fans. Fans want victory, and nothing short of that is acceptable.
Sure, if your team is horrible you may give them a few years to get better. But if they don't, you are immediately calling for the coach's head.
There are two different types of coaches that these owners will go for: those that have been coaches before and have had some success, and those that haven't been anything more than a coordinator.
With the Pittsburgh Steelers and Mike Tomlin, they found what they were looking for and Tomlin has taken the Steelers to two Super Bowls in five years.
In New England, the Patriots took a chance on Bill Belichick, who was a failure in Cleveland, but because the Browns were moving to Baltimore, the Pats took a chance and Belichick has rewarded them with three Super Bowl Championships.
Then there is the other end of the spectrum: coaches that have been given the chance, and either have or are starting to fail.
Not all of these coaches will be fired this offseason, but they have been put in a position that is going to be near impossible to overcome.
Here is my list of 10 NFL head coaches that seem in way over their heads.
Pat Shurmur, Cleveland Browns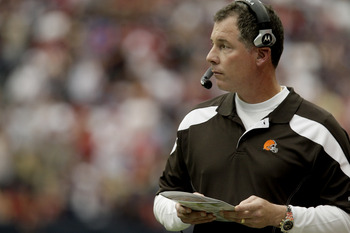 Thomas B. Shea/Getty Images
When Mike Holmgren took over as the GM of the Cleveland Browns, everyone thought he would become their head coach.
Most people were shocked when Holmgren hired Pat Shurmur as the head coach. People were stunned when Holmgren allowed Shurmur to call the offensive plays.
And no one is shocked that the Cleveland Browns are one of the worst teams in the NFL?
The reality is, Mike Holmgren set Shurmur up to fail. Maybe Holmgren wants to coach next year, and is waiting to build the pieces up enough to have success. Who knows, but as long as Shurmur is coaching in Cleveland, they are going to be one of the worst franchises in the NFL.
Tony Sparano, Miami Dolphins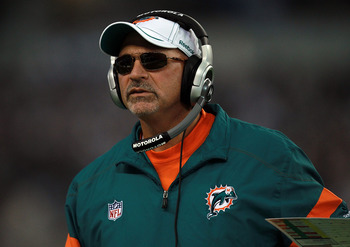 Ronald Martinez/Getty Images
After starting off the 2011 season reeling off seven straight losses, there was a lot of speculation that Sparano would be fired before the end of the season. The talk then focused on the "Suck for Luck" sweepstakes, and the Dolphins were right in the thick of things.
Then, Miami went and won three straight games, ending their chance at getting the best quarterback they have had since Dan Marino, and Sparano is again being talked about as over.
Yes, it was great to win those three games, but the reality is, the 'Fins are still considered one of the worst teams in the NFL, and now, they are going to lose out on the next Peyton Manning.
Sparano is better off that they won those games though, because his next boss will appreciate him not quitting. And let's be honest, even if the 'Fins would have gotten Andrew Luck, Sparano still wouldn't be the coach next year anyway.
Jim Caldwell, Indianapolis Colts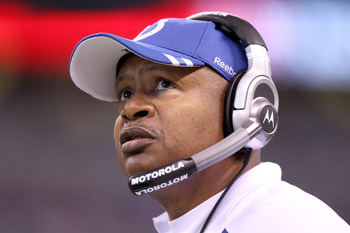 Andy Lyons/Getty Images
Six months ago, before everyone knew about Peyton Manning's injury, it was believed that this year could be the first time a team could play the Super Bowl in their home stadium. The Colts have been perennial playoff participants, and have won the AFC South almost every year since the new alignment.
Once Manning was injured, people expected the Colts to struggle. What they are doing goes so far beyond struggle it does not compare.
The Colts first had Kerry Collins; that experiment lasted three games and $4 million for three losses. Now, Curtis Painter has continued on with that tradition, and the hapless Colts sit at 0-11, facing the reality that 0-16 is a distinct possibility.
With games against the Patriots, Ravens, Titans, Texans and Jaguars remaining, none of those games will favor the Colts and 0-16 is five weeks away.
Yes, I understand losing a player of Manning's skills hurts, but to go from Super Bowl contender to the worst team in the league is pathetic.
No, it does not all fall on Caldwell, but as the head coach, he must shoulder the blame.
Jack Del Rio, Jacksonville Jaguars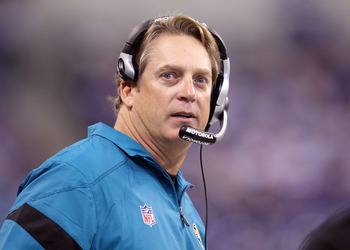 Andy Lyons/Getty Images
Over the last three years (or so) there has been much speculation about the future of Jack Del Rio in Jacksonville.
It was believed that he would leave to take the head coaching position at USC, but that never happened. If Del Rio were to leave, he would not make any more money from Jacksonville. If Jacksonville fires him, then he will get his entire contract paid.
This stalemate has cost the Jaguars many years of building, and they are in the process of getting ready to dump Del Rio.
For the second time since taking over for Jacksonville, Del Rio dumped his starting QB on the eve of the regular season. This time, it was for rookie Blaine Gabbert to replace David Garrard. Last time, it was Garrard replacing Byron Leftwich.
Maybe this is a play, but it just seems that decision after decision is questionable when it comes to Del Rio, with no end in sight.
UPDATE: The day after this article was published, the Jaguars have fired Jack Del Rio (PFT).
Norv Turner, San Diego Chargers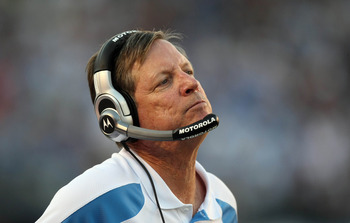 Donald Miralle/Getty Images
For years, the San Diego Chargers have been one of the best regular-season teams in the NFL. They normally finish the season with a top-rated offense and a top-rated defense. They play in the AFC West, which has been weaker than most divisions over the last few years.
But, yet every year, the Chargers start out slow and finish strong. This year, they started out strong, and have gone to stink.
The offense is turnover-prone; the defense can't stop anything. But, the players are still pretty much the same?
In my opinion, AJ Smith, the GM of the Chargers, is more over his head than Turner, but Turner really isn't any better.
The Chargers are going to have to clean house, and that housecleaning needs to start with Turner.
Andy Reid, Philadelphia Eagles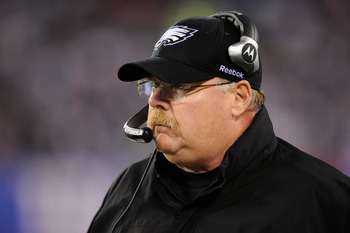 Patrick McDermott/Getty Images
Some people would say I am crazy for adding Andy Reid to this list, while others will say he should have been fired already.
The reality is, in Philadelphia, the buck stops with Reid, as he is the GM and the head coach.
Reid must take full responsibility for the failures of his team, and what the Eagles have done this year is so far beyond just failing—they are making a joke out of football in Philly.
Reid built himself, as Vince Young described, the "Dream Team"—that same team that has won a total of four games to this point, and is pretty much already out of the playoffs.
He traded a starting QB and signed another two, making the biggest moves in team history to go "all in" this season for the Super Bowl.
Now that the Eagles are not even going to make the playoffs, it shows that Reid is so far over his head nothing but a one-way ticket out of Philly could save him.
Mike Shanahan, Washington Redskins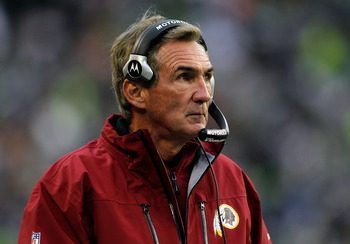 Jonathan Ferrey/Getty Images
The Washington Redskins have always been a team that was not afraid to make bold moves in free agency if they believed it would improve their team. No one can call Dan Snyder cheap.
When it came to the Redskins and their quarterback situation entering the 2011 season, Mike Shanahan stated that he would stake his reputation on the QBs that were on the roster.
"You talk about a guy not being experienced — I believe in the guys," Shanahan told reporters on Friday, per the Associated Press. "I believe in 'em. And I've been doing this for a long time. And I put my reputation on these guys that they can play."
Well, the Redskins now sit in the cellar of the NFC East, even with the Eagles at 4-7. Those QBs that Shanny put his reputation on have the 'Skins at 14th in the NFL.
Shanahan did a great job when he had John Elway and Terrell Davis on his teams, but there is no one like that in Washington, and there is no one to blame but Shanahan.
Raheem Morris, Tampa Bay Buccaneers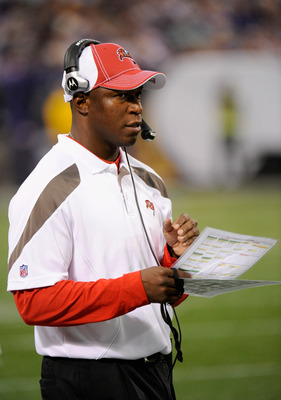 Hannah Foslien/Getty Images
When the Tampa Bay Buccaneers decided to hire Raheem Morris as their head coach, they believed they were getting the next Mike Tomlin. Tomlin and Morris were both on the staff of Tony Dungy and were coming up with the same pedigree.
Turns out, the Steelers got the better end of that deal, as Tampa Bay is regressing under Morris.
Though Tampa was only a game away from the playoffs in 2010, they are sitting at 4-7 and are not getting better.
Morris is a good coach, but he is not able to lead the Bucs any further than he did last year.
Steve Spagnuolo, St. Louis Rams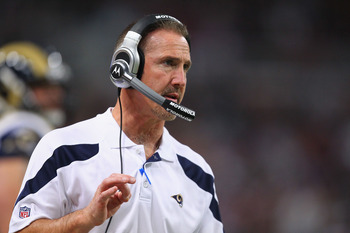 Dilip Vishwanat/Getty Images
After a strong 2010, missing the playoffs and the NFC West Championship by only one game, people were talking like the Rams were a team on the rise.
They have a great running game with Steven Jackson, a future franchise QB in Sam Bradford and a good young nucleus to build around.
Then, the bottom fell out.
No longer were the Rams playing a last-place schedule. They were playing a second-place schedule, and it does make a difference.
Spags is not showing improvement, and at this point, the new ownership in St. Louis has no real reason to have loyalty to Spagnuolo, as they took over after he was already the head coach.
There is virtually no chance Spags will be coaching the Rams in 2012.
Pete Carroll, Seattle Seahawks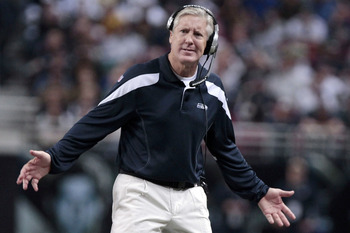 Whitney Curtis/Getty Images
I know some people may think I am crazy on this, but I think Pete Carroll could be the worst of all the people on this list.
Look, Carroll was a great college coach. In college, you get the young players, and the "RA-RA-RA" stuff works.
Not in the NFL.
Carroll has had some luck to this point, winning the NFC West last year and even winning a home playoff game against the Saints.
Reality has set in thought in 2011, as the 'Hawks are 4-7, five games behind the San Francisco 49ers. Their playoff hopes are already gone.
Will Carroll be able to bring this team back next year? I doubt it.
Keep Reading