NBA Offseason Plans: 4 Suggestions for the New Jersey Nets
Jim McIsaac/Getty Images
With the NBA lock out finally coming to an end, each team needs to update its plans and try to focus on what it should do next. The Nets are in a unique position. This will be their last season in New Jersey before the big move to Brooklyn.
So, the Nets' focus is to make sure the team is ready to compete next year in their new home. Here are four things that the Nets should focus on to compete now and in 2012.
4. Use Amnesty Provision on Travis Outlaw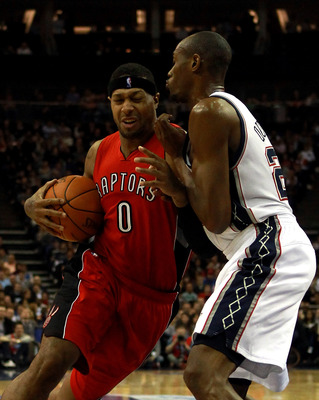 Warren Little/Getty Images
To say that the signing of Travis Outlaw was a mistake would be an understatement. Outlaw had previously shown promise as a stretch power forward who could play small forward on occasion. While he was overpaid from the beginning, the Nets had reason to believe that he could be solid on defense at small forward while providing enough offense to keep defenses honest.
The experiment was an unmitigated disaster. His jump shot was basically missing all season and he could not create any offense off of the dribble. With Brook Lopez and Kris Humphries in the post, there was no room for his best skill offensively. Outlaw was a bad fit.
The good news is that there is an amnesty clause in the new collective bargaining agreement. Teams can pay off a player and remove that player from the cap. The player gets his money and is free to sign elsewhere. Outlaw needs a team that can use his abilities and the Nets need a true small forward.
It will easily be what is best for both the player and the team.
3. Sign Shane Battier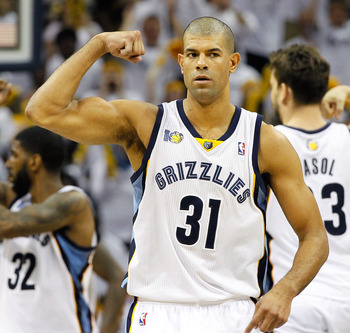 Kevin C. Cox/Getty Images
The Nets desperately need a glue guy on this team and a small forward. Shane Battier is the perfect fit.
Battier is still an excellent defender at the small forward position. He consistently knocks down open jump shots and most importantly, he is a winning player.
Battier has a great feel for the game and knows how to make winning plays. He excels at taking charges and moving the ball on offense. He does not need shots to be effective. With superstar small forwards like LeBron James, Paul Pierce and Carmelo Anthony in the Eastern Conference, the Nets need someone who can defend those players and at least make them work for their points.
There will be a lot of competition for Battier, but he would be worth the money the Nets just saved off the cap by cutting Outlaw.
2. Re-Sign Kris Humphries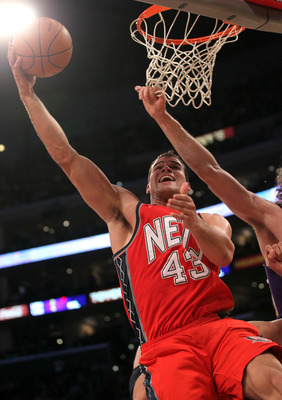 Stephen Dunn/Getty Images
Kris Humphries had a breakout season last year. By the end of the year, he was a walking double double. He was able to score without having plays run for him and he showed a great feel for rebounding. His rebounding skills were especially needed because Brook Lopez took a step back last year in his rebounding.
Humphries is not without flaws. He is not a good shooter and he is a little short which leaves him vulnerable on defense in the post. However, last year was his first real chance to get real playing time and he took advantage of it.
The Nets could replace Humphries, but they shouldn't need to as long as no team makes him a ridiculous offer.
1. Keep Deron Williams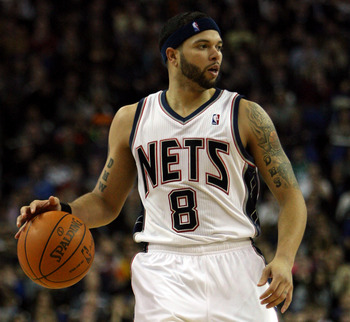 Warren Little/Getty Images
The most important player on the Nets is Deron Williams. He has an opt out provision in his contract after this year. The Nets have made their whole focus on building a team around him. Without him, the team falls apart and goes back to competing for the worst record instead of the eighth seed in the playoffs.
After surgery in the offseason, he is healthy and recently scored 50 points in a game while playing in Turkey. He is a great point guard. He knows how to set up his teammates and still score when his team needs it. He is solid on defense and excels at the pick and roll and entry passes into the post.
The key to keeping Williams is to make sure that the team is heading in the right direction so that he will want to stay. If the Nets can sign Battier and Humphries, they will have a low post scoring threat in Lopez, a rebounder in Humphries, a top defender in Battier and a deadly shooter in Anthony Morrow in their starting lineup. That is a team that can be competitive most nights in the NBA.
Plus, the Nets drafted two promising role players in Marshon Brooks and Jordan Williams. Therefore, the Nets could legitimately put themselves in the running for Dwight Howard if he decides to leave Orlando.
To make sure the Nets keep Deron Williams, they need to make sure that they become competitive as quickly as possible.
Keep Reading

Brooklyn Nets: Like this team?