NBA Predictions: 5 Issues Phoenix Suns Must Address for 2011-12 NBA Season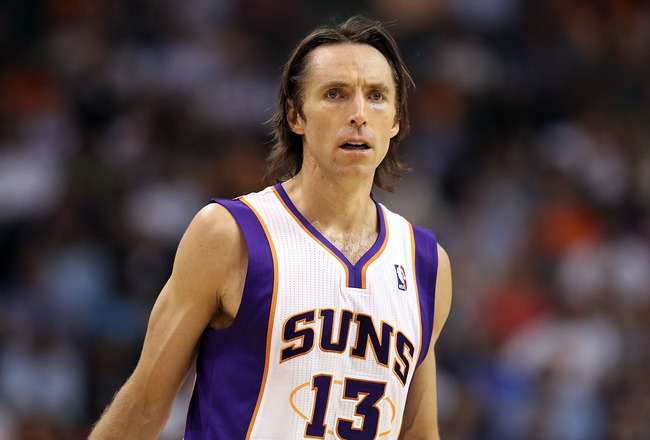 Christian Petersen/Getty Images
The Phoenix Suns are coming off a disappointing season and are in need of an effective offseason. Steve Nash and company need management to finally step up and spend the necessary money to be real contenders.
Most are ready to put these Suns in the NBA draft lottery again for next year, but why should they be cast to the side so quickly? Does the team have problems? Sure. Are the problems that dramatic? Not really. The Suns will shine bright in the desert when the season begins.
Issues like lacking a go-to scorer and a backup point guard are prevalent, and the team needs quick solutions. Read on for how the team will tackle these issues and a couple other problems.
Signing a Go-To Scorer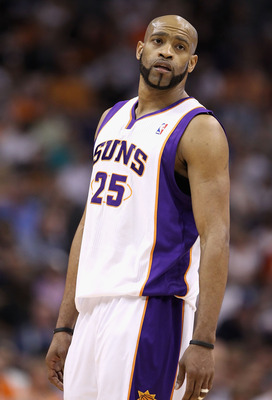 Christian Petersen/Getty Images
The Suns had a reliable go-to guy in Jason Richardson but had to include him in the deal that sent away Hedo Turkoglu and brought Marcin Gortat and the shell of Vince Carter to the desert.
The shell of Vince Carter was supposed to be a dependable stopgap who could carry the scoring load and play some defense. Carter was instead sporadic at best, scoring 20-plus points one game and five points the next.
Steve Nash, who is plenty capable, had to take over the scoring, but the team wasn't winning more games. Phoenix needs a true go-to scorer who can be relied upon consistently to take pressure off everyone.
Leading candidates to fill this void should be Jason Richardson, Shannon Brown and Nick Young. All these guys are athletic and can shoot the three-ball, which always bodes well in Phoenix. While none is a dominating shooting guard, each could certainly be a big component on the Suns.
Replacing Aaron Brooks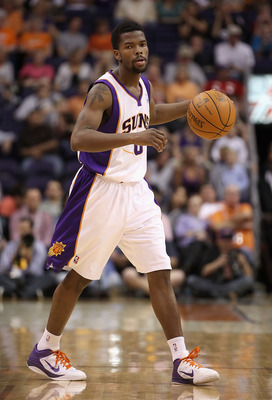 Christian Petersen/Getty Images
Aaron Brooks was acquired at last season's trade deadline for Goran Dragic and a first-rounder. Brooks was inconsistent in his time as a Sun and would have been a restricted free agent this offseason.
That is until Brooks decided to sign with Guangdong of the Chinese Basketball Association. The Chinese Basketball Association has not allowed an opt-out clause to be included in deals for NBA players, and Brooks will have to wait until March, at the latest, to rejoin the NBA.
That means Brooks is effectively not in the team's plans for this season and raises the question as to who will be the all-important backup for Steve Nash.
Third-string point guard Zabian Dowdell could get the majority of the backup minutes as long as the team doesn't sign anyone, but something tells me it will sign someone. A one-year deal for a player like Patrick Mills could be exactly what the Suns need.
The Suns would have had a very capable backcourt with Nash and a healthy Brooks playing the point. Either way, the departure of Aaron Brooks couldn't have come at a worse time and needs to be addressed quickly.
Wiping out Josh Childress' Salary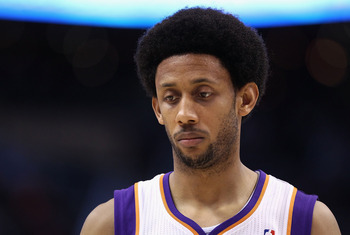 Christian Petersen/Getty Images
Just for the record, I still think Josh Childress could be a reliable contributor for the Phoenix Suns, but not for almost $7 million.
He has talent and could definitely use more playing time, but the glut of swingmen prevents him from playing more minutes. The team has already committed to playing Jared Dudley more and will likely re-sign starter Grant Hill.
That means Childress could be the third or fourth option, if you include Mickael Pietrus, on the wing. Now is it really necessary to pay almost $7 million for your third or fourth wing option? No, it's definitely not. This puts Childress in strong contention for the amnesty clause included in the new collective bargaining agreement (CBA).
The amnesty clause would allow Childress' remaining salary to be erased from the salary cap and could provide to be the difference this offseason between signing an average player and a much better player.
Finding Players Committed to Defense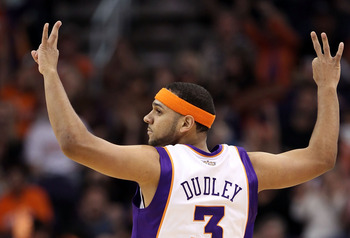 Christian Petersen/Getty Images
Previous Phoenix teams were built solely on offense and the ability to shoot the ball, but recent Suns teams have had much more defense, especially on the wings.
Players like Grant Hill, Jared Dudley, Mickael Pietrus and Josh Childress give the Suns very reliable defenders on the wing. I can't remember the last time the Suns could say they had four defenders capable of defending and playing solid offense as a unit.
While the wing positions are good, point guard and power forward defense needs to improve. The problem is starters Steve Nash and Channing Frye are both inconsistent on the defensive side of the ball.
Nash has always been a liability at the defensive end, but his offensive prowess more than makes up for it. On the other hand, Frye has the skill to be better on the defensive end. Frye should look to bang more down low, and bulking up would do him wonders.
Look for management to sign players that can help on both sides of the ball—someone like Shannon Brown or Luc Richard Mbah a Moute would be perfect.
Playing with Consistency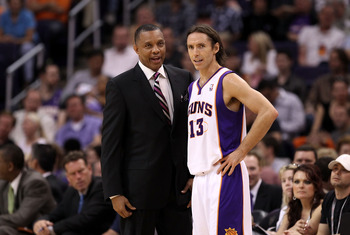 Christian Petersen/Getty Images
Last season there were games when the Suns looked great, scoring in bunches and playing defense at all the critical moments. Then there were games where the team would look lost and lose to teams it had no business losing to.
It was frustrating to see the team go through these dramatic swings. The Suns could be winning five games in a row and then turn around and lose six or seven of their next 10 games.
The talent was always there, but the consistency to maintain the success was absent. This team could have been at least the eighth seed in the playoffs if it somehow could have been consistent throughout the year.
Regardless of what people say, the Suns will be deep at most positions and could be in contention for the fifth or sixth seed if they play up to their talent. If they play as inconsistently as last year, this season will lead to yet another lottery pick.
Keep Reading

Phoenix Suns: Like this team?