College Football Rivalry Weekend's Winners and Losers
November 28, 2011
Chris Graythen/Getty Images
Over a long turkey-filled weekend stuffed with rivalries of varying degrees of importance, the list of winners and losers is far more vast than anything mere scoreboards can quantify. With championship weekend looming, let's dig a little deeper.
The Longhorn Band (Winner)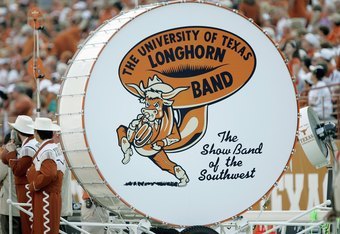 Brian Bahr/Getty Images
Though it could've gone in any number of directions with its halftime show in College Station, Texas' marching band decided to go out (for at least the foreseeable future) in a respectful, if not slightly passive-aggressive way (aTm) by thanking Texas A&M for decades of a back-and-forth rivalry. You may not believe this, but it immediately preceded a disappointing second half from the Aggies.
UCLA (Loser)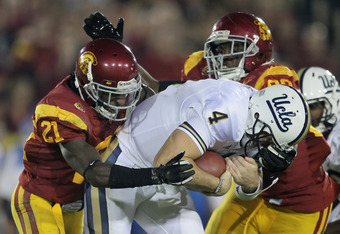 Jeff Gross/Getty Images
More than its humiliating 50-0 Saturday loss to USC, UCLA became the weekend's punching bag for backing into the Pac-12 championship game because of USC's postseason bowl and conference championship ban. Coach Rick Neuheisel could be out following what appears to be an inevitable loss to Oregon in Eugene, which even puts UCLA's own bowl hopes in question after a probable 6-7 finish. Other than that, though, things seem as good as ever in Westwood.
Dana Holgorsen, West Virginia (Winner)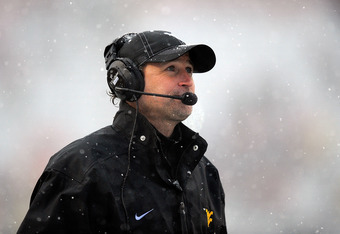 Patrick McDermott/Getty Images
After a rather inconsistent fall as a first year head coach for West Virginia, Holgorsen's brain appeared to turn to mush as he watched his Mountaineers go three-and-out on half of their first half drives and 2-12 on third down conversions over the course of WVU's annual (for now) Backyard Brawl against Pitt. It's hard to precisely describe the coach's reactions to his team's sluggish offensive output, but it may have been the closest we'll ever see a coach get to mimicking Street Fighter II's Zangief on the sideline.
Kristi Malzahn (Loser)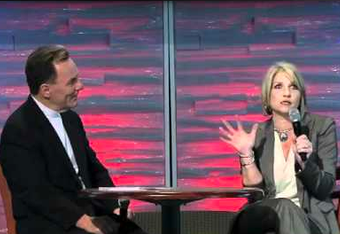 The day before the Iron Bowl, somebody released a highlight reel of Auburn OC Gus Malzahn's wife being interviewed onstage at an event. She doesn't seem to think much of anyone, but at least she expresses as much in an obnoxious, unlikable way. And this was, again, released a day before Alabama took it to the Tigers. Fun times!
Tyrann Mathieu, LSU (Winner)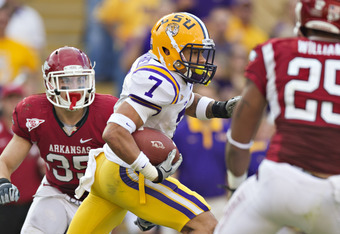 Wesley Hitt/Getty Images
Everyone's favorite nickname, the LSU CB/S forced two fumbles and returned a punt 92 yards for a touchdown to pace a 41-3 LSU run after Arkansas jumped ahead 14-0 early against the Tigers. It's almost as if Mathieu simply gets bored not single-handedly changing the momentum of games and flips a switch to do so immediately. Nothing about him seems fair.
Jacory Harris, Miami (Loser)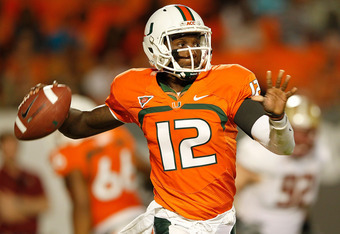 Mike Ehrmann/Getty Images
Say what you will about the Miami QB, but he's nothing if not sentimental. Harris reverted to pre-2011 form in his final game as a Hurricane and tossed four picks to a below average Boston College pass defense. In the end, though, let us all at least remember Harris's true legacy—overalls and weird hair etchings.
Brady Hoke, Michigan (Winner)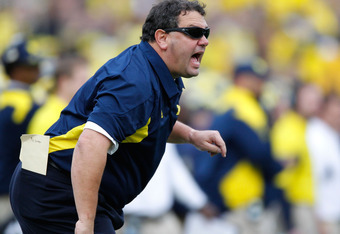 Gregory Shamus/Getty Images
It's not just the victory over Ohio State or snapping the Wolverines' losing streak, but in a larger sense, it's fun to see a first-year coach come into a rocky situation and succeed right away, especially if it means taking subtle cracks at a rival all week before beating them in a dramatic, penalty-filled fashion. All this said, Michigan's now on the fast track to becoming every 2012 preseason magazine's artificially inflated team du jour.
Tennessee (Loser)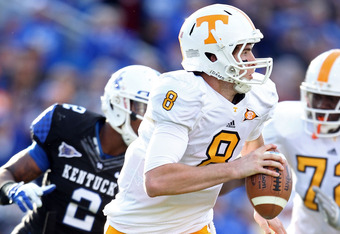 Andy Lyons/Getty Images
Actually, Tennessee's status after losing to Kentucky can be quantified by a mere scoreboard. In today's SEC, there's now officially "Good," "Bad" and "Lost to Kentucky."
Munchie LeGaux, Cincinnati (Winner)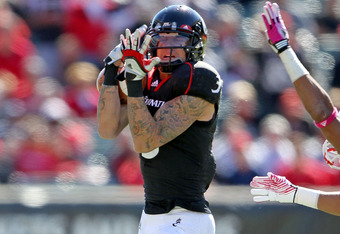 Andy Lyons/Getty Images
This one falls under "just because." He even steered the Bearcats to a key conference road win, but I'm still having a hard time getting past a reason more important than "just because."
Wyoming Secondary (Loser)
I'll grant you this—giving up a just-before-halftime Hail Mary catch isn't the worst thing that could happen to a secondary. Giving up a just-before-halftime Hail Mary catch to a gentleman comfortably lying on the goal line hoping to not have his spleen crushed? Problematic.
Big Ten (Winner)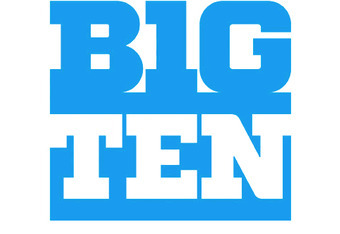 As it currently stands, the inaugural B1G championship game should be the only major conference championship game to have both intrigue and stakes. Between those lacking any real excitement (Pac-12), those featuring Clemson (ACC), and those featuring a team that can lose and still probably go to the national championship (SEC), it'll be fun to see a rematch of a good game to get to a major bowl instead of a rematch IN a big bowl. I guess I'm just sort of old-fashioned that way.
Ron Zook, Dennis Erickson, Houston Nutt, Rick Neuheisel, Luke Fickell, Turner Gill, et al. (Losers)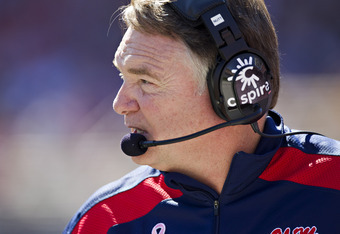 Wesley Hitt/Getty Images
The above names should (allegedly), if they haven't yet, familiarize themselves with the latest in word processing software to make sure their résumés are updated and ready to send out. The silver lining, of course, is that in some cases, they'll be paid to not work, which really may be the American dream after all, right?
David Wilson, Virginia Tech & Montee Ball, Wisconsin (Winners)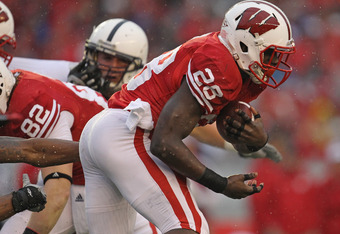 Jonathan Daniel/Getty Images
It's hard to say, with absolute conviction, if Wilson is the ACC's Ball or if Ball is the B1G's Wilson, but in either case, they're college football's woefully underappreciated elite running backs, if such a thing could exist. The two backs combined for 309 yards and six TDs in division clinching games. If Ball in particular isn't invited to New York as a Heisman finalist, I'd completely understand a Badger fan campaign to send random voters cheese in the mail, the way diehard fans of TV shows beg executives to bring back beloved shows. Actually, let's do this anyway.
Dan Rubenstein co-hosts The Solid Verbal college football podcast and can be followed on Twitter here.