Smoking Gun in the Bernie Fine Affair: A Third Accuser and a Phone Call
November 28, 2011
Jim McIsaac/Getty Images
I thought about naming this post "Weekend at Bernie's: So Much Worse than the Original," but it does not appear to be a laughing matter anymore. 
When ESPN broke the story about Bernie Fine, Associate Head Basketball Coach at Syracuse University, I hesitated to write about it.  After obsessing over the Uncle Jerry travesty at Penn State for two weeks, the cynical part of me wondered whether Fine's original accusers, Bobby Davis and Mike Lang, two former ball boys, were simply riding the coattails of publicity. 
Unlike the Sandusky saga, there was not a laundry list of accusers and eye witnesses; these were two adult men who allegedly had their accusations investigated and dismissed back in 2005.  But now Bernie Fine has a third accuser.  And now, most damningly, his wife was recorded on tape confirming everyone's greatest fears.  So I no longer think it is reckless or premature to judge accordingly.
But let's back up, because I think it is important to understand how this story evolved.  On November 17, "Outside the Lines" ran an explosive piece accusing Bernie Fine of molesting Davis, now 39, and Lang, now 45. 
Davis said that the abuse began in 1984, when he became a ball boy before seventh grade, and continued until he was 27; he alleged that the abuse occurred at Bernie's house, Syracuse's basketball buildings, hotels on road trips and even at the 1987 Final Four. 
He also claimed that Coach Jim Boeheim saw him in Bernie's hotel room on multiple occasions.  Specifically, Davis said that Boeheim would come in, "kind of glance at me like, 'What are you doing here?' But he wouldn't say that. He'd just scowl. And I would look at him like, I'd be nervous. I felt embarrassed...and Boeheim's not stupid."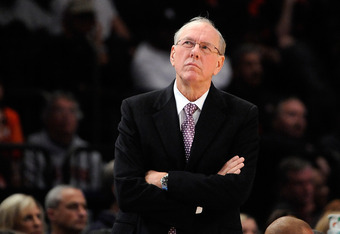 Patrick McDermott/Getty Images
Davis apparently came forward as early as 2002, but no one would corroborate his accusations until recently, when Lang did.  Lang happens to be Davis's stepbrother. Davis says he went to the Syracuse police in 2003, but a detective told him that the statute of limitations, which, in New York, is five years from the last incident of sexual abuse, had expired. 
Davis also went to ESPN in 2003, but at that time, without any evidence or witnesses, they did not run the story.  It was not until Lang, who said he was "inspired to talk" by the Sandusky saga, came forward that ESPN published what they had, which, at first, did not seem like very much.
The response was fast and furious.  Coach Boeheim called it "a thousand lies" and vehemently came to Fine's defense.  He said that "there is only one side to this story.  [Davis] is lying."  He angrily declared:  "Why wouldn't he come to the police (first this time)? Why would he go to ESPN? What are people looking for here? I believe they are looking for money. I believe they saw what happened at Penn State and they are using ESPN to get money. That is what I believe. You want to put that on the air? Put that on the air." 
Syracuse released a statement explaining that they were contacted by Davis in 2005 and "immediately launched its own comprehensive investigation through its legal counsel."  The investigation apparently lasted four months and "included a number of interviews with people the complainant said would support his claims. All of those identified by the complainant denied any knowledge of wrongful conduct by the associate coach." 
Bernie Fine also released a statement vigorously denying the charges as "patently false in every aspect." Still, the school put him on paid administrative leave, while the Syracuse City Police reopened the case.
Journalists, especially Jason Whitlock (who I respect for his candor), annihilated ESPN as "irresponsible" for releasing the story to "boost ratings." Citing a complete lack of evidence other than "two vague, mumbling on-camera interviews from Fine's accusers" and detailing the differences between the Sandusky case, Whitlock makes the interesting point that the World Wide Leader was simply protecting itself from a lawsuit.  He highlights the fact that ESPN, the Syracuse Post Standard, Syracuse University and the police had all looked into this from 2001 to 2005 and found no truth to the allegations.  And he harshly concludes that "[a]fter being embarrassingly slow to react to the legitimate Penn State story, ESPN decided to 'own' the Syracuse story by adopting what it believes is Deadspin's standard for destroying a person's reputation."  
At the time, I thought he made some excellent points; now, however, I can't help but think that without ESPN's bombshell piece, whether premature or not, Bernie Fine would simply be another child predator allowed to roam free while protected by a powerful academic institution.
The thing is, a lot has changed.  First of all, we have the pissing contest between the DA's Office and the Syracuse Police Department.  From the beginning, the DA has claimed that his office was never told of the accusations and demanded that the Syracuse Police turn over its records.  The police strangely refused.  The DA was forced to seek a subpoena to obtain records from the police, which is extremely weird in the legal world and clearly infuriated District Attorney Bill Fitzpatrick. 
While the subpoena was granted, it is still unknown whether the police have complied with it.  Fitzpatrick became even angrier when the documents he had subpoenaed were leaked to The Post Standard.  Instead of contacting the DA, the police, with the mayor's approval, went over his head and contacted the U.S. Attorney's Office. 
In a press conference, Fitzpatrick blasted the police.  He called them "juvenile" and "scary," and he even went as far as saying that he has "a chief that is intentionally trying to sabotage an investigation."  He added that he has "never seen this happen in my history with the DA's office."  And he basically accused the police of trying to cover their asses from the investigation they conducted back in 2002. 
It has been extremely hostile. And it is hard not to be intrigued by the dubious actions of the police.  Why won't they voluntarily turn over the records to the DA, as they would in any other matter? Is this really just political shenanigans? Why did they go to the U.S. Attorney's office first?  Any way you look at it, it is super bizarre.
In terms of weirdness, that is just the tip of the iceberg.  Because now a third accuser has come forward under suspicious circumstances.  Zach Tomaselli, 23 years old, claims that Fine molested him in 2002, when he was 13, in a Pittsburgh hotel the night before Syracuse played there.  Tomaselli may or may not be credible.  He, too, is facing sexual assault charges in Maine against a 14-year-old boy; he was a camp counselor who is now indicted for gross sexual assault, tampering with a victim, unlawful sexual conduct and unlawful sexual touching. 
His father has openly called him a liar and said that he has never met Fine.  That said, a witness has corroborated Tomaselli's story and said that he first told her two years ago that he had been abused by Fine.  Is Tomaselli a sexual deviant because he was subjected to sexual abuse as a minor? Or is this just part of a fraudulent defense? The information he provided to the police, which apparently included details of the inside of Fine's house, led to a search which lasted over seven hours and included officers from the U.S. Secret Service. 
After the search was conducted, a Syracuse spokesman told ESPN that Jim Boeheim "is not commenting further on the subject at this time." And it is probably good that he isn't, because we haven't even gotten to the most damning evidence to date against Bernie Fine.
In fact, what I am about to explain is actually what prompted me to change my mind about Bernie.  To write about this horrible ordeal.  It is what made me go from hesitantly cautious, and perhaps even hopeful that it would all turn out to be false, to disgusted and judgmental.  It is the smoking gun.  And it is why, shortly following this primer on the Bernie Fine Affair, there will be another post solely dedicated to why women do what we do.  And by "do what we do," I mean stand behind men we know, for a fact, are monsters.
This morning, ESPN's "Outside the Lines" aired a tape-recorded telephone conversation between Bobby Davis and Laurie Fine, Bernie's ever-faithful wife, which took place on October 8, 2002. ESPN has had a copy of the recording since 2003, but they just hired a voice-recognition expect to confirm its validity. 
Please note that in New York, it is lawful to record any conversation if you are party to it, or if you have received consent from the other party; thus, by answering the phone, you consent to being recorded by the other person.  See NYPL § 250.00; People v. Lasher, 447 N.E.2d. 70 (N.Y. 1983). 
Davis explained to ESPN that Laurie Fine "was there a lot of the times, and had seen a lot of the things that were going on when Bernie would down to the basement in his house at night."  In the phone call, Mrs. Fine explicitly admits her husband's fondness for little boys, her knowledge of it, and the extent of it - and in doing so, confirms our worst suspicions.  Compelling portions of the released conversation are found here. Although I posted a brief portion below, you should really read the entire transcript, it is damning.
Laurie: When (our son) was little and you lived there, he'd say, 'You better put (our son) to bed.' I'd say, 'He is in bed.' 'Well, you better go check him.' And I'd go up to check him. I'd come down. He'd be out of the living room in the basement. He used to think of ways to get me out of the room. Like, I'm not an idiot, Bernie.
Bobby: Exactly. When I stayed there in your basement, he'd come down there every night. I'm like, what the heck, what's Laurie thinking?
Laurie: What did I think? ...And then he'd come down to where you were every night. And he'd say to me, 'Go check (our son).' Or...Go lay with him. Go upstairs.' Anything to get me out of the room. And I knew. I told you when I was walking down the stairs at night, I'd say to myself, Guaranteed he's not in there. When I'd look in, his papers would be spread out all over and he'd be gone. Right down the basement, door closed.
Bobby: He did that every night.
Laurie: You know what, go to a place where there's gay boys. Find yourself a gay boy. ...Get your rocks off, and have it be over with. He needs that male companionship that I can't give him. ...
Bobby: You know how he'd always try to get me in the shower. You knew about that, right?
Laurie: Yeah. I still have a graphic memory of that, thank you.
Bobby: Whenever you weren't there ...(unintelligible)
Laurie: He'd always say, 'Bobby and I are going in the Jacuzzi.' And I'd go to the bathroom and I'd try to come in. The door'd be locked. I'd check: 'What's going on?' 'Nothing.' I said, 'Unlock the door.' 'No, we're in our underwear.'
Bobby: So, it's not me, it's him.
Laurie: I understand that. You don't have to explain to me.
Bobby: I'm trying to convince myself.
Laurie: Convince yourself. You did nothing wrong. You did nothing wrong, and you were a child, and he took advantage of that. And with Bernie there's a price tag on everything. If he does for you, it's like he records it in a book and you better do it for him.
I am starting to hope that Bernie Fine and Uncle Jerry share a cell together.  He deserves due process, of course, but I am not sure how, as an individual or an attorney, you can mitigate, or explain away, this recorded conversation. 
I mean, this is his wife, his wife, telling a young man that she knew he was being assaulted by her sex predator husband but that he shouldn't have trusted him.  Not only does she attempt to justify his actions, she justifies his purposeful denial of them. 
She even alludes to the fact that there may have been other victims. She straight-up says that she could not provide Bernie with the "male companionship" he needed. Um, gag.  You want male companionship?  Join a bowling league, don't screw little boys.  I have a lot more to say about this, and in particular, Laurie Fine (and by default, Dottie Sandusky). 
But like I mentioned, there will be another post dedicated to the women who stand behind their monster husbands, with a whole team of my favorite females chiming in.  Until then, I will just say this:  Syracuse better explain what it knew in the mid-2000s; the police better share its investigative materials; Mike Lang better explain why he waited this long to come forward and why he refused to corroborate Bobby Davis's claims back in 2003 (the fact that Uncle Jerry "inspired him" is not good enough); and Syracuse University better handle this nightmare exponentially better than Penn State did. 
If the allegations are true, it is absolutely shocking that such disgusting crimes could bring down two monumental athletic programs in one mind-numbing and bone-chilling November.
Update (7:58 p.m.): Syracuse just fired Bernie Fine amidst the allegations. I am beyond curious as to what Jim Boeheim will say now. Also? This just got real.
Please check out my blog, Chicks Dig the Fastball. We still dig the long ball, but it is just so 1998. We also dig slap bunt singles, long three-pointers and kickoff returns for TDs.  http://chicksdigthefastball.blogspot.com/