Alabama Football: Why Trent Richardson Will Win the Heisman Trophy
November 27, 2011
Kevin C. Cox/Getty Images
Now, a lot of you will expect me to write about how Trent Richardson will win the Heisman Trophy due to his amazing year as the Alabama Crimson Tide running back, while playing in the all-mighty SEC.
Well, you are wrong. I will not be talking about how Richardson will win because he is the best player in college football. 
Trent Richardson will win the Heisman trophy by default. At the beginning of this year, it was thought that Andrew Luck would have a wonderful year and win the Heisman hands down, without a doubt. As we can see, this is not going to happen.
With Matt Barkley having an amazing last two games against Oregon and UCLA, he has stirred up a lot of talk on the media lately. Because of this, Matt Barkley will surely take  some of the spotlight away from Luck from the voters on the West Coast.
Because the West Coast voters will surely be split between the two quarterbacks, Barkley and Luck have surely ceded their position at the top of the Heisman standings.
In the Southwest, you have another battle at quarterback, between Robert Griffin III of Baylor and Case Keenum of Houston.
While Keenum has put up the best stats this year in all of college football, he will only receive a small margin of votes due to the fact that he plays in a non-automatic qualifying conference.
This will take votes away from RG3, who should be the region's No. 1 selection with the monster stats he has put up.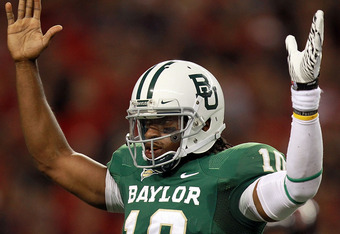 Ronald Martinez/Getty Images
This year RG3 has thrown for 3678 yards with a 72.6 percent completion rate, 34 TDs and only five interceptions. On top of this, he has his Heisman moment, a game-winning drive against fifth-ranked Oklahoma.  
This year, either RG3 or Keenum should win the trophy. They by far are the most explosive, most valuable players in college football. Both quarterbacks have thrown up outrageous numbers. The only mistake they have made is not playing in the South or on the East Coast.  
Undoubtedly, all of the voters in the southern and eastern regions will have Trent Richardson atop their ballots, when in reality he should not be, because he is not deserving of the trophy.
While he has put up impressive numbers, he does not have overwhelming stats, and he failed to execute when his team needed him most, a nationally televised game against LSU. Trent only rushed for a lousy 89 yards on 23 carries with no touchdowns. 
Instead of looking to just the top five teams in the nation, I think we all can agree that the close-minded voters in the Eastern time zone need to stay awake a little longer to witness some of the nation's best players.