Stevie Johnson Touchdown Dance: An Odd Reminder Plaxico Burress Has Changed
November 27, 2011
Andy Lyons/Getty Images
After grabbing a five-yard touchdown pass, Buffalo Bills receiver Stevie Johnson clutched his leg, kicked off his acting career and mocked Plaxico Burress by pretending to have been shot in the thigh.
He then extended his arms and mimed an airplane, a celebration Jets receiver Santonio Holmes enjoys, before "crashing" to the field and finally finding the nearest sideline.
It was somewhat funny and somewhat lame, and it definitely lasted too long. It poked at a story that spurred national headlines three years ago that resulted in the jailing of Burress. In fact, the dance made a few front pages on its own. 
But all it really did was provide a perfect stage for Burress to prove that acts of sideshow stupidity are part of his past, not his present. 
Some 63 seconds after Johnson pretended to writhe in pain from a fake bullet hole, Burress grabbed a 14-yard TD pass from Mark Sanchez, tying the game at 14 heading into the half. It was an immediate retaliatory action from a man who had only moments ago been the butt of the joke. And, most importantly, Burress' action between the whistles actually counted toward the final score.
Johnson's dance upped the traffic stats on sports sites all over the country. Burress' catch might have made the difference in a 28-24 Jets win. 
And that's all that really matters. Johnson could have extended his celebration by taking off his shoes and pretending to lick his toes in a nod to Rex Ryan, or he could have pulled a hotdog out of his shoulder pads and eaten it while posing for a faux GQ photo shoot in a homage to Mark Sanchez. He could have hired Broadway dancers and Vegas showgirls, and it still wouldn't have mattered.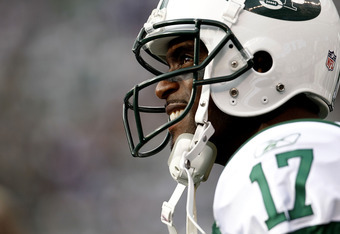 Jeff Zelevansky/Getty Images
When the game ended, and the Bills limped away at 5-6 after their fourth straight loss, Burress had grabbed a modest four passes for 54 yards and a score, Johnson had dropped a crucial pass on the game's final drive while failing to make an admittedly difficult play on another in the end zone and the Jets moved to 6-5 with playoff hopes still alive.
That's the difference between the Burress of today and the Burress of three years ago. This guy is all about the action on the field. He didn't retaliate to Johnson's jig on the sidelines, at a podium or in a nightclub. He simply reacted by tying the game, doing his job and walking away with a win.
All Johnson walked away with was a fake gunshot wound and a very real loss.