Matt Leinart Injury: Suspected Broken Collarbone Will Derail Texans' Season
November 27, 2011
J. Meric/Getty Images
Matt Leinart went down on Sunday and he took the Texans season with him.
Leinart was forced into action after the Texans lost starter Matt Schaub for the season in Week 11.
It now appears as if the same fate awaits Leinart.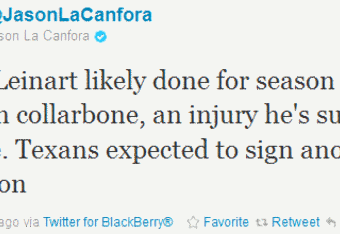 This is a horrible turn for the Texans. Eight days ago they were rolling. They had three healthy QBs, and they were starting to get Super Bowl fever.
A broken collarbone would almost certainly end Leinart's season. The crazy turn of events can be summed up in this tweet.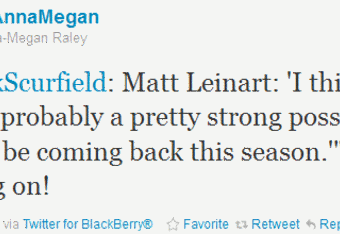 What's Left for Texans at QB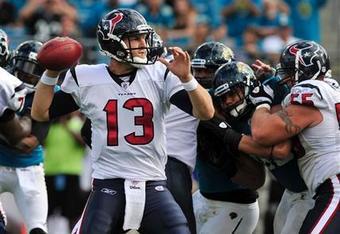 Matt Schaub was put on the IR. That means he cannot come back this season. This leaves the Texans with TJ Yates to take the signal calling duties. Yates went 8/15 with 70 yards after Leinart left the game late in the first half.
Yates is a rookie. This was his first regular season game action. The Texans selected him in the fifth round out of North Carolina.
Yates had a prolific career with the Tar Heels. He is the all-time leader in passing yards. However, he is raw, and has very little experience running a pro system.
Possible Options for Texans
If the Texans want to find an alternative they will have to convince someone to come out of retirement. There really aren't many options there, and the guys that may be possibilities like Kurt Warner or Marc Bulger are completely unfamiliar with Kubiak's system.
The other options would be to mortgage the future by offering a slew of draft picks for someone's backup.
This would be a steep price and one the Texans would be unlikely to pay.
What's Ahead for Texans
The Texans are 8-3. They have a two game lead on the Tennessee Titans. Here is their remaining schedule.
Week 13 Falcons
Week 14 at Bengals
Week 15 Panthers
Week 16 at Colts
Week 17 Titans
Outlook
The Texans still have an excellent shot to win the division. Their running game and their defense is certainly enough that wins over the Panthers and Colts are well within the realm of reasonable expectations.
If they did get two wins it would mean that the Titans would have to win out to enter the final game tied with the Texans.
However, even if the Texans do manage to slide into the playoffs it will be a short run. It is far too much to expect the Texans to win a playoff game with this unenviable QB situation.