Bernie's Year in Review: Gifts Bestowed in 2008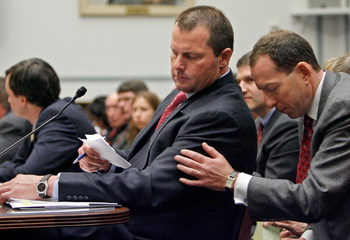 With a look at 2008's more memorable—and forgettable—moments in sports, Bernie has gifts under his tree for real sports heroes and dolts alike.
From unretirements to Spanish lessons (or lack thereof), Bernie recaps some of the year's wackiest headlines. So grab your Glock and your antacids. Like a Michael Phelps meal, there's a lot to digest.
Best Disaster Waiting to Happen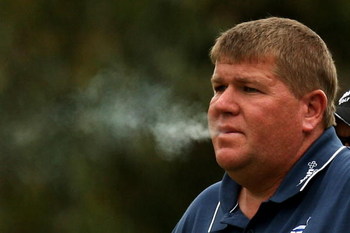 Like a tornado swirling amidst its own chaos, John Daly is continuously drawing people closer to him only to hurl them further away. Most Americans are unable to imagine a fate worse than getting arrested...after passing out...comatose...in a Hooters...having been deserted by your own wingmen.
This British Open champion evidently has lower aspirations in store.
Bernie's gift to Daly: a hotel phone for a much needed wake-up call.
Best Gold Medal Diet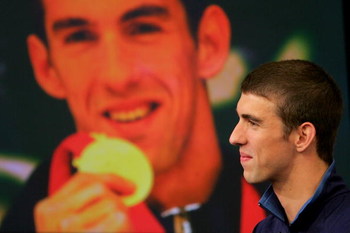 Michael Phelps may eat more eggs before 9 AM than my family of four eats in one month, but it is hard to argue with his results. The man is the all-time best Olympic athlete in the history of Earth.
All told, he consumes 12,000 calories...a day! Evidently one calorie for each Gold Medal he won in Beijing.
Bernie's gift for the pool stud: a tall glass of Metamucil.
Most Likely to Stand Out Like a Sore Thumb South of the Border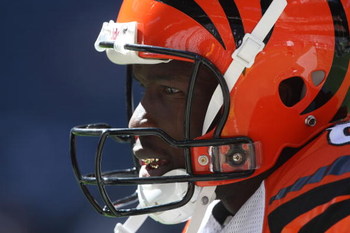 No one is accusing the Bengals receiver of acing his Spanish class in high school. But doesn't some of Chad Johnson's NFL dough go to people around him who could just take a minute to whisper in Chad's ear, "Hey dimwit! Eighty-five in Espanol is ochenta y cinco." You know...maybe before he gets his name legally changed to a number that doesn't exist.
Of course, another option would be to tell him to avoid being a headline junkie and live with the name he was given. I guess that's too much to ask.
Bernie's gift to "Ocho Cinco": The latest version of Rosetta Stone. Now he can change his name to a number (correctly) in any language he chooses.
Worst Fall from the Hall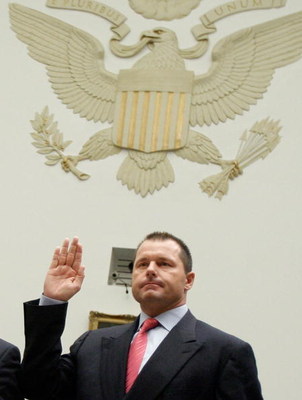 Once a surefire bet for Cooperstown, Roger Clemens is having a hard time getting comfortable in his own skin lately. For a MLB pitcher who once hurled baseballs for a living, Clemens now plays dodgeball with his legacy.
From the Hall of Fame to the Hall of Shame, there are obviously no mirrors that work in the Clemens home. So Bernie's gift to Roger is just that: a pocket-sized mirror that he can use whenever he needs a long stare at reality.
Most Likely to Sprain an Ankle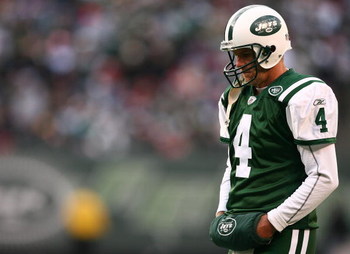 No, not from playing QB in the NFL—from hopping on and off his John Deere in Kiln, MS.
Let's summarize 2008 for Brett: He's gone...he's back...not wanted? But he's staying! He would rather leave...pimps himself to others...does leave...plays nearly a full season...proves something and then decides he's leaving. Again.
So in a way, Favre has come full circle. Assuming he doesn't come back again...stay tuned.
Bernie's gift to Brett is a cliché. Try this one the next time a reporter asks you about the 2009 season: "Right now, we're just finishing this season. That stuff can wait. I'm focused on leading my team right now." Repeat as necessary.
Most Likely to Actually NOT Need a Gurney
Carried off his home court in pain, national television audience, NBA finals, two cameras for every one person in attendance...the drama was thick.
In what would surely become the defining scene in the made for TV movie 10 years later, Paul Pierce manages his way out of the training room and comes back to the Celtic hardwood to ensure a Game One victory over the Lakers.
From being doubtful for Game Two to being cheered through tears, this was a signature moment in NBA history.
Too bad the truth was he just needed to pee. So Bernie's gift to PP is a package of Depends.
Most Human-like Performance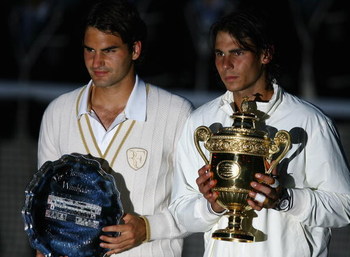 He's cut through the tennis draws and brackets for seasons like a hot knife through butter. He's been compared to former God-like netters such as Sampras, Borg, and Lendl. But when Roger Federer lost in five sets to Rafa Nadal at Wimbledon, he also qualified for many USTA Men's teams that flounder around average neighborhood courts on Saturday mornings.
What's next...his Gillette Fusion partner Tiger tears a knee ligament?
Bernie's gift to Roger: A bottle of Shout! for those pesky grass stains. Like the rest of us casual players, you may need it now.
Most Likely to Hang Himself With His Own Puppet Strings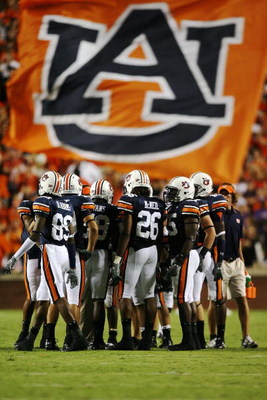 Jay Jacobs has graciously provided a step-by-step How-to Guide for how not to run a big-time athletic program. He started by firing a head coach who had won some tackle football games. He ended by hiring a coach who couldn't field a team at Iowa State capable of beating my old intramural flag football team. Emphasis on old.
That ticking you hear, Mr. Jacobs...that's the clock running towards the day and time that the person pulling your strings grabs a pair of scissors.
Bernie's gift to Mr. Jacobs: a large, soft mattress to break the fall.
Worst News for a Bum Knee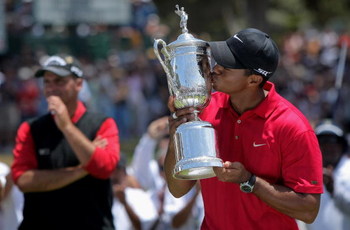 The world's greatest golfer left the window open for the entire U.S. Open field back in June. Only an average player old enough to be Tiger's uncle bothered to climb through. And just when it looked like ol' Rocco would slay the Tiger while he was down...the 283rd stroke, a putt from about 15 feet, sank into the cup on the 18th green. Just as Rocco knew it would.
Fans couldn't contain their exuberance, despite being conflicted with who to pull for. CBS jumped for joy as the advertisers lined up to take part in the next day's drama. Tiger's knee could barely be heard screaming for more ice.
Bernie's gift to Tiger: A tube of IcyHot and seamstress tape. He'll likely need both in Augusta this coming April.
Most Likely to Strut into a Night Club...and Limp Out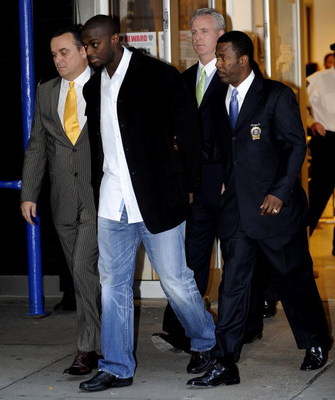 "Good night Honey. I'm just gonna go out for a jog and pound out some crunches. Love ya!" That might explain why Plax was wearing wind pants with a drawstring on a Friday night, but what kind of aerobics was the Giant receiver planning on doing at a NYC nightclub with a Glock?
If it wasn't apparent before this "incident," it is certainly apparent now that any of Plax's offspring will not be Mensa candidates. And if the gun had been slightly more askew as it tumbled down his pants leg, Plax wouldn't be having any more offspring at all.
Bernie's gift to Plax: a clue. He's obviously run out.
And This Year's Hammy Award Goes to...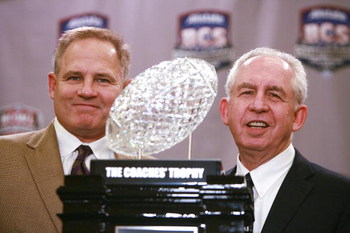 ...LSU's Les Miles.
Coach Miles finished 2007 on a tear by berating the media about his "damn" strong football team. Have a nice day indeed!
It even springboarded the coach into a memorable start to 2008 with a National Championship win over THE Ohio State runner-ups. With a talent-rich squad returning and a favorable schedule, the Bayou Bengals were even mentioned as possible repeat contenders this season.
But with the suspension and then dismissal of a highly touted QB, a paper-thin defense that was more etouffee than Jambalaya, and a hat that didn't quite fit right anymore...the 2008 season was one to forget.
From the top of the BCS heap to just ahead of Bobby Petrino's Hogs, it was a long fall for Les "is more" Miles. Musta pulled a hammy somewhere back in August two-a-days.
It all adds up to Bernie's 2008 Hammy Award! Congrats Coach.
Keep Reading