No Dale Sveum? No Problem!
November 30, 2011
Jonathan Daniel/Getty Images
Not much has gone the Red Sox way lately.
The September implosion and smear campaign against Terry Francona left a horrible taste in our mouths. Jonathan Papelbon's departure stings, even though you can see why he's gone. You only have a limited amount of time to strike it rich before your arm falls apart.
If I were the general manager, I would've tried like hell to keep him because the potential replacements on the market were a lot worse. Normally there is a high burnout rate on closers, but I think he would have been the exception to the rule. None of that matters now. 
The depth of the pitching staff is thin. It seems like they are more interested in country music videos, fried chicken and downing beer than winning. Kevin Youkilis can't stay healthy. John Lackey is an albatross. Jacoby Ellsbury is likely gone in a couple years. Then is there anything to be optimistic about? I think so.
Bobby Valentine wasn't my first choice to be the next Red Sox skipper, but I'm thrilled it's not going to be Dale Sveum. 
By picking Dale Sveum, Theo Epstein inadvertently did the Red Sox a huge favor. The perception may be Theo-1 Red Sox-0, but the reality is the team has been saved from making a huge mistake.
We shouldn't forget Theo thought it would be a good idea to acquire Carl Crawford, John Lackey, Dice K, Jay Payton, Eric Gagne, Julio Lugo, Edgar Renteria, Coco Crisp, Wily Mo Pena, Matt Clement, Wade Miller, Mike Cameron and Dice-K. If his judgment when it came to picking players wasn't very good, odds are his eye for managerial talent also stinks.
The fact that Theo and Jed Hoyer wanted Dale Sveum should tell us the Red Sox ought to stay away from him. 
Bobby Valentine was my fifth choice. Last year, the Red Sox signed Carl Crawford for non-baseball reasons and it blew up in their face.You'd think they learn from their mistake. Hiring him means the Red Sox got caught up in flash and not substance.  
In 15 years of managing, Bobby Valentine has had only had two years where his team won more than 90 games. He doesn't have a World Series ring, and his win percentage was only .510.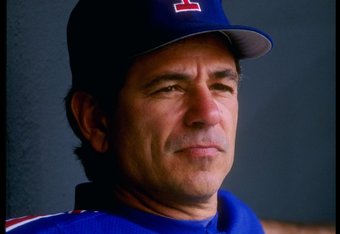 Earl Richardson/Getty Images
If I were in Cherington's shoes, I would call Tony La Russa. Try and goad him out of retirement by waving a three year, $24 million contract in his face. He's a proven winner, and I'll take an elite guy over a retread every day of the week.
If La Russa didn't take the bait, I'd kick the tires on Cito Gaston because he has much better credentials than Valentine.
Tom Kelly was the next person to catch my eye. He's still relatively young, and has a much better resume than Bobby V. Gene Lamont would have also been a fine choice. 
Sometimes, a fresh start on another team is just what a manager needs. 
Before he got to New York, people didn't think highly of Joe Torre as a manager. Philadelphia fans didn't have a high opinion of Terry Francona's managerial skills. Now people think of them as elite managers. Perhaps the same thing can happen to Bobby Valentine? 
Let's hope so