Notre Dame Football: Loss to the Stanford Cardinal a Microcosm of Entire Season
November 28, 2011
Ezra Shaw/Getty Images
With the numerous twists and turns that occurred against the Stanford Cardinal Saturday night, the game was reminiscent of the Notre Dame Fighting Irish's entire season.
Similar to how the Irish started their season—slowly—the team began the game rather lethargic before picking up its play. Eventually, in the second half, Notre Dame put up a valiant effort, led by the Irish defense and a previously untested Andrew Hendrix (who has now lost the untested tag). 
Looking at the game as a whole, Notre Dame missed opportunities that could have turned the contest in its favor, and for Irish fans, that is a storyline that they are likely sick of hearing.
The Irish's poor red zone execution—which has haunted the team throughout the year—was evident in the first half.
When the team was in position to score, Tommy Rees missed a connection to Theo Riddick, leading to a missed chip-shot field goal by David Ruffer. Witnessed in the game against the University of South Florida, when it rains, it pours.
The Notre Dame defense was burned in the first half for 21 points, and shades of the Michigan game were awoken as Gary Gray was helpless against a fade pattern in the corner of the end zone (Robert Blanton didn't do much better in the first half).
The pulling of Tommy Rees for Hendrix after a poor first-half performance must have reminded fans of the first game of the season.
And while a change at quarterback didn't happen again until the Saturday night game against the Cardinal (Rees was injured on the team's first drive, but he remained in the game until after halftime), just like the first time it happened, a quarterback controversy has ensued, or—more fittingly—has fervently continued.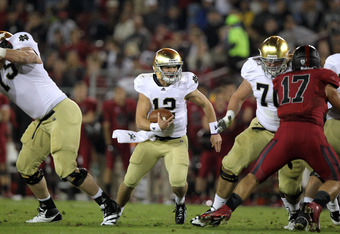 Ezra Shaw/Getty Images
The switch to Hendrix enlivened the team just as it did against South Florida when Rees took over, and the Notre Dame defense responded, too, only giving up seven points off of a blown coverage. 
Hendrix posted 192 passing yards compared to the 60 passing yards of Rees. Both players had an interception (and both threw passes that should have been picked off), but Hendrix had a rushing and passing touchdown and Rees had neither. 
Hendrix's interception was costly, though. It came as the team was approaching the end zone and down by just 14, but being thrown in against the No. 6 team in the nation should allow the sophomore some slack.
So, another quarterback controversy has now arisen. Everett Golson is waiting in wings, Tommy Rees has the most experience and, although he is nowhere near a finished product, Hendrix is drawing serious attention with his dual-threat capabilities.
With only a bowl game left before the end of the season, Notre Dame will start next year resembling the way that it entered this one—unsure of who the starting quarterback will be.